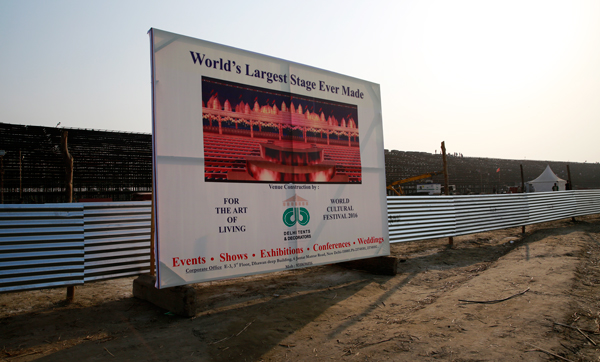 The National Green Tribunal (NGT) has agreed to hear a fresh petition by environmentalists to stop the Art of Living foundation's World Culture Festival event as the organisers have not yet paid the Rs 5 crore fine.
The event, organised by spiritual guru Sri Sri Ravi Shankar's Art of Living or AOL, is scheduled to be inaugurated by Prime Minister Narendra Modi at 5PM today.
Earlier, environmentalists had filed a petition in the green court against the event alleging that the three-day mega festival, spread over 1,000 acres of the Yamuna's floodplains, will irreversibly corrode the fragile ecosystem of the area. On 9 March, the green court gave a green signal to the event on the condition that the AOL deposit Rs 5 crore as compensation by 10 March.
The deadline of the fine was further extended to the evening of 11 March.
Meanwhile the NGT said the "law will take its own course" if the fine is not deposited by this evening. It has also warned that after the event, the organisers are likely to be presented with a much larger bill. In response, the AOL has said they need four weeks to comply with the directions of the NGT and deposit the fine.
On 10 March, Sri Sri Ravi Shankar had said he would rather go to jail than pay a single penny of the massive fine.