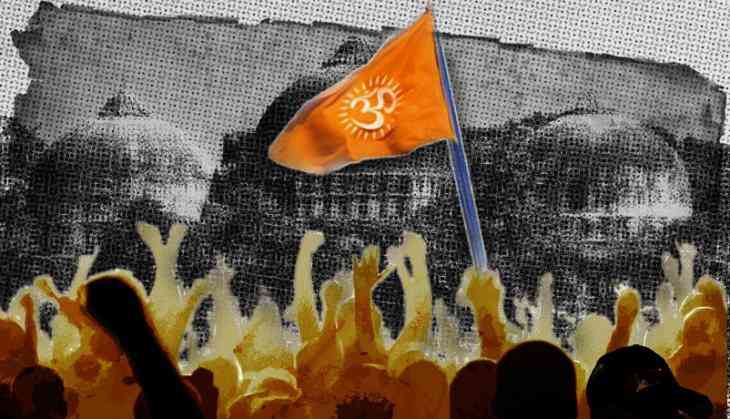 It was the haunting noon of the 6th December when the entire structure of Babri Masjid came down after lakhs of kar sevaks daunted upon it with hammer and other tools.
Today, the Mandir drama completes 26 years and still the situation at the site remains in a suo-motto, only the politics around it has changed and the hatred has engulfed the entire TV studios and the home, which has brought the debate of 'us vs them' in the forefront.
The security has been tightened in the district ahead of the anniversary of the Babri Mosque demolition and the administration is monitoring the situation with full intelligence and police force.
Earlier, Vishva Hindu Parishad and the Shiv Sena supremo Uddhav Thackeray with his family had visited the site and demanded a date by which the temple will be constructed and the VHP pithed the tone to surpass the highest court of land as it has been delaying the matter since the Allahabad High Court gave the verdict on the land and asked the authorities to divide the land into 3 equal parts.
But the VHP had demanded that the entire land should be handed over to them to construct a Ram temple.
Meanwhile, UP CM Yogi Adityanath, in a predictable mode, changed the name of Faizabad district to Ayodhya on the occasion of Diwali and promised a 201 meter tall statue of Ram beside the disputed site.
Former CM Akhilesh Yadav asked the Supreme Court to take suo-motto cognisance of the matter and deploy Army in Ayodhya, while BSP's Mayawati said that BJP is trying to shift the focus from its governance failure to the Ram temple issue, ahead of the elections.
Also read: Chennai: Shocking! Lok Sabha Deputy Speaker Thambidurai hospitalised after heart attack
Security tightened in Ayodhya on the anniversary of Babri Mosque demolition. pic.twitter.com/NJjOakBqwX

— ANI UP (@ANINewsUP) December 6, 2018