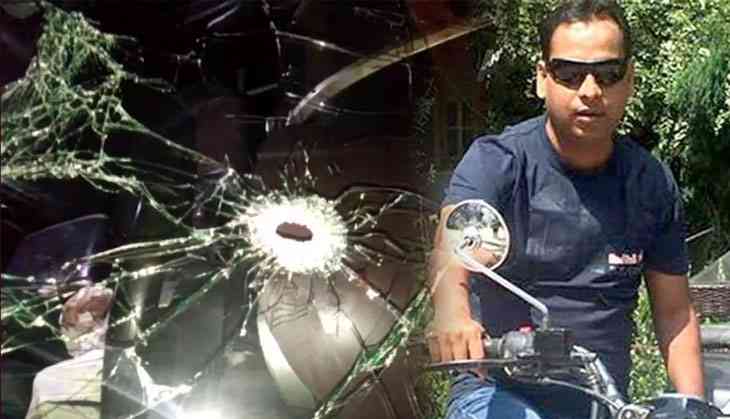 A killing of an unarmed man on Saturday early morning in Uttar Pradesh's capital Lucknow by a cop has triggered out fresh controversy on the police personnel. Two police constable was arrested after an Apple area manager, Vivek Tiwari, was shot dead for not stopping a car. The two cops in their defence said the gunfire was made in self-defence.
Lucknow:Police says,"Police personnel was detained y'day after he shot at a car on noticing suspicious activity,injuring driver of the vehicle.On seeing police,he tried to flee&rammed his car against a wall.He later succumbed to his injuries,PM report to determine cause of death" pic.twitter.com/2QwkuR9Gbp

— ANI UP (@ANINewsUP) September 29, 2018
"The constable (Prashant) fired in self-defence believing that some criminals were inside the car as the victim tried to flee after hitting the patrol bike," senior superintendent of police Kalanidhi Naithani said.
However, according to the recent update, A case of murder (section 302 IPC) has been registered against the two policemen.
Law has been violated in this case. If the situation demanded firing of a bullet, it could have been fired at the car tyre, even then it was not right to do so. This is a shameful incident for us: Anand Kumar UP ADG Law & Order #Lucknow

— ANI UP (@ANINewsUP) September 29, 2018
Anand Kumar, UP ADG Law & Order while speaking on an incident where Vivek Tiwari was shot at by police personnel yesterday said, "This is a sad incident. A case of murder (section 302 IPC) has been registered against the two policemen. Stringent action will be taken."
Meanwhile, one of the cops, Prashant Chaudhary said he fired in self-defence as the driver tried to run it over him. "At 2 am last night, I saw a suspicious car with its lights off, when I approached the car, the driver (Vivek Tiwari) tried to run over me thrice to kill me. I fired a bullet in self-defence, he then immediately took off from the spot," Police constable Prashant Chaudhary said.
The victim was shot near the left ear and later scummed to his injuries. "He (Vivek Tiwari) had a bullet injury near the ear on the left side, he died during treatment. Body sent for post-mortem," Devendra Singh Negi, Director, Lohia Hospital said.
Speaking on the alleged death case of Vivek Tiwari, brother-in-law demanded CBI probe in the matter. "Was he a terrorist that police shot at him? We choose Yogi Adityanath as our representative, we want him to take cognizance of the incident and also demand an unbiased CBI inquiry,"Vishnu Shukla said.
The incident took place in Lucknow's upscale Gomtinagar extension area around 1:30 am. The cop fire at the car leaving the driver (Vivek) critically injured, the vehicle then rammed into the pillar of a bridge. Tewari is survived by his wife and two daughters.
Also read: Rafale deal row: Two NCP leaders, including founding member quit the party after Sharad Pawar supported PM Modi