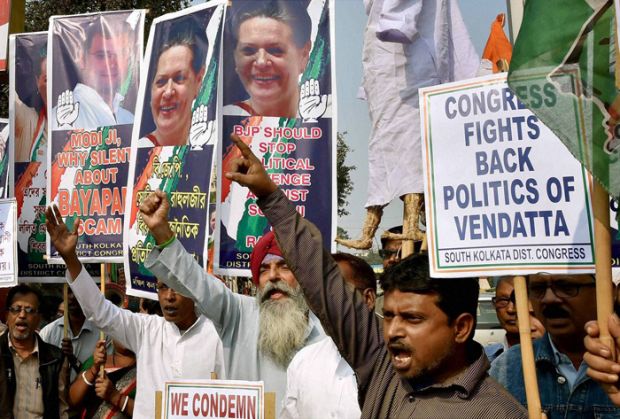 Congress President Sonia Gandhi and Vice-President Rahul Gandhi were granted bail by a Delhi court on 18 December in connection with the National Herald case.
The case was filed by BJP leader Subramanian Swamy in 2012. After the hearing, all the players in the case had much to say:
Subramanian Swamy
After the Gandhis were granted bail, Swamy said: "This is not a judicial setback".
"When Gandhis came they were made to stand in a corner where the accused are supposed to be,were not allowed to sit".

"I will win this case in 2016, Sonia Gandhi,Rahul Gandhi and others will be sent to prison".
CNN-IBN quoted Swamy as saying, "I did not have any support from the BJP... No one in the BJP asked me to go slow on the court. No one has dared to approach me".
This is an open and shut case-Subramanian Swamy #NationalHerald pic.twitter.com/855tviaTWA

- ANI (@ANI_news) December 19, 2015
Sonia Gandhi
The Congress President said the truth in the case would be out soon.
"We will give a determined fight because we stand for certain ideals".
WATCH: 'Inke khilaaf humari ladaai jaari rahegi' says Sonia Gandhi on Central Govt #nationalheraldhttps://t.co/NP59a95wB2

- ANI (@ANI_news) December 19, 2015
Rahul Gandhi
Reiterating his mother's comments, Rahul Gandhi said Congress would continue to fight for the rights of the poor.
"Modiji makes false allegations and he thinks the opposition will bend. I will not bend, Congress won't bend."

WATCH: 'Modi ji is falsely accusing us,we will keep fighting for poor,not move back an inch' says Rahul Gandhihttps://t.co/kQXC5DLnt8

- ANI (@ANI_news) December 19, 2015

"We will keep fighting for the poor and as an opposition party,not move back an inch".
Kapil Sibal
The senior lawyer, who represented the Congress leaders in court said that the judge had rejected Swamy's allegations against the Gandhis.
"No conditions imposed for bail except for furnishing of surety".
Kapil Sibal discusses the court proceedings in the #NationalHerald case pic.twitter.com/Zd1QThIxZq

- Firstpost (@firstpost) December 19, 2015
Manmohan Singh
The former prime minister accompanied the Gandhis to Patiala House court on 18 December. After the hearing, Singh said:
"Congress is united in support of Sonia Gandhi and Rahul Gandhi. We will put up a determined fight because we stand for certain values and nobody can remove the Congress party from that path".
BJP Targets Congress | Sambit Patra Slams Sonia and Rahul Gandhi over National Herald Scam https://t.co/RY3dI13mSv

- Shivendra N. Nirala (@shivenracdba) December 9, 2015
What Congress leaders had to say
Congress is projecting the Gandhis as if they are freedom fighters - Union minister MA Naqvi
We had full faith in the judiciary - Anand Sharma
Quick facts about the National Herald case
After Swamy registered a case in 2012, Sonia and Rahul were summoned in June 2014 but the Congress leaders had then sought a stay. Here is a quick refresher about the National Herald case:
According to Swamy's petition, the Congress granted a loan of Rs 90.25 crore to Associated Journals Limited (AJL) - the company that owned the National Herald newspaper.
The interest-free loan was meant to aid the financially unstable AJL. The company stopped publishing the National Herald in April 2008.
It has been alleged that the loan amount was either not paid, or was paid in cash - in violation of the Income Tax Act 1961.
Associated Journals Limited was incorporated on 20 November 1937. Congress treasurer Motilal Vora has been the chairman of the AJL since 2002.
Assets of the AJL could be worth close to Rs 5000 crore in property value alone - including the Herald House building in New Delhi as well as real estate in Bhopal, Mumbai, Patna and Lucknow, among others.
Young Indian Private Limited, a non-profit company, was incorporated in November 2010. The company acquired almost all the assets related to AJL. According to Swamy, YIL paid Rs 50 lakh to obtain the right to recover the loan.
According to the Registrar of Companies, Sonia and Rahul Gandhi together own 76 per cent - more than three-fourths equity - of Young Indian Private Limited.
The remaining shares are held by AJL managing director and Congresss leader Motilal Vora, Congress general secretary Oscar Fernandes, Suman Dubey and Sam Pitroda. While the first three have been granted bail, Sam Pitroda was exempted from appearing in court on 18 December on the grounds of ill health.
Also Read: The albatross around the Gandhis' neck: what's the National Herald case?