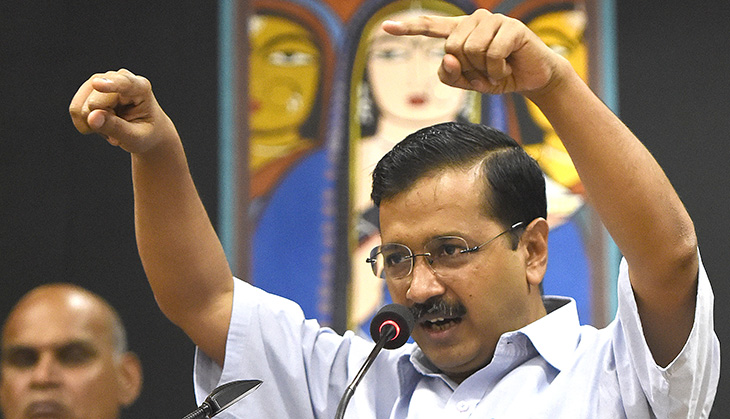 Delhi Chief Minister Arvind Kejriwal took to Twitter on 26 May to lash out at the Prime Minister Narendra Modi-led central government over the expenditure for the government's two-year anniversary.
Kejriwal criticised the fact that the centre had spent a massive amount for full page newspaper advertisements and hoardings to mark the anniversary.
To mark the occasion, the Modi government has planned a mega show at Delhi's India Gate on Saturday. The celebrations will be officially launched with a rally by the PM at Uttar Pradesh's Saharanpur later this evening.
Modi govt spend on ads for jst ONE event 2 yr bash? Sources- more than Rs 1000cr

All Del govt depts total spend less than 150cr for full yr

— Arvind Kejriwal (@ArvindKejriwal) May 26, 2016
Kejriwal cited sources to allege that the central government had spent "Rs 1,000 crore" on the ads.
AAP leader Ashutosh also criticised the Modi government for wasteful spending on advertisement for a one-day celebration.
AAP Govt was accused for Advertisements, do I need to remind how much money is spent now by MODI Govt on Media blitz. Will TV discuss this ?

— ashutosh (@ashutosh83B) May 26, 2016
The allegations assume significance as the Kejriwal-led Aam Aadmi Party government in Delhi was recently criticised for having set aside Rs 526 crore in its budget for publicity.
Congress had recently alleged that the AAP government spent Rs 100 crore for self-promotion just between February and May this year. Congress workers said that an RTI query had revealed that Rs 14.5 crore had been spent just on newspaper ads and the rest on TV, radio ads and hoardings. The party alleged that the money could have been spent by Delhi government on the salary of poor sanitation workers and pension.