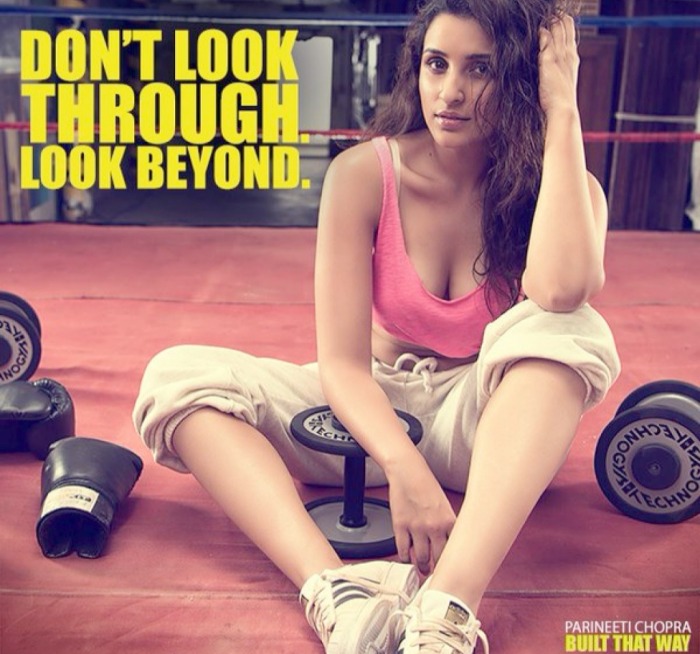 Last week, Ishaqzaade actress Parineeti Chopra debuted what she calls her \"new body\".
The photoshoot featuring Parineeti, which has now gone viral, has garnered both praise and criticism for the actress.
Parineeti has so far ignored all the bodyshaming comments that have been flung her way. But she may do well to take a cue from these seven ladies who had the perfect responses to bodyshaming. Take a look:
Parineeti Chopra grabbed headlines this week when she debuted her new, toned avatar.
A few years ago, the actress raised a few eyebrows when she announced "Nobody likes a fat actress." However she is now receiving backlash for being criticised for losing weight, and apparently 'having fallen victim to her own bizarre notions of the ideal body'.
While the publicity may just land the talented actress a few new films, Parineeti may have unintentionally sparked a conversation about the issue of bodyshaming.
While the tide against bodyshaming has been growing across the world, India has kept its distance from this movement. Much of Bollywood's humour is still based on appearances and weight-related jokes.
Also Read: 'Nobody likes a fat actress': Bollywood's body problem
Whether it is stories about Anushka Sharma or Kareena Kapoor hitting size zero, or even the occasional buzz around a public figure undergoing plastic surgery, bodyshaming seems to come almost naturally to us.
Add to this a mix of skintone-related discrimination, objectification (think Deepika Padukone-TOI row) and the trend of insulting people's appearances in the name of humour - and we've got an absolute mess.
With all the public scrutiny they are subjected to, Indian celebrities are no strangers to bodyshaming. Meet seven such women who have some pertinent things to say about the issue.
Amitabh Bachchan's daughter Shweta Nanda is among the growing bevy of Bollywood ladies who have taken to penning columns. Nanda contributes regularly to dna, and is known for her rather witty observations. However, in her dna column for 29 November, she expressed anguish at daughter Navya Naveli being bullied at school for being too skinny.
"Bullying and body shaming is something that happens to the best of us," she wrote.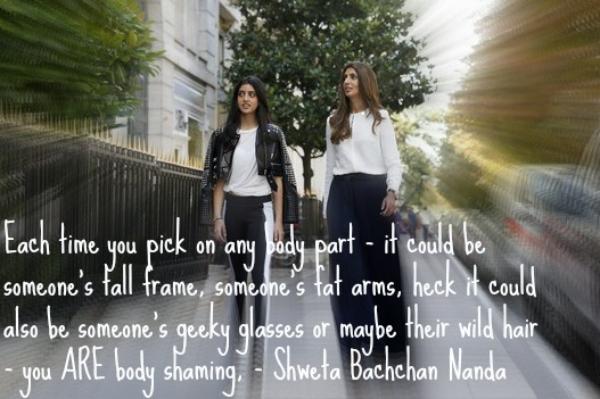 The pains of high school nonwithstanding, what Navya had to face at 18 may be telling of what women across India face on a regular basis.
Vidya Balan told dna that being told that she has lost weight is not a compliment.
However, the talented Dirty Picture actress also highlighted something that Bollywood likes to pretend doesn't exist. She told dna about being asked to lose weight for Kismet Konnection in order to match the appearance of her co-star Shahid Kapoor. She observed:
"The thing that struck me was, they never asked him to change his look, bulk up or something to match my look".
Something to think about there.
Actress Sonakshi Sinha is no stranger to fatshaming.
Most of her posts on social media are met with at least one comment about her weight. While it is no secret that the talented actress dropped a few pounds for her Bollywood stint, she isn't one to take rude remarks lightly. Check out this exchange: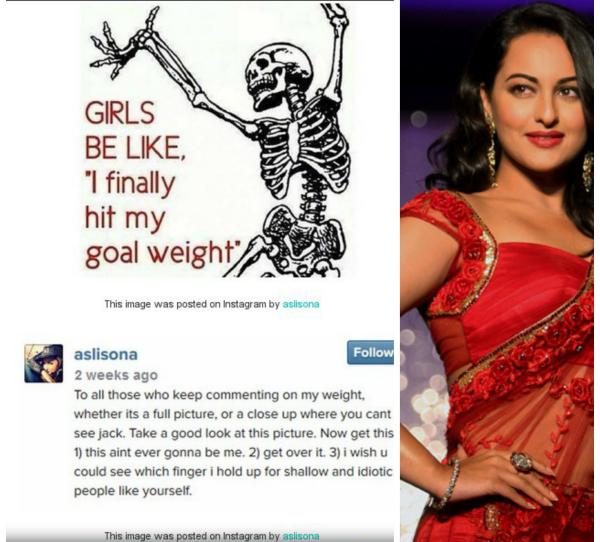 When former Miss World Aishwarya Rai was pregnant in 2011, she was met with a lot of unsavoury attention over the weight she had gained. But Aishwarya refused to give in to her haters. Many from the industry, including husband Abhishek Bachchan, came to her defence.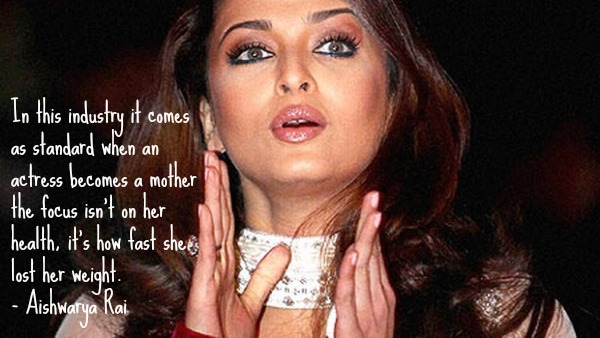 "To me, the well-being and the health of my family is more important than focusing on going back to my pre-pregnancy body in miracle time," she said.
Actress Lisa Ray told IANS that about her struggles with bodyshaming. "There is so much of photo shopping and things like that that go on in the media. I think we all love beautiful images but we also have to understand what goes into making those images," she said.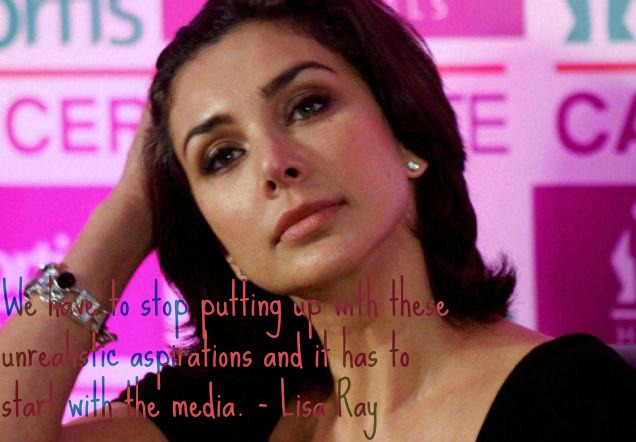 Down south, actress Anushka Shetty made news when she put on some pounds for her film, Size Zero. While the film Inji Iduppazhagi is a rather weak attempt at establishing a positive body image, the actress went on record to talk about the importance of being confident in your skin.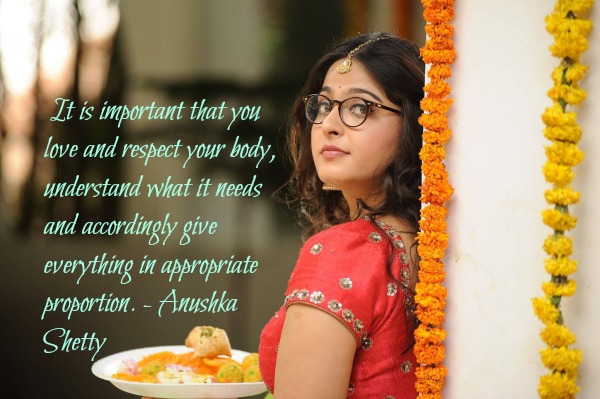 "Fitness, in my opinion, is a mental exercise more than just physical," she
told
the
Indian Express
.
The Gangs of Wasseypur actress reportedly once slammed a journalist who questioned her about her weight. "You don't like how I look? I don't look nice? You want me to die starving? You want to see me putting my finger in my mouth and throw out everything? Why do you want to become unhealthy?" she had once said.