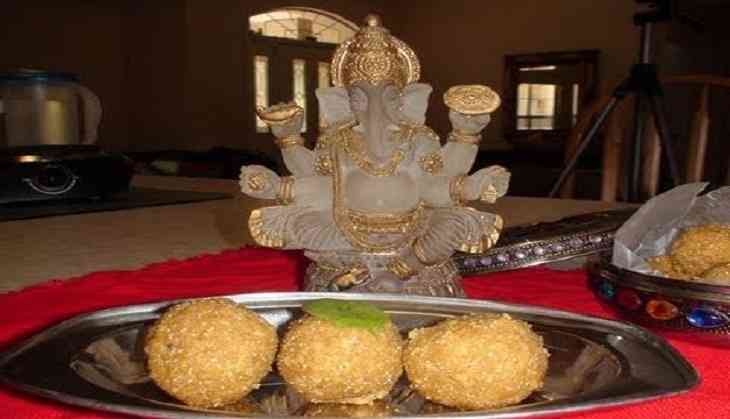 As people are celebrating Ganesh Chathurthi today, laddoo can be wiedely seen on sweet shops all across the country. During the 10-day festival in which Lord Ganesha is revered, Modak, a other name for laddoo, is offered to the Ganesha idol and also given to the people as Prasad (sweets offered as part of worship).
Lord Ganesh is considered as the god of new beginnings and the remover of obstacles. Ganesh Chaturthi or Vinayak Chathurti, which is celebrated by Hindus across Indian, starts today on September 13 and will go on till September 13. At the last day, the idol of Ganpati Bappa is immersed in water body.
In this festival, Laddoo is considered as favorite food and there is a interesting story behind this integral relation of laddoo with the festival. Once Lord Ganesha had battled with Lord Parshuram, who was the six avatar of Lord Vishnu in which Lord Ganesh's tooth broke and he faced difficulty in eating. So, soft moduk that is laddu was made for him. He could have eaten that easily with heart's elation. That's why, Laddoo, it is believed, that modak became his favorite food.
This is the reason why Laddoo is prepared, distributed among the people as well as offered to the Ganesha idols as a part of the festival during Ganesh Chaturthi.
The word 'modak' is meant 'happiness' as it makes happy anyone who eats it. There are different pronunciation for 'modak' in other vernacular languages such as modak in Marathi and Konkani, modakam or kudumu in Telugu, modaka or kadubu in Kannada, kozhakatta or modakkam in Malayalam and kozhukattai or modagam in Tamil.
Also read: Fuel Price Hike: This is how Narendra Modi government is fuelling the price of petrol and diesel