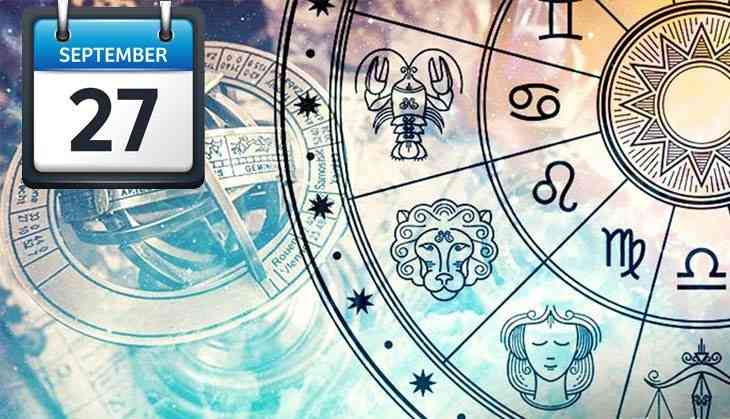 Let's begin your day by knowing what is going to happen today. If you believe in astrology and always looking forward to knowing about your zodiac sign then have a look at the following article and know what your star says today (27 September).
1. Aries (Mar 21- Apr 20)
Today you would meet some of your old friends and will be going to plan a trip with them. Beware! Plan it according to your budget and don't make it in a hurry.
2. TAURUS (Apr 21- May 21)
Today will be your challenging day as many hurdles will come in your path to divert your mind. So, keep all such things at bay and do what your heart says.
3. GEMINI (May 22- June 21)
Time and Tide wait for none! Today you will have to take some major decisions that will change your life. So, don't take extra effort while taking any decision otherwise, you could miss the opportunity.
4. CANCER (June 22 – July 23)
Want to confess something to your close one? Just go forward because it is the right time to say what you feel or think.
5. LEO (July 24 – Aug. 23)
The right time has come to step outside your comfort zone and extra efforts are required to do to gain some positive result.
6. VIRGO (Aug. 24 – Sept. 23)
Budget crunch? As festivals are arriving, therefore, plan your strategy accordingly because you could face some financial crisis.
7. LIBRA (Sept 24 – Oct 23)
Don't blow your fuse at your workplace today. Because it can put you in trouble. So think before you speak.
8. SCORPIO (Oct. 24 – Nov. 22)
Something big going to happen in your life today or we could say something adventurous could happen.
9. SAGITTARIUS (Nov. 23 – Dec. 22)
Your ideas or innovative thinking would bring success at your door today. So, you have to be very confident today on what you going to say.
10. CAPRICORN (Dec. 23 – Jan. 20)
Single? The most unusual person you ever met may also be the most loving – and a "J" name is significant.
11. AQUARIUS (Jan. 21 – Feb. 19)
You will feel a little low due to overstress at your workplace. So, take a small break from your daily routine and make a holiday plan with your family.
12. PISCES (Feb. 20 – Mar 20)
Some unexpected guests will arrive at your home today. Also, you will be spent your day with your best friend today.