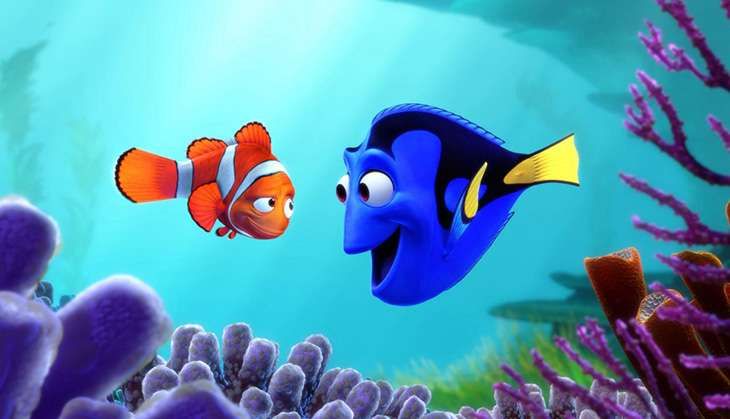 Being a parent is not an easy job. Though admittedly, it's not that difficult either. What with all that innocent, unconditional love that helps you forget everything else.
Often, when I sit with my unmarried friends, no-kids-for-us folks and Dual Income, No Kids couples, I prepare myself for their remarks on how unruly, idiotic, spoiled and ill-tempered children are nowadays.
"Kids are so noisy. They keep running around all the time. Parents should never bring kids to movie theaters."
"That kid kept running in the entire restaurant. Why would the parents let them run? No discipline at all!"
"Our parents kept us busy, grounded and disciplined at the same time. But look at parents nowadays. They just hand them over a smartphone and that's it!"
Maybe my friends are forgetting they were once kids too. Maybe their parents never told them about the struggles of parenthood (sometimes we don't want others to know how utterly unsuccessful we were). Or maybe, they have just become impatient in this fast-paced world.
But thanks to some unabashed feedback, I now try to refrain from visiting movie theatres, nice restaurants, galleries and malls with my child. Now, our outings are limited to parks and occasional visits to children's animated movie screenings.
But, as it turns out. I can't do that anymore, either.
In the last few years, a new crop of adults seem to have mushroomed all around me. I like to call them the 'I-want-to-be-a-kid-again' folks. Who are these people, you ask? The same ones who seem to be hell bent on ruining one of the last two options that parents have in terms of outings.
Many from this group flock to watch animated films in cinema halls. That's perfectly fine. But here's the problem.
The message in the image below (and similar social media posts) was widely circulated before the release of Finding Dory earlier this year.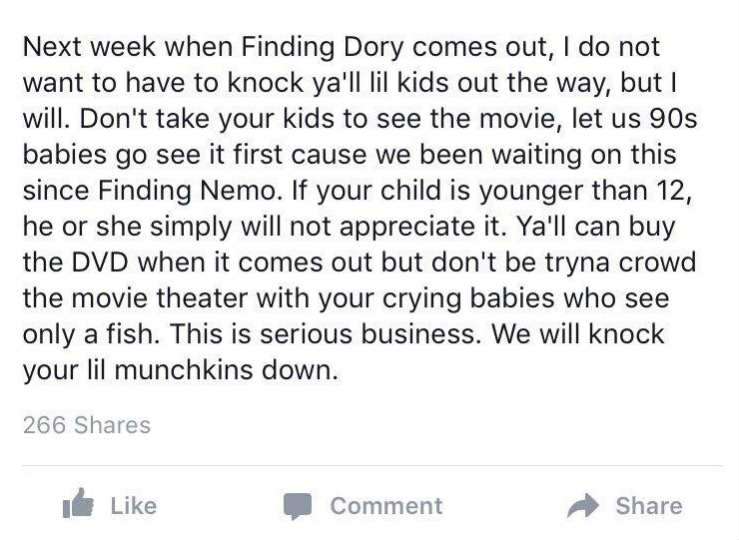 Screengrab
I decided then that I had had enough. And I decided to pen down a letter to everyone who thinks that such a sentiment is acceptable.
Dear 'I-want-to-be-a-kid-again' adult,
Will you please stop with all those memes and social media posts asking parents to stop bringing our kids to animated movies?
Please let children watch movies that are meant for children. Don't take that away from us. As it is, we already get an earful if we accidentally step into a theatre playing non-animated movies.
Animated film are meant for kids. Period.
Last year, a former colleague cribbed about how the Minions movie was ruined for her because kids in the theatre were squeaking with laughter and trying to imitate the antics and the language of the adorable little minions. I smiled politely at the comment. That's all I could do at the moment.
I've heard a few similar remarks since. And I refuse to be silent anymore.
Do you really believe that children shouldn't watch a film like Minions? Do you really want me to sit back and let you outrage about this because you'd rather sacrifice my children's natural rites of childhood just so you can hold on to the remnants of your own?
Animated films are evolving. Gone are the days of slapstick comedy. Animated films today deal with complex issues and concepts that parents struggle to help their children grasp. Each character has a message, each movie deals with an issue with nuance and subtlety.
Inside Out taught my child about emotions. Minions taught my little one about hard work and loyalty. And it helped him develop a taste for bananas, something I couldn't do.
Zootopia helped him understand that it is important to respect every living being. Wreck-it-Ralph taught him how to recognise and put an end to bullying.
The list is endless.
Children find it easier to relate to the characters in animated films. While watching Finding Dory, my now-preschooler reminisced about the time when he was separated from us for a panic-stricken few moments while in a crowded place. He remembered every detail about that incident. How the authorities helped him find us, the details of the place we were at. All because he made an instant connection with Dory. And he couldn't help but tell us all of this during the movie.
But instead of hugging him tight and comforting him, I asked him to speak softly, because I was worried that adults around would shush him.
I am not against adults enjoying animated movies. As my colleague Visakh Unnikrishnan rightly points out: "They are rich in content, humour, presentation and stories".
But, asking parents to stay away from movies meant for our kids is a little far-fetched, if not completely illogical.
So dear adults who refuse to grow up, while it is sweet that you are just as fascinated with these films like the children seem to be, it is time. Time to realise that these films are mostly made keeping children in mind. And that you must make way for them to enjoy the films in whatever way they choose to do.
Let children enjoy these films. You are, of course, more than welcome to watch it with us. But please don't judge us when you're the ones ruining it for us.
Love,
An exasperated mother
PS:I also apologise on behalf of all parents for ruining non-animated movies.
Edited by Blassy Boben