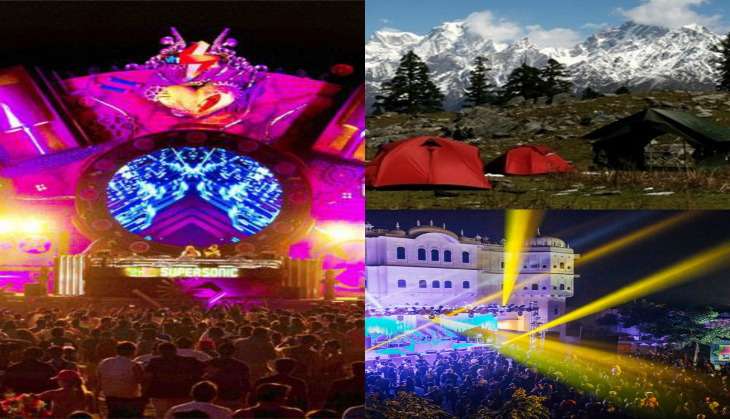 Only a few more weeks for to go for that time of the year when temperatures drop. Time for layers of clothing, hot cocoa and bonfires. Winter is almost here!
It is that time of the year where you can roam around without having to bear the excessive heat. While we understand your urge to stay indoors and snuggle up with a blanket, winters are a great time to step out and explore.
With so many holidays and a series of festivals and fairs that dot the winter season, you may want to use this list to block some dates in your calender. So much to do and so little time, after all!
The Grub Fest
Good food + live music = bliss. The perfect concoction of food and entertainment makes the grub fest one of the best India's biggest food festivals. Trust us, you do not want to miss the spread, not to mention the mouth-watering desserts. What's more, you can also catch some cooking and mixology workshops from the very best professionals.
When: 15-16 October
Where: Jawaharlal Nehru Stadium, Delhi
Sunburn
We know no one needs a reason to enjoy the sunny beaches of Goa. But Sunburn is among the most anticipated music festivals of the year. The music and dancing aside, there are plenty of adrenaline rush activities to choose from including bungee jumping,camping, volleyball and zorbing. Go on, book your tickets ASAP.
When: Sometime in December (Bookmark this for details)
Where: Goa
Heritage walks at Lodhi Garden
Lodhi Garden is a lot more than just an ideal date spot for all those love-smitten souls. Join the heritage walk around the garden that is organised every month. Learn more about the city of Domes (Gumbad) and why it never really became a mighty city. This is going to be a treat for all you history enthusiasts.
When: 15-31 October
Where: Lodhi Garden, Delhi
Magnetic Fields
The Magnetic Field Festival is a three-day bonanza of music, art and food. Attendees can also participate in treasure hunts and stargazing workshops. You can either choose to camp with the Bedouins or live with the king and queen in the palace. Yes, you read that right. What else? They have some secret parties too. #justsaying.
When: 9-11 December
Where: Alsisar Mahal, Rajasthan
Tawaifs of Chawri Bazar: From Bordello to Brothel
Winter is perfect for all the heritage walks you've been meaning to do all year, but couldn't really bring yourself to register for. This one is interesting. This walk is an "effort to correct widespread misunderstanding about Tawaif (courtesans) culture." The heritage walk is an attempt to identify the last remaining symbols of Kothas (Bordellos) in Chawri Bazar and to unravel the fascinating stories of celebrated courtesans such as Rupmati, Anarkali and Rana Dil.
When: 15-31 October
Where: Chandni Chowk, Delhi
Winter Carnival Manali
From skiing championships to the Himachal food festival to adventure sports, Manali's winter carnival has it all. The massive tourist attractions also have some amazing folk dances and street plays. You could also sneak away and visit the Rahalla Falls.
When: Sometime in December
Where: Manali, Himachal Pradesh
Bangalore Literature Festival
Listen up bookworms, gear up for one of the biggest literature festivals in India. Here's your chance to meet and interact with writers from around the world. The festival gets better each year. And a winter book festival sounds simply too good to be true.
When: 17-18 December
Where: Bangalore
Mount Abu Winter Festival
Head to Rajasthan's only hill station to explore one of the most colourful and vibrant winter festivals. From riveting folk dances like Gair, Ghooomar and Daph to a wide range of water sports, the Mount Abu Winter Festival will not disappoint you.
When: Last week of December
Where: Mount Abu, Rajasthan
Kuari Pass Trek 2016
Camping is so much more than just getting away. Sure, there won't be Wifi. But, how about some campfire and marshmallows? The Kuari Pass trek will give you an opportunity to awe at the mighty Himalayan ranges from up close. This trek will take you through the mystic jungles replete with oak and deodar trees. Who knows you if you might just spot a leopard or Himalayan black bear? This is going to be one of a hell of an adventure!
When: 6 November - 31 March 2017
Where: Uttarakhand
National Himalayan Winter Trekking expedition Dalhousie
December to March is supposed to be the best time go trekking in India. The Youth Hostels Association of India is organising the National Himalayan Winter Trekking Expedition in the breathtaking Dalhousie region of Western Himalayas. The 5-6 days trek promises to show the "unseen". It won't be easy, but it'll definitely be worth it.
When: 10 December-2016 - 6 January-2017
Where: Dalhousie