Yoga's so 2015: colouring books for adults are the new de-stress therapy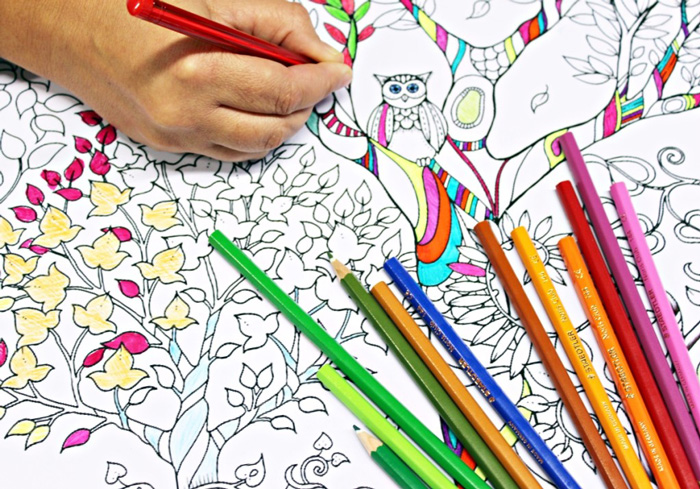 You pull out the yoga mat. Go to a therapist. Or pour one glass of wine too many. Meanwhile in some corners of the world, adults pull out some crayons and a colouring book to de-stress.
Are they regressing into childhood? Nope, they're just up with the biggest publishing trend of 2015, adult colouring books - finally on Indian shelves courtesy Bloomsbury.
It's not a whim either, but a whole new genre that involves professionals using the techniques of art therapy to help adults 'meditate' and take their minds off the designs the world has on them.
The intricate motifs - both geometrical and others - are used to deal with different types of stress and soothe nerves.
It's official: this may be the new yoga
The art of colouring is increasingly being seen as an alternative to yoga or meditation. As art therapy.
While there are a host of authors and techniques on offer globally, India is just seeing the beginning of the trend with the launch of Colour Yourself Calm, a series with five titles. And with Pinterest listing adult colouring books as one of their 10 big art and design trends for 2016 - and they should know! - the trend isn't going anywhere in a hurry.
One of the titles in the series, Colour Yourself Calm: Creativity, illustrated by Paul Heussenstamm, promises to "free your thoughts and open your mind to creative flow by colouring in mandalas". Heussenstamm, an internationally-acclaimed artist, has drawn mandalas - sacred objects on which to meditate - to banish stress and promote a sense of well-being.
Dr Samir Parikh, consultant psychiatrist, Fortis Healthcare, says he could see how this art therapy could work for some adults. "This could work in terms of a release, a stress buster, or a distraction and a creative outlet by helping in overall stress coping. But of course, it would depend person to person and isn't something that applies to everyone."
Naturally, it's not a magic cure to what ails you, either. Dr Parikh warns that adults who are seriously stressed cannot rely on colouring books alone. But it certainly seems like a painless - and fun! - way to release some angst.
Globally, one of the big names in the genre is artist Holly Macdonald, who most recently created Mindfulness Colouring to help adults colour, create and de-stress. Her earlier colouring book, The Little Book of Mindfulness, sold over 300,000 copies. Clearly, there's a lot of stress to go around. The collection offers 45 illustrations of the natural world from flowers and trees to butterflies and birds to colour in.
The sketches also carry inspirational quotes to help relax mind, body and spirit whilst exploring inner creativity.
For those drawn to nature, Colour Yourself to Calmness by Sue Coccia may also be a great pick. With 100 stunning hand-drawn images from the animal kingdom, you're colouring in detailed images of bears, wolves, birds, dolphins and a host of other creatures.
Experts around the world compare the activity to knitting or solving a puzzle. They believe it is a soothing reaction to stress that involves distraction without being seriously demanding.
Adults are buying in
Stressed out souls clearly agree: nine of the 20 books on Amazon's current bestseller list are adult colouring books. They've also been listed as the 10 most wished-for books in Canada by Amazon.
In less than two years, more than 2,000 such titles have hit shelves. The biggest sellers, Secret Garden, and Enchanted Forest have sold a combined 13.5 million copies in 50 countries.
All the top publishing houses now have plans to release colouring them. Naturally, your favourite cast of characters isn't far behind: there's Harry Potter, Game of Thrones and Sherlock themed versions on the cards, along with a nature, tattoo and even steampunk ones.