What saffron threat! Christmas holidays as much a part of Kolkata as the Pujas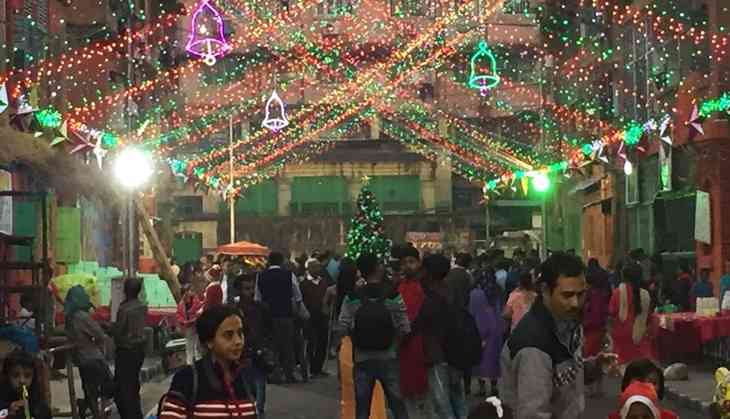 Angela Ram, a resident of Kolkata, is exhausted. She has been baking non-stop for the past five days. Answering the phone while smoking and downing a quick drink, she warmly welcomes total strangers into her home. Two Bengali gentlemen, with the typical demeanour of government babus, who would otherwise hesitate to walk into an Anglo-Indian home, are here to buy her 'special Christmas cakes'. But these cakes have already sold out, and chocolate walnut cakes are all she has left. As she sends her husband off to buy another batch of eggs, she tells us that her sister, who lives next door, makes wine during the festive season; her stock has also sold out.

The scene at Nahoums, the popular bakery in New Market, tells a similar story. Serpentine queues in front of the bakery have not deterred proud Bengalis determined to get their hands on Nahoums' rich plum cake. A must-have during the Christmas season, the fruit that goes into the cake has been soaked in rum for weeks to impart its trademark richness. In fact, so great is the demand for this ironically Jewish bakery's plum cake, that Nahoums is flooded with online orders as well.
On Christmas Eve, the sea of bright red Santa caps on a crowded Park Street gives curious visitors a glimpse of the festive vibe in the city during this season. Kolkata's Christmas craze is officially in full swing.

Christmas is 'Borodin'; an important festival in every Kolkatan's life, second only to Durga Puja in terms of enthusiasm. While saffron-clad chief ministers like Yogi Adityanath lend tacit support to anti-Christian activities by refusing to rein in Hindutva goons threatening Christmas celebrations, the rickshaw puller in Kolkata buying a 'Borodin er cake' for the family reflects the secular melting pot that the city is.
A Kolkatan tradition
This may not be an officially designated five-day break like Durga Puja, but Christmas truly puts Kolkata in holiday mode. Festivities that kick off on Christmas Eve continue right through the week, culminating only on New Year's Day with a mandatory outdoor picnic.

Bow Barracks, the cluster of colonial-era red buildings across Central Avenue in the heart of Kolkata, has become a must visit Christmas destination of late. What is otherwise a zone of affordable housing for the local Anglo-Indian community for the rest of the year, magically transforms into a canopy of colourful fairy lights during Christmas.

The light decorations don't end there. Bells, stars, and even Santa Claus figurines adorn the lampposts here. Before the outdoor party with live music kicks off later in the evening, Christmas carols set the mood.
Nandan, one of Kolkata's more famous cultural hubs, decked out for Christmas celebrations. (Kavita Chowdhury)
Similarly, a visit to St. Paul's Cathedral is also a rite of passage on Christmas Eve, not just for the umpteen 'Brown sahibs' in the city, but for middle-class Bengali families as well. The crowds waiting patiently all evening outside the cathedral gates bear testament to this. Even Chief Minister Mamata Banerjee took part in the midnight mass at the cathedral, posting a picture of it on her official Facebook page, mentioning that she attended the Midnight mass "like she does every year".
Wishing everyone Merry Christmas. Kolkata's special @KolChristmas Festival is a unique celebration. If you are in the city , join in the celebrations at Park Street

— Mamata Banerjee (@MamataOfficial) December 25, 2017
Mamata, the BJP-baiter, has consolidated her anti-communal credentials further by state patronage of Christmas under the Biswa Bangla banner. Her Trinamool Congress government has used popular outdoor family hangout zones like Mohor Kunjo and Rabindra Sadan as venues for traditional crafts fairs and all-day-long open-air folk music festivals like the Sangeet Mela and the Lok Sanskriti Utsab. As a result, the cultural hub of Nandan and Rabindra Sadan has become another festival zone akin to Park Street. Swathed in flags and reverberating with music, with the pleasant Kolkata weather an additional boost, the crowds happily throng here with kids in tow.
Something for everyone
It's but natural for "NRBs", Non-Resident Bongs, to come home to roost during this time of the year. Clubs like Tolly Club and Calcutta Club are still suffering from a colonial hangover, don't be surprised if you find Christmas pudding and turkey still featuring on their Christmas menus. The 'Park Street Festival' has become an additional attraction, with the best confectioners in town setting up kiosks offering everything from rum balls to apple cider. For Kolkatan's, the Flury's christmas pudding is as much a must have as is clicking a selfie with the giant Christmas tree and Santa in the adjoining Park Hotel. The popular carol Jingle Bells is played at every restaurant here, from Peter Cat to Mocambo. Closed communities like the Parsis of the city, hold parties at the Olpadvala Hall on Chowringhee, complete with food, music, and of course, dancing.

However, Christmas celebrations in the city are egalitarian, with something for both the well-heeled as well as the general public. Arjina Mistry is having a tough time trying to ensure that her four excited grandchildren stay in step with the family group. Seven-year-old Shabnam and Meher, eight, can't stop talking about their first visit to the Zoo. Shabnam's eyes sparkle as she mentions the giraffe and the haathi (elephant). Mistry is a 'creche mother' and looks after pre-nursery kids on the outskirts of the city in Bonhooghly. "This [Christmas] is the only time of the year that we step out like this to enjoy. The kids have finished their exams and we try and make the most of the holiday season," says Mistry. Dressed smartly in a pink shirt and blue jeans, Mujibar Mondol, her son-in-law, is a vegetable seller. The family of nine has had a picnic at the Zoo, with the 'ruti alu dum' they packed from home. Now heading home, Mondol wants the kids to see the park at Mohor Kunj.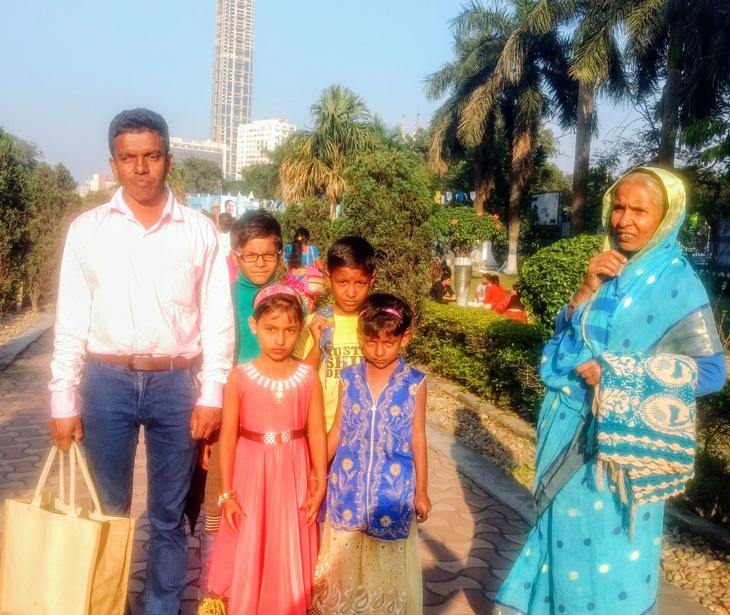 Arjina Mistry and her family enjoying their day out on Christmas. (Kavita Chowdhury)
Likewise, Taposhi, a domestic help in a south Kolkata highrise, makes it a point to go for a New Year picnic with her family and neighbours. Last year it was Diamond Harbour, this year it is Bakkhali.

Speaking about Kolkata's Christmas tradition, Sayantan Das, a headmaster of a suburban school, and his wife Rajyasree Upadhyay, an IT professional at Wipro, believe "natural acceptance" of other lifestyles and religions is ingrained in Bengali culture. Both remember how, even as kids, this time of the year was always reserved for Christmas cake and 'pithe-puli' (Bengali sweet) in their homes. Their eight-year-old daughter Amalika, a student of Loreto Sealdah, is eager to ride the horse carriages in front of Victoria Memorial. "This is special because Babai (Father) otherwise never takes a holiday," reveals Amalika.

Das asserts that Christmas predates Kolkata; popular acceptance of the festival goes back to the time when Kolkata was Calcutta, taking the best from its colonial past and enriching its present.