Unethical tales: animal welfare agencies buy Facebook likes to bag award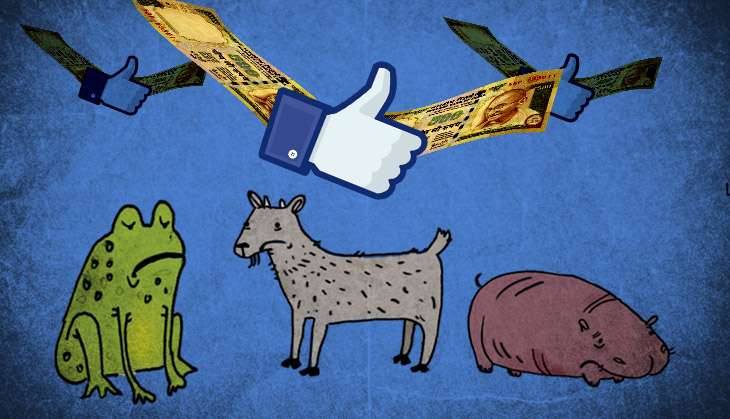 If you thought only voluntary agencies working for human welfare are capable of conspiring to bag an award or funding - you were wrong. Agencies working for animal welfare have smarted up and can upset them in this game.
In July the Federation of Indian Animal Protection Organisations - better known by its acronym FIAPO - invited nominations from animal welfare organisations for a Rs 1 lakh award to appreciate and encourage their good work.
Five nominations were to be shortlisted and put on FIAPO's Facebook page for public voting.
In September, as promised, five organisations - Peepal Farm, Dharamshala Animal Rescue (DAR), People for Cattle in India (PFCI), Welfare for Animals in Goa (WAG) and Reform Advocates for Animal Welfare (RAAW) - were listed on FIAPO's Facebook page album.
Anyone could vote for an organisation, or multiple if they liked more than one, by simply "liking" the organisation's entry in the album.
Of these five organisations, at least three decided to "buy likes on Facebook" to race ahead of the others. And the event that should have kicked off a healthy competition, ended up mired in controversy - all to win the one lakh award sponsored by Clarks Hotel, Jaipur.
Welfare Wars: the dog-eat-dog world of animal activism no one speaks of
Neck and Neck
When the competition started, three of the organisations were in a close fight - DAR, Peepal Farm and RAAW.
"On 2 September, in a matter of hours PFCI's entry got 500 likes in 2 hours. I checked and most likes were from fake Facebook profiles, which had got nothing to do with animal welfare or India," a prominent animal rights activist who was monitoring the contest and did not wish to be named told Catch.
"I informed FIAPO. They acknowledged that the activity looked fishy, but that was the end of it," he says.
"After that the contest went downhill. When DAR saw that PFCI can cheat, they said that they thought it was 'okay to buy likes'."
Catch contacted PFCI founder G Arun Prasanna to ask if his organisation bought likes on Facebook to win the award.
"No, we did not buy likes," says Prasanna firmly.
However, a staffer at DAR, on condition of anonymity, admitted to buying likes, but only after it saw PFCI buying likes.
"... (DAR) purchased votes at 11:50 PM right before the end of the contest so we would win. If no one had bought votes we were the clear winner. If FIAPO had been properly monitoring the contest, this would have been stopped and we would have won," the staffer told Catch.
Real vs Fake Likes
It was easy to spot DAR's fake likes as they were without profile pictures.
WAG, which was not amongst the top three, also decided to buy likes.
"Their likes were best quality profiles with all Indian names. However, when sellers of likes create profiles in bulk, they copy paste some information. In this case, the work section for most profiles was 'not yet working I'm still studying' in those exact words," says the animal activist who was monitoring this charade.
FIAPO was alerted about likes being bought and it was forced to disqualify PFCI.
But it decided to go easy on DAR - even though there had been sufficient proof of them cheating.
In an email to Varda Mehrotra, director, FIAPO, it was pointed out that the "surge in likes for PFCI in last couple hours (500 likes in 2 hours) seems fishy. If you look at the profiles liking the post, they don't have anything to do with animals or India".
A FIAPO staffer acknowledged that the surge was indeed "fishy" in an email dated 27 September.
"We've gone through all the entries for Clarks Awards now, thank you so much for your patience! As you had correctly pointed out, DAR and PFCI both had bought likes - which were fake facebook profiles, and for that reason, both the entries are not included in the final round. We looked carefully at RAAW, WAG and Peepal Farm's votes, and were astounded by the hard work everyone had done to get all the likes - you'd be happy to know that all three are fully legitimate likes from supporters. RAAW and Peepal Farm are at a tie, with WAG at a lead with 1600+ votes, which makes them the winner of the public vote."
"When WAG was picked a winner, FIAPO was again sent screenshots but it never got back," says the animal welfare activist.
We don't know if WAG won though. Mehrotra did not reply to the email asking for confirmation. But Atul Sarin of WAG told Catch - "no, we didn't win".
Asked if it was because there were allegations that WAG bought likes on Facebook, he said, "No, because we got less likes."
The Honest Losers
RAAW and Peepal Farm who decided to be honest and not buy likes lost.
"So the two guys who did not cheat lost. I don't know what's most sad here. Is it the dearth of money in animal welfare, or is it the chasm widening between organisations instead of momentum building or is it finding out about crumbly ethics of a few of us?" asks the animal welfare activist.
"It's already hard for organisations to work together but making them compete for money brought out the worst in them," he says.
The staffer at DAR, said in an email to Catch that buying likes is not unethical.
"Well, nothing was unethical. The contest was made with no rules and not monitored. There should always be rules in place and someone monitoring. It was just a poorly planned event."
Welcome to the murky world of animal welfare. Where anything goes guised as welfare for the voiceless.
Animal Tales: Are animal abuse cases a 'waste of time' for our cops?