This YouTube makeup video deserves to go viral. Watch it now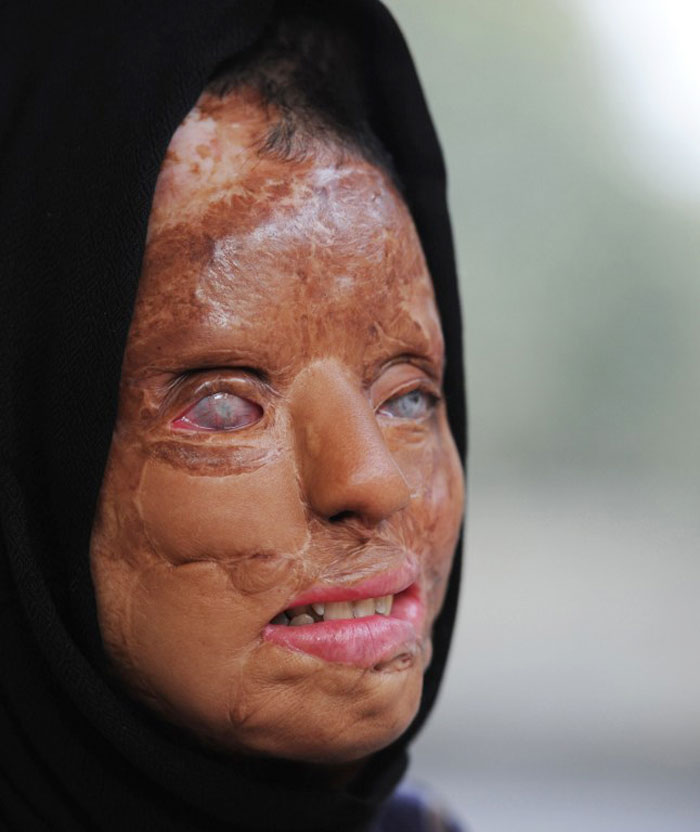 Youtube is flooded with make-up tutorials. But this isn't your typical make-up tutorial, and 18-year-old Reshma Bano Quereshi isn't the typical face you see on these videos.
Through this medium, one normally restricted to the banal, she's starting a deeper conversation - about acid attacks.
Reshma is a survivor.
Missing an eye, and with serious facial scarring, Reshma drives home the message that concentrated acid - the weapon in this crime - is as easily available as the lipstick she's using.
It's a stunning reality that most of us will go through our lives oblivious to, or affected by.
But one organisation, Make Love Not Scars, sees the outcome of this reality every day.
With such easy accessibility, acid attacks are, unfortunately, an all-too-common phenomenon in India. According to provisional data from the National Crime Records Bureau (NCRB), 309 acid attack cases were registered in 2014 alone - almost one for every day of the year.
Seeing as the NCRB only began recording acid attack statistics in the last few years, data isn't available prior to 2010. But even with that being the case, the data available presents a disturbing scenario. The 2014 numbers are higher than the number of the preceding 4 years combined.
Year- Number of attacks
2010- 57
2011- 83
2012- 85
2013- 66
2014*- 309
This jump doesn't necessarily indicate an alarming rise in acid attack cases. In fact, campaigners against acid attacks think it to be indicative of better mechanisms in place today to record the crime. Which is actually worse news - there may actually be more victims of this crime than previously thought.
The crime itself is equally gruesome and devastating. In one move, it destroys a person's physical identity and appearance, and does untold mental damage. Unlike many crimes, the scars, both physical and mental, don't fade with time - they mark victims forever. Their reflection, a permanent reminder of the horror perpetrated on them. It's enough to make anyone give up.
Bharat Nayak, a representative of Make Love Not Scars, said in an email that the point of making the video was to help in removing the stigma that comes with the attack. Through it, the public can see that survivors like Reshma "are as normal as they are".
Slowly, these efforts seem to be working.
Survivors of acid attacks aren't cowing down or disappearing. Like Reshma, they are increasingly standing up, reclaiming their lives and speaking out against a crime that was meant to keep them in the shadows.
The acid-attack survivors employed by Sheroes had all been rejected for jobs because of their appearance
Sheroes Hangout, a cafe in Uttar Pradesh, is another example of that. Jointly owned and operated by Chhanv Foundation and Stop Acid Attacks, two NGOs that work with acid attack victims, the cafe only employs survivors. In addition to bringing these survivors into the mainstream, the cafe also hosts activism workshops that help break stigmas attached to survivors.
Alok Dixit, founder of Stop Acid Attacks, told Catch that the survivors employed at Sheroes had all been rejected for various jobs on account of their physical appearance. In such an environment, it became clear that avenues would have to be created to help victims support themselves. The cafe was started with the help of crowdfunding.
The women, the majority of whom were already a part of the organisation, received months of skill training as well as counselling to prepare them for their respective roles at the cafe.
One member of the Sheroes team, Dolly, is as young as 15. She was attacked when she was only 14- years-old. Not only is she receiving skill training, she's also doing her studies alongside so that she can complete her education.
But an organisation like Sheroes can only employ so many people. There are many more in need of these opportunities. Dixit informs us that Stop Acid Attacks is planning more such initiatives across the country to provide them with the means to support themselves and live with dignity. Another Sheroes is 2 months away from fruition in Kanpur as well, with more branches in the pipeline.
The efforts of NGOs like Make Love Not Scars and Stop Acid Attacks are a great first step, but more needs to be done. After all, if a victim who has suffered such a gruesome crime can find the strength to pick up the pieces and move on, it's incumbent on us as a society to enable that process.