The wandering pastoralists of Kutch have a lot to teach us. Are we listening?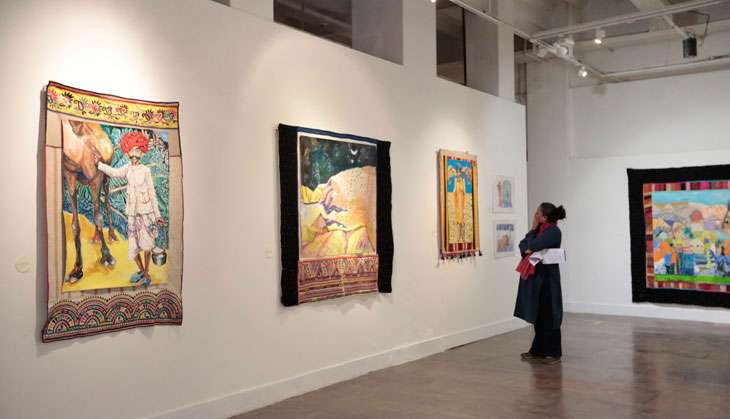 Once upon a time, there was a sage named Dhoramnath. He undertook a unique penance upon the Dhinodhar Hill in Kutch.
Placing his head on a supari (betel nut), he meditated upside down with his legs folded. After 12 long years, Lord Shiva told him that the tremendous powers he had accumulated in his tapasyawould mean he would invariably burn the first thing he set his eyes on. Dhoramnath carefully twirled the supari and faced north, where the vast expanse of ocean lapped around the Dhinodhars, and opened his blazing eyes.
His powers tore through the ocean, burning away every drop of water.
That is how the people of the Rann of Kutch explain how their desert came to be. But they found a way not just to survive, but to thrive for centuries.
At Living Lightly, an ongoing exhibition organised by Sahjeevan and the Foundation for Ecological Security at the capital's Indira Gandhi National Centre for the Arts, the lives of these pastoral people are on display - through art, music, writings, film and discussions.
Snapshots from the exhibition
Photo: Sehar Qazi/Catch News
Photo: Sehar Qazi/Catch News
Photo: Sehar Qazi/Catch News
Photo: Sehar Qazi/Catch News
Photo: Sehar Qazi/Catch News
Photo: Sehar Qazi/Catch News
Photo: Sehar Qazi/Catch News
Photo: Sehar Qazi/Catch News
Photo: Sehar Qazi/Catch News
Photo: Sehar Qazi/Catch News
What the pastoralists can teach us
But how do these pastoralists relate to our lives?
The Rabaris and Muslim Jatts reside in Kutch in the Banni grasslands, a 3,800 square kilometre piece of land which was formed thanks to top soil deposited by the Indus river, and is home to the richest biodiversity in India.
Both these tribes have played an important role in the history of cattle breeding in India. They originally developed India's indigenous cattle breeds. The superior Kankrej cattle and the Banni buffalo are their creations - developed through 'selective breeding' after identifying nine prized traits or 'nava gunas'.
Another one of their creations is the Kankrej camel which swims in salty marshlands - the only kind of swimming camel in the world.
Varsha Mehta, lead researcher with Sahjeevan, explains: "90% of the dairy cattle in developed countries belong to only six breeds of cattle." She adds that while government-supported research and animal husbandry experts spend years to breed the perfect breed of cattle, the 'illiterate' wandering pastoralists have achieved more scientifically accurate results with not an iota of government support or funds.
The tribes sell their best breeds in cattle fairs, sell their animal produce and keep moving. An average tribal walks 2-30 kilometres a day. Each have their different set routes that they take in search of grazing land.
The Maldharis and Rabaris travel across Gujarat, Rajasthan, Madhya Pradesh, Odisha, Chhattisgarh and beyond on foot. They move without the privilege of a settled home, owned property, formal education, and often without a government-issued identity card. To the government, they are invisible, nameless, faceless nomads and denotified tribes, who seldom have Aadhar cards, bank accounts or are even counted in the Census.
Living Lightly is an attempt to make them visible, a tribute to their contribution to our everyday lives. They are the reason our cattle possess this specific gene pool, and therefore, the reason why the milk and animal produce we depend upon every day is of the quality it is.
Where is the land to graze?
Bhikubai Rabari is on his third visit to Delhi from his home in Jangit Tehsil in Kutch. He has four children, and is the proud owner of 100 Kankrej camels, 50 sheep and 10 cows. With his dark complexion and his white turban and dhoti, he is one of the few Rabaris that have made the conscious effort to integrate what he does with the urban market.
Bhikubhai Rabari (Photo: Sehar Qazi/Catch News)
"The biggest threat we face is the lack of grazing land. It has reduced so much in the past few years that we are having to travel farther and farther to find food for our cattle. Last month, I went up to Vadodara with my cattle," he tells Catch. That's over 500 kilometres on foot. It took Bhikubai and his family two months to go there and get back.
Dr Jayahari, executive director of Sahjeevan, says the biggest threat facing the pastoralists is 'development'.
"With increasing construction of roads, bridges, urban construction and restrictions on land use in the name of biodiversity preservation, grazing land has phenomenally reduced across India," he says.
The cattle follow their own route. They pick and choose the kind of nutrition their breeds need. This organic way of fodder consumption is what has strengthened their breed and gene pool. This is why the pastoralists walk with such abandon. They are guided by their cattle and see their existence as one with them.
Can we grasp subtle lessons?
The Maldharis and Rabaris also have another thing to teach us - the philosophy of detachment while continuing to walk the path of life.
One of the famous Kutchi poets, Shah Abdul Latif Bhitai, wrote:
Burn as long as you live, Sasui!
There is no rest without burning
In heat and cold, keep walking
This is no time for loitering
Leaving all your clothes behind
Set out stark naked
Those who walk with nothing, reach farthest
Those who bedeck themselves remain foresaken
Those who set out with nothing find union.
The pastoralists have much to teach us. But are we educated enough to grasp their subtle lessons and create a society with a place for them in it?
Edited by Shreyas Sharma