The making of a terrorist. Except, Mohammed Aamir Khan isn't one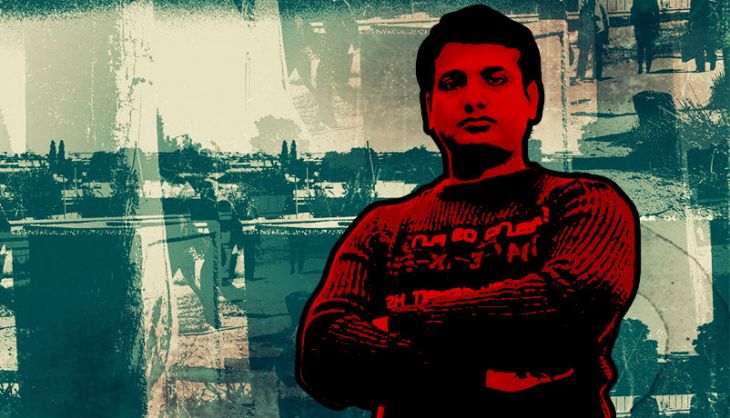 On 20 February 1998, Mohammed Aamir Khan was "kidnapped" from a dusty by-lane of Old Delhi and framed as a terrorist. Eighteen years later - on 20 February - Khan is readying to release a book on his 14-year struggle to prove his innocence.
I am placing my third call to him. Khan is now at the Apollo Hospital. He has an appointment with a psychiatrist. After spending 14 years in high risk cells meant for terrorists, he is trying to cope with memory loss. And the "khauf" (terror) of being in the dark. Of being alone. Of being kidnapped.
Khan was barely 20 when he was "kidnapped" by men in a white Gypsy. He insists on the word "kidnap" because it was late at night and there were no witnesses. He was "illegally" kept for eight days at the police station without access to a lawyer, magistrate or any relative.
Framed as a terrorist and jailed at the age of 20, it took Khan 14 years to be released from prison
Khan had stepped out to offer Ishaa namaz and buy medicines at a hakim's clinic. This was seven days after he had returned from Pakistan after meeting his much older sister who is married there.
The great trap
Minutes after he had secured a visit visa to Pakistan on a November morning in 1997, a "Guptaji", who was hanging around the Pakistan High Commission, took him to a nearby kiosk, bought him a cold drink and asked him if he would like to serve the country. Help the intelligence branch of the police.
Also read: Amartya Sen report: 80% Bengal Muslims live on less than Rs 5,000 a month
Khan was 20. His father was a proud
Congress
man who spoke of Gandhiji, of India's secular credentials, of how his family had decided not to migrate to Pakistan at the time of Partition, and of how he would like to be buried in India.
Khan agreed to help "Guptaji". To click pictures of some sensitive establishments in Karachi and carry some documents on his way back to India.
However, when he was trying to cross over at the Wagah border in Pakistan on 13 February 1998 with documents delivered to him in Karachi by a "Choudhryji", he panicked and threw away the "small leather bag".
Khan got cold feet at the Wagah border and threw away the package he was meant to deliver
Back in Delhi, "Guptaji" would not believe his story. He met Khan three times and said he was a double agent. That he was working for the ISI.
A week later Khan was kidnapped, tortured and framed in 19 bomb blast cases. Accused of being trained in Pakistan as a terrorist and of planting bombs. Accused of planting 20 bombs in trains, buses, bazaars of Delhi, Sonepat, Rohtak and Ghaziabad between 1996 and 1997 - much before his Pakistan visit. Much before his alleged training there.
It took Khan 14 years to prove his innocence.
The making of a terrorist
It's not difficult to get Khan talking. But for his memory lapses. His sentences are interspersed with "where was I?" or "there was an important fact that I wanted to tell you".
When Khan agreed to work for the country, Guptaji promised to provide full security for his family and pay for his services.
"He said I was to take photographs of the Naval Headquarters at Shah Faisal Road in Karachi; he wanted me to take photos of the vehicles used, the signboards and some other details," writes Khan in his book Framed As A Terrorist: My 14-year Struggle To Prove My Innocence, published by Speaking Tiger.
A few weeks after his arrival in Karachi, Guptaji tracked Khan on his sister's landline phone in the city.
Khan stepped out with the camera given by Guptaji and tried to take pictures. But when he saw the security arrangements there, he was terrified. He could not take the photos.
Khan still battles with his memories. The inhuman treatment he was subjected to has scared him
When Khan was crossing into India with the leather bag that was handed to him, he panicked. The searching at the Wagah border was thorough. And there was no way, Khan could have hidden the bag. He broke into a sweat.
"I saw the toilets at the end of the platform. I walked fast to the toilets and took out the leather bag. With all my strength, I threw it onto the top of the roof of the toilets."
Khan's story reminded me of a late colleague who travelled to Karachi to attend his niece's marriage. He was held up by some Pakistani men, even as the marriage was in progress. The men had only one question: "What can you do for us?"
A changed world
When Khan was set free after 14 years the world had changed. It was a world of cellphones and internet. There was Facebook and email. There were ATMs and PVRs. His father had passed away and his mother was paralysed.
Also read: NDA reluctant to work for Muslims due to 'pressure groups' - Amitabh Kundu
His years in jail haunted him. Nightmares of being hounded by the cops. Of electric shocks twice a day. Sometimes on his private parts. Sometimes his nipples. Sometimes his fingers. The beatings. The pulling out of his nails.
Four years on, he is trying to cope as well as he can. With his wife Alia, who waited for him for 14 years to return. And their little daughter Anusha.
"My father was present at every court hearing till he passed away. I last saw him in the hospital. His final words to me as I was pulled away were, 'I am sorry I couldn't come for the court hearing'," says Khan.
After his father, his mother, who had never stepped out of home, took charge. She attended court hearings and coordinated with the lawyers.
"My parents had faith in me. After my father died in 2001, my mother went to court for 10 years. I am happy that I was around when she breathed her last six months ago. I am glad she saw me free, saw me married, saw her granddaughter."
Khan's travails have not made him a cynic. Even though he was subjected to abusive language that was full of anti-Muslim innuendos.
He still values secularism and democracy. "My non-Muslim friends have helped me more than anyone else."
Unfortunately, most friends showed up after he was acquitted in one case after another.
Police brutality & other stories
Human Rights Lawyer Nandita Haksar helped Khan write the book. She argues that Khan is a victim of Partition. That Partition continues to impact the lives of Muslims in places like Delhi 6, as Old Delhi is popularly known, on a daily basis. Here, Muslims are drawn into the dark and murky world of spooks, spies and sleuths.
When spies or couriers are caught by either country they are subjected to brutal torture and imprisonment for long years.
Khan was recruited to be a courier, but not given any training. And the strangest part was he did not know the identity of the men who recruited him or to which agency they belonged.
Indian intelligence agencies are not subject to public scrutiny and are exempt from the ambit of the Right to Information laws. They are not accountable to Parliament. So if an operation is aborted, it is couriers like Khan who are caught, not the "Guptajis".
Also read: Listen to these voices: Indian Muslim leaders call Islamic State a threat to humanity
To put in perspective what Khan went through at the hands of the police, Haksar quotes late Justice Anand Narain Mulla of the Allahabad High Court, who said that there is not a single lawless group in the whole of the country whose record of crime comes anywhere near the record of that single organised unit which is known as the Indian Police Force.
Haksar writes that policemen are given rewards and medals despite committing unspeakable crimes. She cites the example of Assistant Commissioner of Police Rajbir Singh, caught by the CBI in a corruption case in 2005. It was alleged that he used his position to extort money from builders. Yet he is a recipient of many awards.
Among the most heinous crimes committed by the police is torture which is banned under international human rights law. Human rights groups in India have been documenting the institutionalised use of torture by both the police and the security forces, including the armed forces.
However, the issue of torture has still not taken centre-stage in Indian politics.
The framing of a terrorist
Haksar explains how Khan was framed. He was kidnapped by the police in the night so there was no record or witnesses to his arrest. There was no record of the names of police officers responsible for the arrest or the circumstances of his arrest - even though this was in clear violation of the procedures laid down by law.
Instead of being produced before the magistrate within 24 hours, Khan was kept at the police station for eight days.
During this period police were able to obtain Khan's signatures on innumerable blank pieces of paper and made him write into blank diaries. They forced him to give false confessions to people injured in the bomb blasts, so that they would later identify him in court. Khan was made to give false statements that he had bought chemicals from shopkeepers to make the bombs.
He was repeatedly tortured in prison and made to give false confessions and sign blank pieces of paper
Khan was kept in legal remand for nearly two months, in which time the police created further evidence in order to frame him in nineteen bomb blast cases.
The government has not helped with Khan's rehabilitation
"I was not entitled to it because I had been acquitted on grounds of reasonable doubt. How many more tricks will they use to deprive me of my basic rights guaranteed under the Constitution of India?"
"I want to ask you this - shouldn't there be a law to rehabilitate those who are falsely implicated?"
So far its been bad luck for Khan.
The National Human Rights Commission had recommended that the government give him a compensation of Rs 5 lakh.
At 39, Khan is not too sure if that sum would cover "damages" for missing out on the "golden period" of his life - but he hasn't received anything yet.
He had to leave the job that he had with Anhad, an NGO. And the artificial jewellery business that he partnered in, did not take off.
Besides he still has some cases pending in court.
"The High Court has still not heard two appeals. I do not know how many more years I have to wait to get justice."
For now, Khan can't wait to see the day when he is able to shirk the "deshdrohi" (terrorist) tag off his shoulder and walk with his head held high.
*********
Title: Framed As a Terrorist: My 14-year Struggle to Prove My Innocence
Author: Mohammad Aamir Khan with Nandita Haksar
Publisher: Speaking Tiger
Pages: 234
Price: Rs 250
Edited by Anna Verghese
More in Catch:
Prashant Kishore doesn't think Gogoi should lead Cong in Assam
It's not about him alone: How Kanhaiya's poor parents put things in perspective
Deadpool: Foul-mouthed. Gore-fest. Arguably the funniest superhero movie ever
VC sacked for misconduct: What's wrong at Tagore's Visva Bharati University?