Look Down: Singapore, Mexico & Finland are going underground to build cities
Asad Ali
| Updated on: 2 December 2015, 0:16 IST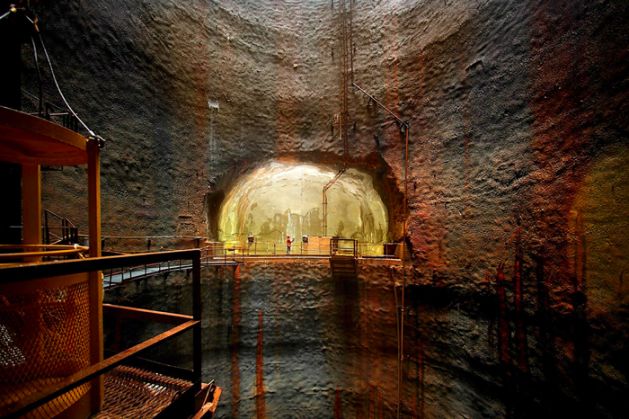 "Descend, bold traveller, into the crater of the jokull of Snaefell, which the shadow of Scartaris touches (lit: tastes) before the Kalends of July, and you will attain the centre of the earth. I did it. Arne Saknussemm"
After the fictional Professor Lidenbrock reads this message, he takes his nephew Axel and embarks on A Journey to the Centre of the Earth in the cult 1864 science fiction novel by Jules Verne.
Clearly someone was listening, because across the world countries are trying to replicate over-ground human settlements deep in the bowels of the earth. Exploring the unknown? Not quite. Lack of space and population explosion are more like it.
In recent years, a number of countries have been exploring how to build entire cities underground. Leading the way - thanks to an inarguable space crunch - is Singapore.
The Singapore government recently launched an R&D programme worth 60 million pounds called the National Innovation Challenges: Land and Liveability.
Its focus: to actively create underground spaces for urban living - and given how two major underground projects have already been a success, it seems on course to justify the huge state investment.
It's taken a few years to get here, and neither of these first two projects is residential, but their scale is no less ambitious.
In 2008, Singapore developed an Underground Ammunition Facility for its army to store the military's munitions and explosives.
Last year it developed the first underground oil storage facility in South-east Asia, the Jurong Rock Caverns - beneath the Banyan Basin on Singapore's Jurong Island.
The caverns, one built and four more to go, will be as tall as a 9-storey building and will be able to store a staggering 1.5 million cubic metres of oil at full capacity. The infrastructure is slated to support major players such as Chevron Philips, ExxonMobil and Shell.
Jian Zhao, professor of geomechanics at Monash University, who headed the feasibility study for the Jurong project has said that underground power plants, sports stadiums and even libraries are on the cards.
If you think Singapore's thinking big, Mexico's plans are even bigger - a few years ago the country's BNKR Arquitectura (Bunker Architecture) is all set to build a ginormous inverted pyramid bang in the middle of Mexico City's historic main square, the Zocalo.
Called The Earthscraper, the subterranean structure will descend 1,000 ft below the earth's surface and support, potentially, 100,000 people. The total area covered will be 57,600 sq metres. It's not hard to see how this would've been a challenge overground.
Can't understand these figures? In plainspeak it's a 65 storey building, 300 mts underground.
The plan is, tentatively, to use the floors nearest the surface as a museum space. Retail developments will follow, and next will be residential and office spaces.
The electricity required for the whole pyramid will be generated by the recycling function of turbines, transmitted via exterior 'membranes' to every floor. Every ten odd floors, there will be 'green garden floors' that will encourage a healthy micro-climate and air filtration.
But even before Mexico got into the act, Helsinki had already been there. It was the first European city to have significant success in underground development. In 2011, their underground master plan managed to carve out a swimming pool complex, a shopping mall and a church from the ground beneath its city streets.
There's also a hockey rink and even a huge computer data centre that's cooled by sea water.
If there's space crunch and ingenuity involved, can New York be far?
NYC's 'Lowline Project' is an attempt to develop the world's first underground park. Slated to open in 2020, the park will be run on innovative solar technology only.
London too is 'with it', if you will. The Old London Underground Company is working on plans to develop 26 sites with an estimated value of 3.6 billion pounds into retail parks, entertainment centres, offices and other community spaces. The real genius? That these will use abandoned underground tube stations in London.
There's obviously a lot of unknowns here, above all how shifting shape underground will affect the stability of our landmass even as earthquakes get more frequent - and more destructive - than ever.
But there's no question that when it comes to looking at urban space constraints with a new eye, all the action is in looking down, not up.