The Real Power List: women who are changing the world, one move at a time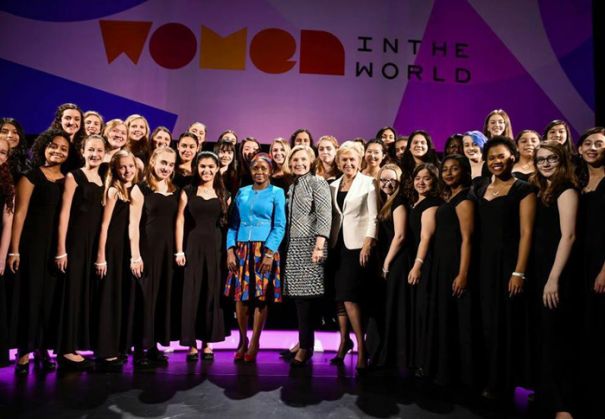 On 20 November, dozens of dissidents, activists, actors, powerhouse journalists and powerful CEOs collected to stir and provoke conversations in New Delhi.
The best part: most of them were women.
This was the first Women In the World (WITW) conference to be held in Asia. WITW, for those unfamiliar with the concept, is iconic editor Tina Brown's annual conclave of power-women, first launched in New York in 2010 and now a highly-influential annual affair.
It was no different in New Delhi. Over the course of a packed day, conversations ranged from sexuality and identity to politics, activism, exploitation, war and refugee crises across the world.
The experiences of participants were as all-encompassing as the conversations.
On the one hand was Oscar-winning actor Cate Blanchett, who moderated a conversation about the refugee crisis in the Middle-East and was later interviewed about theatre, cinema and motherhood by Brown.
On the other were women like Obiageli Ezekweili, founder of the #BringBackOurGirls campaign in the aftermath of the Boko Haram abduction in Nigeria.
There were glamorous women having gritty conversations and gutsy grassroot workers basking in rare but deserved glory.
And then there were some of India's most recognisable faces. Madhuri Dixit - who talked about the most important lessons her mother taught her. Soha Ali Khan, who spoke with humour about female body image in Indian cinema. And Nita Ambani, who read a speech about the debt she owes girls everywhere.
But beyond the headlines and name-dropping soundbites, conversation was insightful. And some of it was awe-inspiring.
These are the four women - and one man- who stirred us with their words. But more significantly, by the work they continue to do.
"It's not only in the U.S Elections that we can. We can."
What kept the terrorism in Nigeria by the Boko Haram from receiving the same degree of attention as terrorism elsewhere? Was it the "tyranny of distance?"
When 270 Nigerian schoolgirls were taken hostage by the Islamist terror group Boko Haram in April of last year, Ezekweili launched and championed the campaign that brought it to everyone's attention. With the global campaign #BringBackOurGirls that she co-founded and launched on social media, she focused the world's attention on this human rights crisis, and even won the support of Michelle Obama.
"When Chibok girls happened I kept telling world leaders that don't you dare think that this is happening in some neck of the woods. you can never imagine how quickly this can travel. Deal with it and tackle it," said Ezekwesili.
Ezekwesili has been the Vice President of the World Bank (Africa). This year, she was named to Time's annual 100 most influential people list.
Only some of those kidnapped girls have escaped so far. According to Boko Haram themselves, most have been killed, married, converted to Islam or sold as sex-slaves.
If future generations of girls are to avoid that fate, they'll need Ezekwesili on their side.
Follow here here:

"Beauty is being controlled by an exclusive bunch of people who decide how you should look, what you should wear, how your hair should be, what color your contact lenses should be."
And if anyone knows, Lakshmi Menon does.
A supermodel who first broke into the global fashion world with Jean Paul Gaultier, she's fronted the world's biggest brands and ad campaigns and should of all people be free of pressure to conform.
Yet, as she spoke it became apparent how difficult it was for her - with dusky skin - to break into the fashion industry in India, where fashion is Bollywood-centric. And consequently narrow and limited.
"It is all the same people. You see Deepika Padukone in five different things in one magazine. Is she the only beautiful person in the country? In a population of millions of women who are absolutely exquisite?" She asked.
Of the pressures to conform, the disinterest in diverse forms of beauty and our unwillingness to accept of a variety of skin colours and body shapes, she said angrily, "It's not fair".
We couldn't agree more.
Follow her here: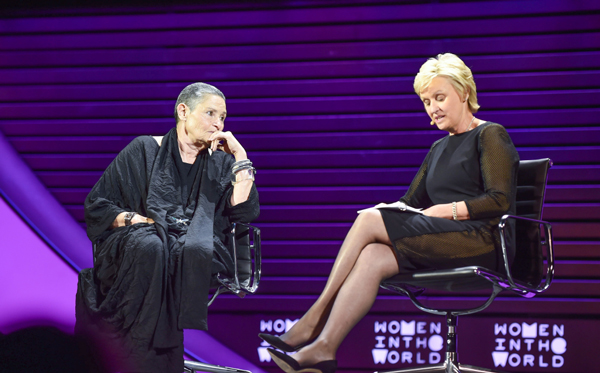 If there's one name you remember from Women in the World, make it this one.
An Israeli woman whose son was killed by a Palestinian sniper, Damelin is now raising funds for 1,000 pairs of sneakers - with doves embossed on their side. As a reminder that we must walk the talk.
Just as she did.
Because when news that her son has been killed in war came to her, her first words were "You may not kill anyone in the name of my child."
Instead, she became spokesperson of Parents Circle Families Forum, an organization of over 600 Palestinian and Israeli families that have lost a loved one to the conflict.
By directing attention to the common experience of bereavement, the Parents Circle hopes to foster dialogue between Israelis and Palestinians.
Her close friend and another bereaved mother, Palestinan Bushra Awad, said, "The goal of the Parents Circle is to foster dialogue between two warring factions by revealing the shared humanity of grief."
Two women from the opposite side of the political spectrum but the same side of the human one are teaching us how.
Follow her here:
Stateless, paperless and passportless, Nizammuddin belongs to a community of Rohingya Muslims who fled his homeland when the violence and ethnic cleansing of his community began in 2012.
With no rights, or citizenship, the 'fortunate' among the Rohnigas have found exile in India and in Malaysia. Most didn't even make it that far. Some tried to reach Bangladesh on broken boats and were sent back. Of one such boat that was carrying 139 men, 132 died.
Nizammuddin's children frequently ask him where they belong. "Where is their place in the world? They ask, I have no answer."
As the world is thrown into a refugee crisis, it's a question that belongs to all of us, not just those displaced. Because borders came after humanity did.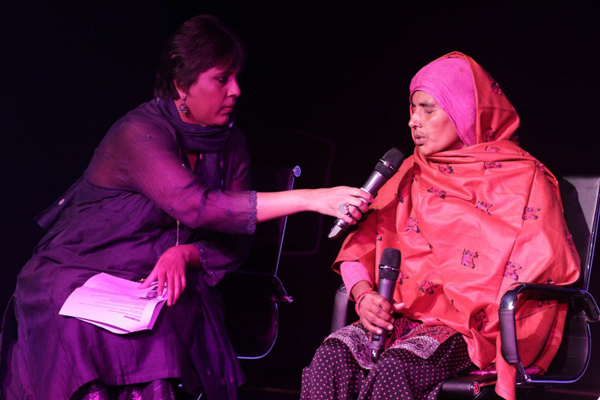 In 2012, a thirteen-year old Dalit girl in Uttar Pradesh was gangraped. The rape was filmed. She was released and sent home, but the videos of her rape were being sold in a village shop. For Rs 50 a copy.
Her father found a copy of the video, and the family decided to take the case to the police.
Bribes were offered to deter Bitiya's family from fighting the case. They declined.
Bitiya was removed from school for being a 'bad influence' on her peers. Then her father died.
And her mother fights on.
With caste, economics, and gender stacked squarely against them, Bitiya and her mother know justice is a luxury rather than their right.
And yet, she says simply, " We will continue to fight. We won't give up."