Say goodbye to fancy Kashmiri weddings: J&K govt puts cap on food, guest list
Sehar Qazi
| Updated on: 23 February 2017, 20:21 IST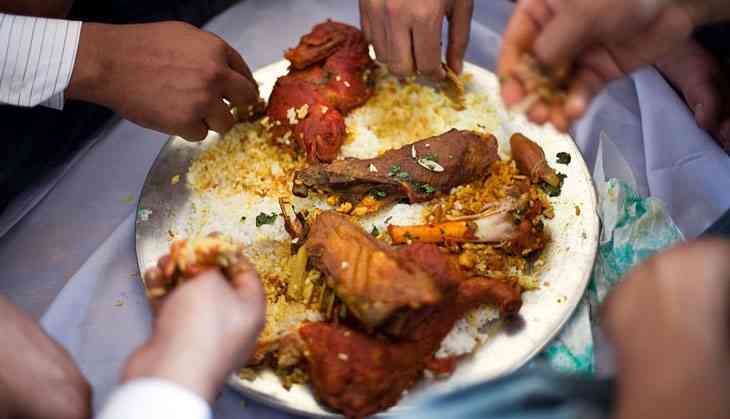 Male guests at a wedding party are served and eat a traditional Wazwan meal seated in groups of four around a communal plate called a Trami. (Photo: In Pictures Ltd./Corbis via Getty Images)
Marriages in Kashmir, much like in the rest of north India, can get a bit out of hand. But that may change soon, thanks to government intervention.
On Tuesday, the state government imposed a number of restrictions on weddings and other such gatherings in order to curb the wastage of food. The order is supposed to come into effect by 1 April.
Shadi ke rules
According to these new rules, parents of brides cannot invite more than 500 guests and the number has been reduced to 400 for grooms, and 100 for small functions like engagements. Besides, how many of us know more than 500 of our Facebook friends anyway?
The government has even imposed restrictions on the number of dishes served during the wedding: – seven non-vegetarian and seven vegetarian dishes, besides two items of sweets or ice cream. Sorry, dessert lovers.
This move by the J&K govt is under speculation for being a diversion from various other important issues in Kashmir, and is also being called as an "effortless exercise".
"Last year, when I went to a marriage ceremony, around 40 dishes were served. That was crazy! So much food got wasted. Many such restrictions from government have been imposed in the past also, I hope this time it really works," Mohammad Aslam, a local resident, told Catch.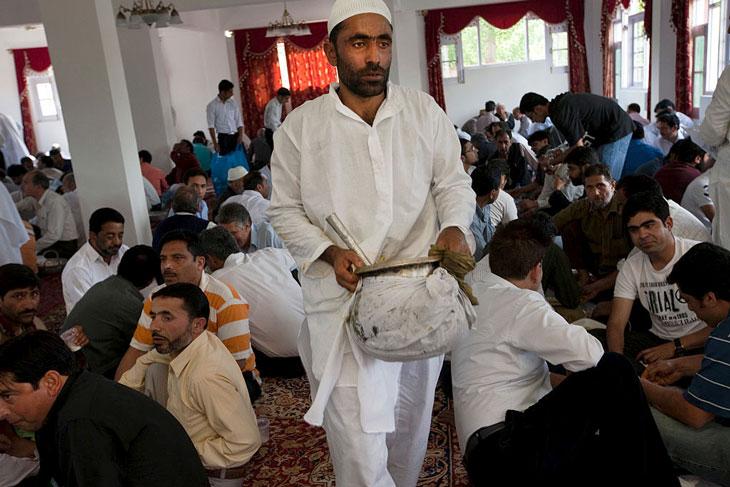 Male guests at a wedding party are served and eat a traditional Wazwan meal seated in groups of four. (Photo: In Pictures Ltd./Corbis via Getty Images)
It's funny though that the government would object to such extravagance as mostly it's the MLA weddings that see large spreads of wazwan.
In fact, recently an image of Mehbooba Mufti also went viral on social media, one in which she was spotted relishing a whole platter of wazwan all by herself. It was carried with a sarcastic comment that read, "Mehbooba Mufti enjoying Wazwan, full plate alone. Be careful, she will eat you too".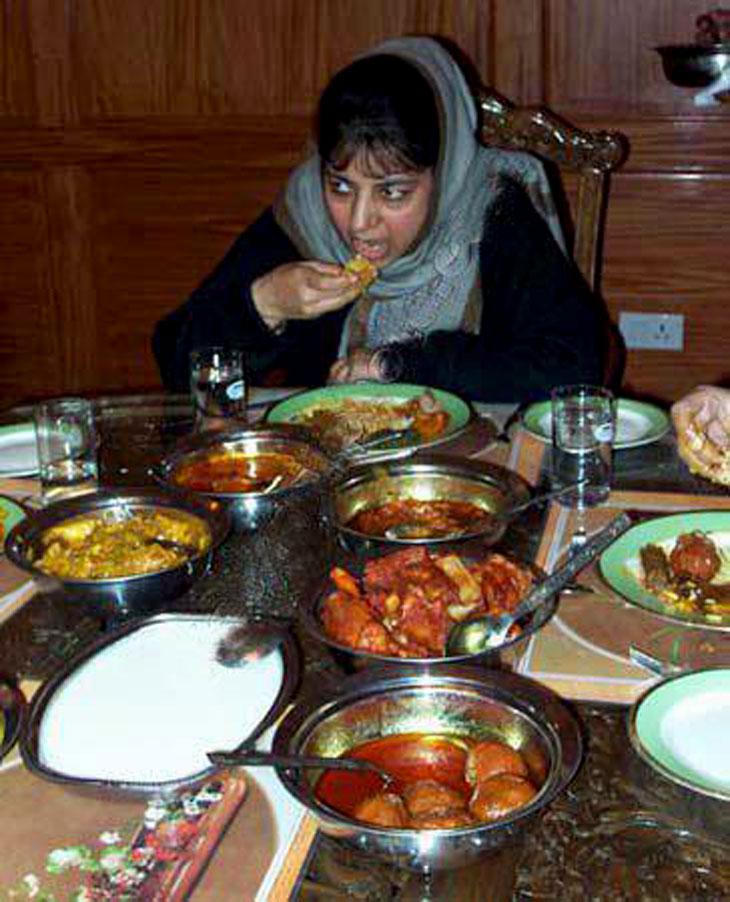 Mehbooba Mufti and her wazwan platter. (Photo: Facebook)
The components of Wazwan
Wazwan is an inseparable part of Kashmiri weddings. The traditional menu of seven signature dishes in wazwan may be the norm but the chefs have been continuously adding and experimenting many other novel dishes. Cooked over firewood, over the years, more than hundred dishes have been added to the traditional fare.
Some of the dishes that are served in the wazwan are Meithimaaz, Daeniphoul, Ruwangan Chaman, Doudh-e-ras, Hindi Roganjosh, Palak, Waza kokur(spicy chicken), Tabakh maaz, Rogan josh, Rista, Aabgosh, Dhaniwal korma, Marchewagan korma, and Goshtaba. All these delicacies are rich in taste and texture with mouth-watering aromas. Apart from these dishes, Samikabab, Aaloobokhra, Kishmish Korma, and Pulav are also prepared. The dishes are served in a particular order and on a big plate where four people sit and eat together.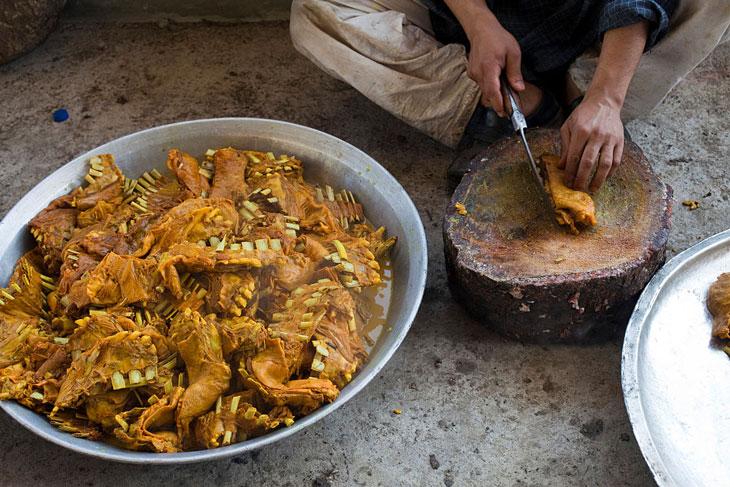 A Waza or chef in the Kashmiri tradition chops lamb ribs for a dish called Tabakh Maaz at a Wazwan feast. (Photo: In Pictures Ltd./Corbis via Getty Images)
The history of wazwan dates back to the last years of 14 century when Timur invaded India and forced skilled woodcarvers, weavers, architects, calligraphers and cooks from Samarkand to migrate to the valley of Kashmir. The descendants of these cooks are the wazas (chefs), who prepare wazwan. Many believe that the influence of different cultures has given rise to the present day wazwan.
"Wazwan is a time consuming and labor intensive work. Different dishes are prepared from different parts of lamb. The back leg portion goes into making Gustabas and kebabs, while as as bony portions are used to make Ronganjosh, Korma and the ribs go into the preparations of crispy and delicious Tabakmaz," says Mushtaq Ahmad, who has been working as a waza for 15 years.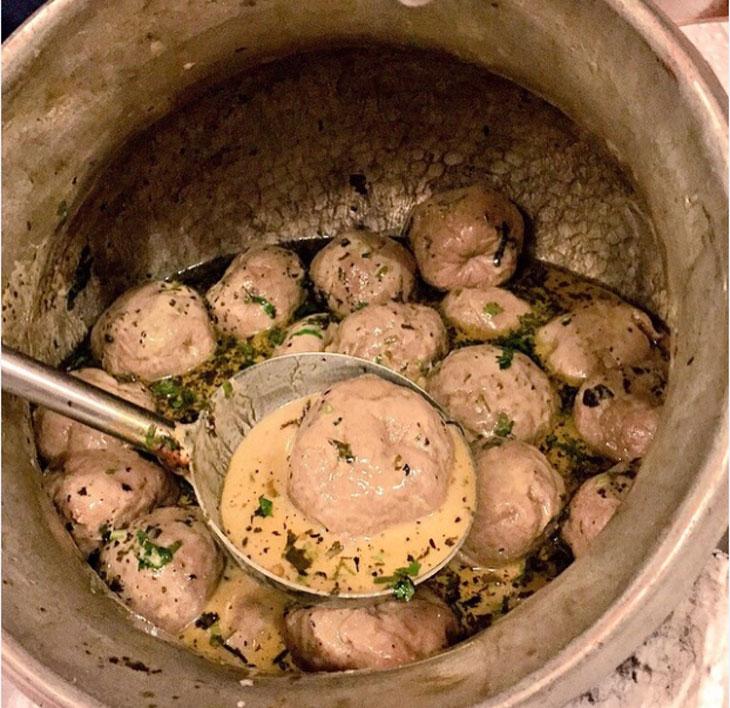 File photo
While preparing dishes Gushtabas and Ristas, the mutton is softened by pounding it with wooden mallets on stone slabs.
But going by the government orders, let's see how many dishes will be served now, and if the government would intervene at all.