Rights of Admission Reserved - the struggle to get in with the in crowd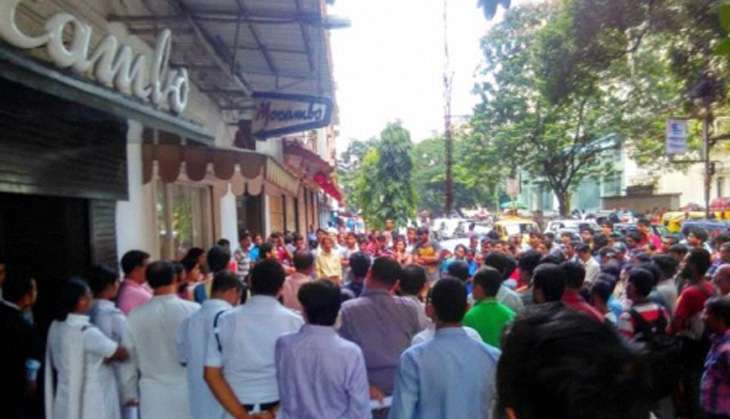 Earlier this month, Calcutta's Mocambo restaurant was in the news for refusing to allow a guest's driver to dine with her. It's something that happens again and again, and every time there's social media outrage, but the hysteria misses the point, mentioned on the sign outside the bar/club/ restaurant: that in any establishment, the rights of admission are reserved.
File photo
If truth be told, I'd say this is the fun part: bluffing your way in-or 'blagging' as it's called in England-past the silly doormen condemned to being school monitors for the rest of their lives.
What's even more fun is getting thrown out once you've managed to get in. It's the ultimate act of rebellion. For while we might have grown up into straitjacketed middle age, there's nothing like a bit of backchat and reverse arrogance to make you feel truly alive. The manager tries to put you in your place and you do the same. He asked for it. I've been grabbed by the collar, lifted off my feet and deposited outside Hard Rock Cafe, New Delhi, by a bouncer. It was, by far, the most magical joyride of my life.
Also read - Popular 'fine dining' Kolkata restaurant refuses to feed diner's driver over his attire

Let me say this: if I ever owned a bar or restaurant, everyone would be welcome. Clothes and shoes wouldn't be an issue. But in the real world that's not how it works.
Class consciousness
Looping back to the Mocambo incident, I wondered if it would have happened in Delhi. Delhi is perhaps the most status-conscious city in the country; having your servant in tow is a done Delhi thing, a form of conspicuous consumption. Have slave. Will flaunt.
The maid follows the memsahib wherever she goes. You can spot her in Defence Colony market or in the Saket malls. The maid is not as well-dressed as the memsahib, has a darker complexion, and always follows two steps behind, holding memsahib's Murphy's baby as well as the oversized shopping bags. In a restaurant, the maid and the baby occupy another table. I've seen this in Sagar.
In Dehradun, where I also live, the distinction between the working class and the middle class is less obvious. Deepak, an autorickshaw- driver friend of mine, keeps sampling new bars when they open in town. The last time he went to one, he came back and asked me: 'Bhaiya, I tried a new beer, the one you are supposed to have with lemon.' 'Corona,' I said, my heart swelling with pride that a Deepak could also partake of the fruits of liberalisation, that his taste in beer was evolving. Only up to a point though: Deepak told me that he preferred Kingfisher Strong to Corona any day.
The blaggards guide to rejection
The establishments that dabble in subjective exclusivity can be divided into three categories: a nightclub, an elite private club like the Gymkhana and, of course, the not-so-humble restaurant.
The nightclub bouncer is the stuff of legend. Director Quentin Tarantino was famously barred from entering a nightclub in Paris. (A few years later, Titty Twister, a new Tarantino-themed club opened in the same district). He was wearing a suit and was considered overdressed for the occasion (Delhi Gymkhana would have welcomed him with open arms!). His explanation that he was coming straight from an awards ceremony (where he'd won) didn't hold water with the doorman.
Similarly, Paris Hilton was turned away from a club called Bungalow 8. In 2015, Robert Kennedy's underage daughter Kyra was refused entry into an upstate New York club. She screamed her credentials at security: 'I'm a Kennedy, Google me,' but to no avail.
File photo
I'm not a Kennedy (not that it helps), so I don't play that card. Once in Dublin I found myself outside The Kitchen, the now-defunct club owned by Bono and the Edge from the supergroup U2. The bouncer wouldn't let me in. 'Too many people already,' he said. With nothing to lose, I tried a complicated line-in. I said: 'Look, I know Bono and Salman Rushdie are friends. Salman even hid in Bono's house when the fatwa was out on his head. What a shining example of Indo-Irish friendship. If you let me, an Indian, into Bono's club you'll be cementing this friendship between two cultures. Also, we were both colonised by the Brits, one more reason for Irish-Indian amity.' The bouncer looked at me in disbelief but finally let me in. He told me it was the most original story he'd heard in all his years at the door. I was rewarded for my ingenuity.
Also read -Kolkata: Mocambo doesn't discriminate, driver was 'dirtily dressed' insists fine dining restaurant's manager
Private members' clubs love to flaunt their don'ts: no floaters, no shorts, no torn jeans. Earlier this year, there was an incident at the Delhi Gymkhana involving Mohini Giri, former chairperson of the National Commission of Women. She had gone there to celebrate some occasion with her staff. They work for her social organisation, Guild of Service.
She was told that 'maids' are not welcome in the club. In 2014, a sitting judge and a practising advocate at the Madras High Court were denied entry into the Tamil Nadu Cricket Association Club because they were wearing dhotis.
Dress codes and the doorman's dilemma
In 1997, in a widely-reported incident, two women were not allowed into a suburban Mumbai disco because they were wearing saris. Here we face a peculiarly Indian problem where the Custodians of Indian Culture clash with the Indian Custodians of Western Culture.
The college principal says: wear Indian. The club says: wear western. The hapless Indian is in a constant state of sartorial transit; the snake has to keep shedding skin as the snake charmer keeps changing his tune.
Also read -Gul Panag on #ShortSkirtBan: State can't decide what women wear; speak up, Kirron Kher
Restaurants too have their own ideas about what is considered sexy or cool. Sushi Samba in London didn't let a Telegraph correspondent in back in 2014. The dress code was smart casual; Louisa Peacock was wearing black trousers and black shoes. The problem here was that the Samba expected her to wear a short skirt and high heels. She wasn't deemed to be wearing clothes that were sexy enough. She was not in proper club wear.
There's another way of looking at this. Look closely at the guy who is keeping you out. This man, in the class hierarchy, is bottom of the pile. The obsequious manager bowing to the club's patrons, hoping to cadge some favours. The bouncer standing long hours in the rain and the cold, doing a job guaranteed to give him varicose veins.
These men are not insiders-they know that they wouldn't be allowed into these hallowed places if they weren't employees. It's their job that gives them the illusion of being - in singer Paul Weller's words-'in with the in crowd'. When he decides to keep you out, it's the outsider taking the ultimate revenge on the insider.
(The writer's new book House Spirit: Drinking in India was published recently)