Planning to go to a nightclub this NYE? Read this if you're a single woman
I have often wondered what happens to a woman who ventures to a Delhi nightclub on her own. Is she seen as an easy woman? Does the club staff check her out before they let her in? How much trouble would she be inviting if she decided to hit the dance floor? And my obvious Bollywood hangover: will her drinks be spiked?
I decided to do a recce of the most happening nightspots of Delhi and NCR just before the party mood starts peaking for New Year's Eve. I went to a few clubs, three days in a row and hung out for a couple of hours, and at one club till past midnight.
I have to admit that much as I would have liked to go clubbing every weekend, that's not quite the case in my life, so I had to seek generous help from people who are regular clubbers.
December 28, 8 pm
My first stop was Reverb in Noida, where college kids hit the dance floor anytime after 12 noon till about midnight.
I had to suppress a smile when the staff at a Noida club intersected my entry with "how many people?" My "one" was hard to digest. So they changed their question to - "will more people join you later, ma'am?"
I was asked to pay Rs 1000, and my wrist stamped. Both hurt because my sources had told me that entry was free for women. Obviously not, the staff was trying to milk their December guests as much as possible.
When I entered the club, my eyes trying hard to adjust to the dim lights, my husband's warning in jest, "beware of gunshots" hit me. There was no metallic barrier at the entrance, so gunshots could not be ruled out as easily.
As I became the cynosure of all eyes, I resisted the urge to scoot. I decided to focus on the dance floor. I noticed a woman dancing in what seemed like a bridal sari, and a couple of newly wed women in shorts, flashing their chudas (red bangles), and yet others in what seemed like, for want of a better word, forced disco wear.
Forget the men, even women were staring at me, some giggled as their men whispered something into their ears.
I decided to hide in the remotest corner and asked for the menu. I couldn't read a word in the "disco lights" and wondered how people order, especially after they have had a drink or two.
I told the waiter to get me a mocktail - whatever he thought was good. He was back with a cola drink and charged me Rs 100. This, over the Rs 1000 I had already spent.
I noticed a flurry of activity around my sofa. I coolly sipped the cola, fiddling with my phone. The stupidest of thoughts crossed my mind, such as what if this playing with phone was a cue to exchange phone numbers. My phone found its way into my bag. I decided to stare at the chudas on the dance floor.
I had a visitor. I looked up and a bouncer type was asking me if he could buy me a "hard drink". I wanted to throw my Rs 1000-rupee coupons in his face, but I kept my cool and said "I don't drink".
Another one stopped by asking if I could step out and talk to him. "I am waiting," he announced and left.
I remembered the gunshots again. I decided to have a word with the manager. I asked him about the security arrangements. His "hum hain na madam" put me at ease.
I went back to my sofa. I saw a bunch of girls come in with their male friends. One of the girls came and asked me if I would like to join them on the dance floor. I did. Then I noticed an extra man emerge in that group.
I was back on the sofa. The DJ was playing one Punjabi number after another. When he did switch to English, the dance floor looked like a wake.
The club management was efficient to the T. When I pointed towards a guy who was misbehaving they threw him out. When I told them not to, and that he may seek revenge - the gunshots! - the manager said, "agar yeh gunda to hum isse bade gundey hain!"
I asked for a glass of water twice, each time checking, "Ismein kuch daala toh nahin?" The oldish-looking waiter got quite irked and shot back, "Kyon dalenge?"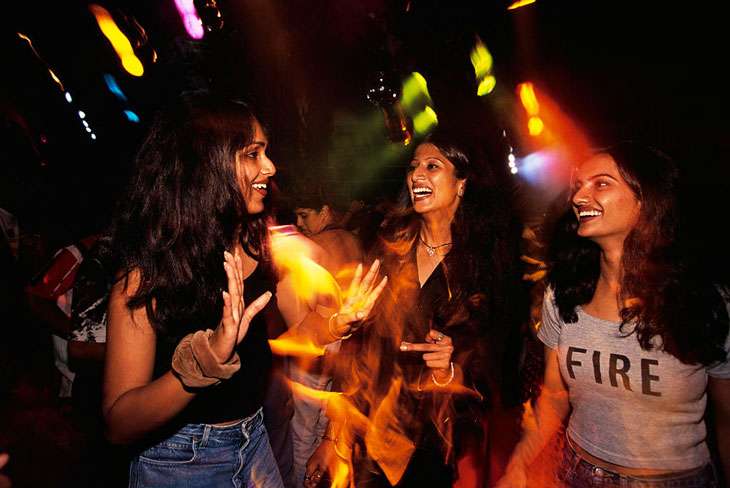 Getty Images
December 28, 9.30 pm
Embarrassed I decided to head to the next club in Noida, with 2-3 of my only "admirers" on this planet in tow.
By now I was familiar with the drill. This time I asked about the security arrangements in place at Ice Cube, the club, before stepping in. If there is a problem we will call the police, the manager told me. He said a corporate party was in progress, but he would let me in.
He also said I could peep in before I pay up.
The dance floor was packed with techies, I noticed a couple of Koreans too. There were no chudas here, normal-looking women in office attire. I decided to check in.
I was asked to pay Rs 500 (half the cover charges) as I was alone. The DJ was playing better music here and it seemed like a friendlier place.
When no one joined me for a good 15 minutes, it was understood I was on my own. A pony-tailed man came to me with what looked like a tiny slice of an apple for a brief second. A joint! I looked away. Another one wanted to share his drink with me. And yet another decided to come and lie down on the sofa I was sitting on.
The staff acted swiftly and showed him the door. The waiters doubled up as bouncers, I noticed.
High on their drinks, or so they claimed, the techies became rather unruly. Two of them fell on me, one kicked me on the ankle.
I was attracting too much attention. It was time to go home.
December 29, 9.30 pm
I was at the more upmarket Hauz Khas Village. My sources had told me to go to the Moonshine Cafe & Bar. After checking out a couple of others at the beginning of the street, and noticing men intercepting women to seek entry into various clubs, I decided to head to Moonshine.
It was Ladies Night there with DJ Gauri on the console. I had already had a word with the manager, who had told me to come after 10.30 pm. I wanted to tell him that's the time I go to bed. I was also beginning to worry that my driver, who has been with me only a week, would do a rethink about his new madam who parties every night.
This place looked fun because no one stared and the music didn't give me a migraine (and I didn't have to pay too because it was a Ladies Night!).
My fun moments lasted only for a while though. I got noticed, and there were people wanting to buy me a drink, or to talk. I again found myself in a corner.
However, unlike Noida, the overall crowd was much better, people who enjoyed good music and liked to dance. The others kept themselves busy watching the rather gorgeous DJ Gauri.
I decided to gorge on the food which was fantastic. Did I mention there were enough lights on to read the menu? I stayed past midnight, ignoring my driver's calls. And ignoring those who hung around me till the end seeing hope in my exit.
Moral of the story: most club managements have adequate security in place to make women feel safe. It's the guests who need conditioning - so step out o, ye women more often and do these men a favour.