Peeple: the new rating app that's like Zomato, but for people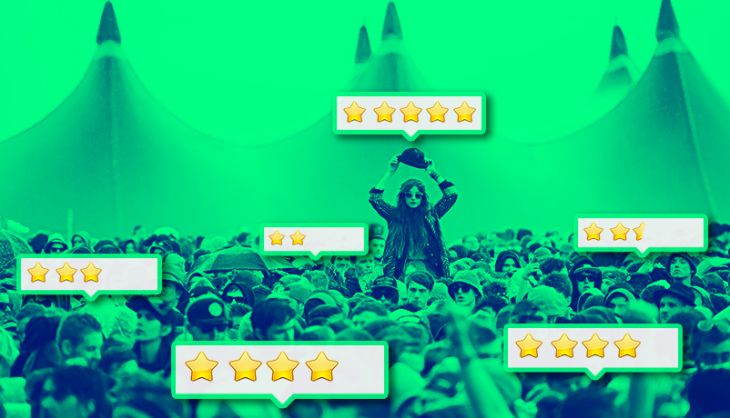 If you're like me, you wander through life in an unending haze of paranoia worried that everyone around you secretly (or not so secretly) hates you. It probably isn't true (I hope), but there's no way of knowing for sure that Sarah in accounts smiles at you because she thinks you're funny and not because she sees you as a joke.
Until now.
Enter Peeple - a new social media app that wants you to rate the people you know and get rated yourself.
We've turned into a social media-obsessed world, which means we're frequently judging self-worth by likes, favourites, followers and friends.
Not just self-worth either, many have actually managed to monetise their social media popularity. So it was only a matter of time before someone took the next step - cutting through the clutter of social politeness to cold hard numbers. Oh, and potentially scathing testimonies because, you know, it's the internet.
The good news: the app doesn't exist yet. Or, more accurately, it hasn't been released yet. So what we do know of it is through its creators Julia Cordray and Nicole McCullough.
Here's how it will supposedly work: the app lets you create a people profile for anyone whose phone number you have. Once that's done, it doesn't matter if the person whose profile you created actually uses the app, he's now rateable. Sure he/she has no say in it, but that's fine, because as Peeple's tagline reminds us - character is destiny.
Let the judging begin!
You can judge people on one or more of three criteria - personal, professional and romantic. Sounds innocuous enough. if this is the first time you've ever been on the internet.
If you've used the internet before you probably won't be surprised that the app, an app that hasn't even been released yet, has already faced a ton of flak.
IRL, when a person asks your opinion of them the truth can be a little awkward to utter out loud. No longer! Now, by eliminating the need for personal contact, Peeple has eliminated the awkwardness that comes with telling someone you can't stand their guts. Even without them asking for your opinion. And, if they're not on the app, even without their knowledge.
The app itself promises to 'revolutionise the way we're seen in the world through our relationships', though in all likelihood it will probably just provide a definitive answer to the question 'is humankind inherently evil?' (The fact that Peeple is valued at $7.6 million even before its launch seems to suggest the answer is yes). If humanity had a profile on the app the app's very existence would put humanity at a minus 5-star rating.
Still, before you start worrying that it's the end of the world, relax! The app's creator has responded to criticism by saying it's going to be 'the world's largest positivity app'. So there, problem solved, we can all go home now.except that no, platitudes change nothing. But, in the face of all the criticism they're getting, Peeple has announced a slew of measures to salvage their million-dollar nest egg.
Now while positive reviews go straight on a person's profile, reviews of 2 stars or less are first sent to the (now offended) person for review. This doesn't mean that he/she can vet reviews of themselves - oh, no, that would defeat the purpose of the app entirely - no, what they can do is contest these reviews. Because, you know, we are all Uber now. Or, for that matter, Giani da Dhaba.
If humanity had a profile on the app the app's very existence would put humanity at a minus 5-star rating
Once you become aware that a negative review of you has been posted, you have 48 hours to convince the reviewer to change their mind. If you fail, the review goes live.
You can report negative reviews you deem defamatory. I imagine the report goes to a sort of Peeple's court where the honourable judge Bob, a BA grad working in his first startup job, can take a final call on whether Shobhna was justified in telling me I smelled like mouldy socks (I didn't.)
Cordray, though, says that Peeple's user agreement policies will keep cyber-bullying and slander from happening. Users will have to agree to refrain from a host of things - from racism to sexism and most things in between - because, as we all know, people ALWAYS read that stuff before clicking 'Agree'.
Meanwhile, in an act of irony that seems lost on the founders, the internet registered their idea, hated it - and took to social media and to their website to tell them so. Soon after, Peeple closed their social media handles and website.
Because that's precisely what judgement can do.
Chastened but not deterred, Peeple has risen again. The app's creators are now claiming they will not allow negative reviews at all, in which case potential users may as well just pat themselves on the back and use the internet bandwidth saved on cat memes. Or post 5-star ratings with horrible reviews just so everyone knows Ajay, the douchebag who dropped beer on you at the party, is indeed an alcoholic. After all, the internet is all about sticking to the rules and besides, a little embellishment and hyperbole never hurt anyone, right?
The best part of it is, Peeple still haven't figured how to let you opt out of it, so as it stands, you're all potential victims. I mean users. I've already opted in, but that's because I'm a genuinely terrible human being. Funnily enough, it'll probably be in your best interest to get on the app too, to make sure you're not being vilified on it.
It's like a weird circle of extortion.
Peeple.