Parliamentary panel calls out JNU for caste discrimination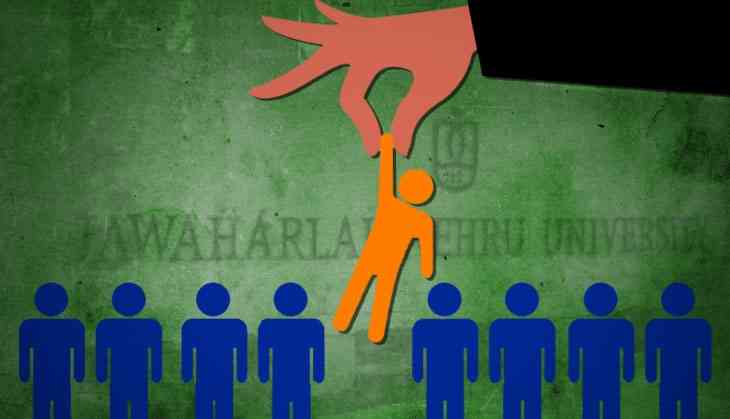 (Arya Sharma / Catch News)
Hidden casteism in Jawaharlal Nehru University (JNU) debars students from clearing the interview and deprives its officials and employees from going abroad. A study report by a parliamentary committee on the roles of universities in social and economic development of Scheduled Castes (SC) and Scheduled Tribes (ST) has revealed discrimination at different levels due to casteism in the JNU.
The Parliamentary Committee on Welfare of SCs and STs has informed the government that caste-based discrimination is being secretly carried out against Dalits and Tribals in an elite educational institution like JNU. Members of scheduled castes, as mentioned in the official terminology, are generally known as Dalits in the political discourse; members of the scheduled tribes are called as Adivasis in the common parlance.
While studying the roles of universities in the social and economic development of these deprived classes of the society, the parliamentary committee has found that in last three years no Dalit-Adivasi teacher and employee or official of the JNU has been sent on foreign tour for training purposes. Interestingly, when the committee, led by the Bharatiya Janata Party's Kirit Dr P Solanki, inquired with the government on the reason, it replied to queries related to non-teaching staff only.
About its action-taken report (ATR) on the comments and recommendations of the committee, the government said there were nominal opportunities for non-teaching employees of the JNU to go on foreign tours on training. It kept mum on the complaint that teachers from deprived classes were deliberately not being sent on foreign tours for seminars, workshops, conferences, training etc.
The parliamentary panel expressed its strong objections against the negative approach of the JNU. Commenting on the reply filed by the university regarding queries related to foreign tours, the committee said it never expected that a world-class educational institute like JNU would reply in such a casual manner.
The panel pointed out that though the varsity explained the reasons for fewer opportunities for its non-teaching staff it maintained a studied silence on teachers. It directed the university to present details about foreign tours of its teachers in last five years. It also asked the university to clearly mention the number of teachers belonging to scheduled castes and tribes among them.
The parliamentary panel has strongly recommended that JNU, in all possible manners, should ensure the participation of teachers and students belonging to the deprived classes in seminars, workshops, conferences, training and other similar programmes taking place in foreign countries in future.
Revealing the extent of discrimination against Dalit and Adivasi students, the committee said students from downtrodden sections of the society were failed in the interview despite securing good marks in written examinations.
This clearly shows a hidden caste-based discrimination played by JNU administrative officials and teachers. The government has also opted for a studied silence on the assessments and comments made by the committee in its reports regarding discrimination.
Edited by Joyjeet Das