One in a (100) million: Shamin Akhter is Pakistan's only female truck driver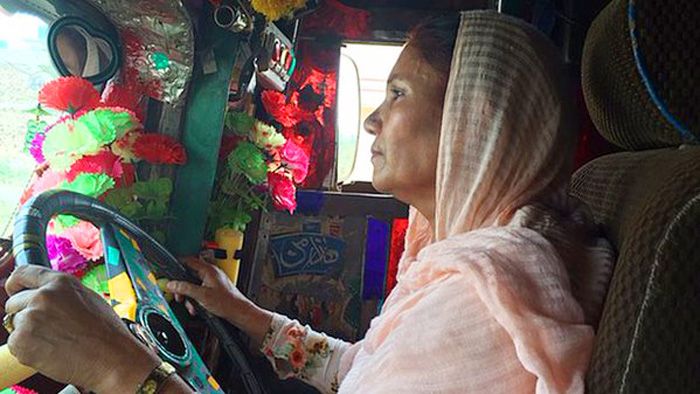 It's a statistic at once depressing and hopeful.
Only one woman has ever been issued a license to drive a truck in Pakistan.
But of course this is Pakistan, a country with the second-worst metrics of gender equality in the world. And as a look at the more progressive countries in the world reveals, when it comes to think job, things are only marginally better.
Which is why Shamin Akhter's story is so remarkable.
One in a (hundred) million
It takes an incredible spirit of enterprise to be the only woman in a population of close to two hundred million who has a license to drive a heavy-duty vehicle.
And Shamim Akhter has displayed ample evidence of it - both in the present and the past.
She's sold life insurance policies for Rs 800 each in her neighborhood. She's been a sewing teacher. When the vocation school where she taught shut down, she earned a driving license.
She then earned a license to drive a Light Traffic Vehicle (LTV). Next on her agenda became the license for Heavy Traffic Vehicles (HTV), which she also went on to earn.
Today, she's licensed to drive any kind of public service vehicle at all. She also owns her own driving school, 'Hammad Driving Training Centre' that operates out of her living room and is named after he 18-year-old son.
Because this woman defying all manner of societal and gender stereotypes is 53.
And she's defying another one now: at 53, she's studying to complete her matriculation examinations. "I AM MBBF. Matric bar bar fail," she laughed in an interview with Dawn.
It would be foolhardy to confuse the self-deprecation with defeat.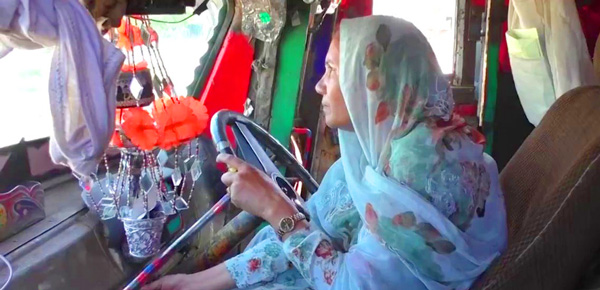 Her pride and joy is a cupboard of textbooks placed in the center of her living room. She had studied the Quran as a child and passed school till the fifth-grade, till she was forced to quit and married off.
When circumstances made it necessary for her to work, she decided she'd get an education while she was at it.
Even as she drives from Islamabad to Rawalpindi most days a week for Rs 1,000 per trip, earning a living to feed her five children, she's cleared three more grades.
She's now completed Grade Eight. The end, a Matriculation certificate to add to her coterie of hard-earned licenses, is now in sight.
"People here call me 'Bhai Jan' because I am very daring," she says. "Those at the institution where I previously worked as a sewing teacher used to call me 'brave'."
Given her credentials: 53, student, single mother, first female truck driver, entrepreneur, owner of driving school and car-mechanic, that's clearly understating it.
The world has not enough
For a world with simply not enough people interested in driving trucks, it's ironic that we simply refuse to make it easier for women.
And this isn't a subcontinental problem alone.
Less than 10% of truck drivers in the US and the UK are female. Not due to lack of want - transport companies in both countries have a severe shortfall of drivers. According to the BBC, the gap is as much as 45,000.
Increasingly, large trucking corporations seem to be trying to tap into the half of the population they've never considered employable before - women.
And it isn't easy - not because women aren't up to the job but because men are convinced they're not. It's a tough job, they say.
Looking at Shamin, one wonders if it's possible to find a job tougher than her.
More in Catch:
Nepal Parliament gets first woman speaker
#UCCDebate: why Muslim feminists feel Islam can counter arbitrary divorce