Liberals of the world, come to Dehradun: An open invitation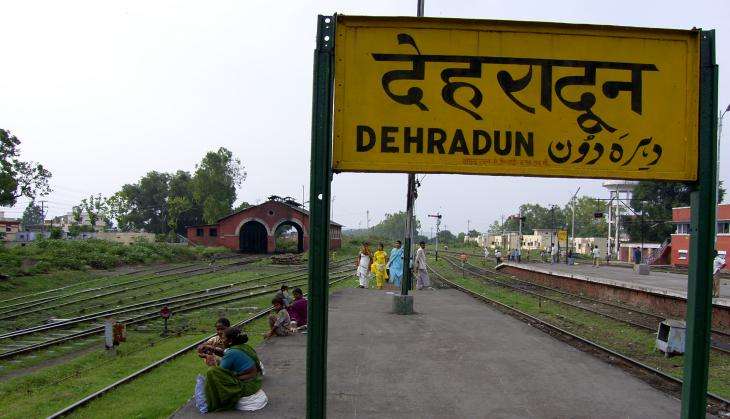 2016 will be remembered as the year liberals had a bad run everywhere. From Brexit and Trump to India, the liberal or the 'libtard' was vilified and hung up to dry.
Growing up in the 1990s, I encountered the world 'liberal' really late, only as an undergraduate at Oxford in Political Philosophy 101. Till then one just presumed one was a liberal. The roots and implications of the term made sense only after I'd read (or didn't read) John Rawl's Theory of Justice. In the 1990s, no one used the term in school or college. Secular and modern, yes, but not liberal. I think it was just presumed that India was a deeply conservative society and the word 'liberal' was a foreign import having no bearing on us.
Also read -
Modi's cashless dream shattered: Indians pick toffee economy over Paytm
The liberal migration
But that was then and this is now. Liberals are a beleaguered lot. While reading George Michael's obit in The Independent, I came across the comments section, which had oddly degenerated into liberal-lefties vs the rest. George Michael is dead. I don't see the connection.
Liberals themselves have spoken of leaving their native countries for a better, more tolerant place. Even before Trump was elected, there was talk among American liberals of moving to Canada. Justin Trudeau is the poster boy for libs everywhere. And post-Obama, he's the only poster-boy worth his salt that's left in the fray.
Londoners have spoken of moving to Berlin. Liberal Delhiites of moving to Karachi. Okay I just made that up. I haven't met a single liberal Indian who wants to move to Karachi. But you know what I mean-the sentiment of upping and leaving is clear and present.
Here's an offer. I would like to take this occasion to invite liberals of the world to move to Dehradun and make it their home.
Dehradun - a liberal's paradise
Here are some reasons why Dehradun is the perfect place for liberals to live.
First, the politics.
Political parties are irrelevant to Dehradun, even though it's the capital of Uttarakhand. Dehradun, unlike Delhi, wears its politics lightly. At any moment, if you walk out onto the main artery, Rajpur Road, and ask a native: 'Who is in power', she/he will say: 'I don't know.'
This great indifference to political reality can be invigorating for creative liberal types. You can roll up your sleeves and get down to work-the Congress and the BJP can go on playing musical chairs. The politics here is less about the two major parties battling it out-it's about Garhwal vs Kumaon, so intricate and complex that even the Garhwalis and Kumaonis have no clue what's going on.
Two, bookstores.
Liberals read more on average and good bookstores can immediately lend a place some credibility -- nice bookstores run by eccentrics who never seem to make any money but always have the shelves full. In Book 'n' Music (BNM) for example you can still buy cassettes (attention hipsters), browse for hours, have a Styrofoam cup of tomato soup and smoke a roll-up in the glass-walled smoking room inside the bookstore.
There's a wonderful new second-hand book shop that's just opened up in downtown Astley Hall. It's always a good sign when a shop selling old books can afford to rent prime space. You can buy four for Rs 100. Last time I was there, I bought: Chester Himes' Collected Stories, Christopher Isherwood's A Single Man (dedicated to Gore Vidal), Richard Yate's cult story collection Eleven Kinds of Loneliness and a collection of William Trevor's stories, whose interview I'd just quoted from that morning in a piece for Catch. It was sitting there, for the taking. Rs 25 only.
Three. Organic food.
Sunday mornings we have a haat to which neighbouring farmers bring their produce to sell. Prices are much less than Nature's Basket and you can trade stories with the farmer while you buy a kilo of bhatt ki dal.
Four. Dharna spots.
Liberals love dissent and Dehradun has its designated spots to express your disaffection. Protest spots have to be close to the seat of power-otherwise the symbolism is lost. Gandhi Park sees a peaceful protest every other day, from striking primary school teachers to protestors who want the capital moved to a mysterious and mythical place called Gairsain.
Gandhi Park is a small distance away from the Secretariat. Currently, the protests have shifted to the road on which stands the Secretariat building, despite a High Court ruling to the contrary. Now, that's real dissent for you. The protesters sing songs and raise slogans in an atmosphere of camaraderie. An impromptu market springs up around the spot-there's a tea seller, a man selling boiled eggs and peanuts, while the three policemen on duty look on disinterestedly. For the record, I've never witnessed a lathi charge or seen tear-gas being used in rallies here.
Also read -

Life is a lemon (And I want my money back): The failure of the Left
Five. Immigration.
Immigrants pour into town all the time, especially after it's become the capital but there's no anti-immigrant sentiment. The original Garhwali inhabitants have been absorbing outsiders for decades with minimal fuss. Post-Partition, Dehradun saw a huge influx of Punjabi khatris and Sikhs from Lahore and Rawalpindi, this was followed by a wave of Tibetan immigration-you get excellent Tibetan food and Tibetans have their version of Bombay's Fashion Street near Parade Ground. The Punjabis sell naans, butter chicken, petrol and 'garments'.
Six: Parade Ground.
A rather nice idea to preserve an open space in the heart of town. The Parade Ground hosts circuses, fairs and pickle and wool extravaganzas, and Rahul Baba and Modiji when they waltz in from Delhi. There was a plan to make a stadium there but local activism forced the authorities to keep the space for public use. This is another distinctive thing about here-dissent makes a difference. Lime stone quarrying had ravaged the mountains for years, until public activism and a resulting Supreme Court order brought an end to it.
Seven: Marches.
The citizens of Dehradun, of all affiliations, regularly take out marches. The marches don't last for long, permission is taken from the right authorities-the marches are a shining example of how disciplined this town is.
After the 'surgical strikes' on Pakistan, some BJP workers took out a small one, celebrating the nation's new-found machismo. The other day I saw one by an evangelical church. There were little girls dressed as fairies. There was a singing band. At the head of the march there were three camels, with men dressed in robes. The march stuck to the left of the road, leaving the rest free for passing traffic. When the march reached a crossing, the traffic policeman stuck out his hand to signal 'stop'. The camels stopped on cue and waited patiently for their turn. Dehradun: the land of civilised camels.
Eight. Women and children.
This is an important one. The swing state, in a manner of speaking. Education matters to liberals. Dehradun-Mussoorie is in the Limca Book of Records for having the highest number of schools in the country.
Dehradun is also a place, a rare oasis in North India, where women feel at home. The Dehradun RSR (road-street-romeo) can easily be dealt with, but usually the need doesn't arise because he deals with himself. Girls walk in groups or alone, they throw their heads back and laugh loudly, something I've never seen in Delhi, where girls walk with their eyes glued to the ground, always talking on the phone.
Assaults on women in the main town are unheard of. In Dehradun, you will see girls walking by themselves even at night and no one stares. They ride scooters or hang out with their boyfriends on the road to Mussoorie. PDA is not a big deal. In fact, if you're from Delhi, you might miss being the centre of attention here.
Nine: Cafe culture.
No liberal can do without it. It's arrived and it's much better than in Delhi's Hauz Khas Village. At Sunburn Bistro, opposite Crossroads Mall, girls arrive wearing shorts and tank-tops and chainsmoke cigarettes with no care in the world. The cafes here are more diverse in terms of the food they offer and are also reasonably priced, unlike Delhi where the humble bagel costs just under a lakh.
Dehradun can do with people. A forty-five minute drive from the river Ganges (Rishikesh) and from the Himalayas (Mussoorie), there's still plenty of space. Only the party scene sucks here. The same folks keep inviting each other (there's politics in that too) so very soon everyone's gotten on each other's nerves and can't stand the fellow's sight.
Friends in small towns spend a lot of their energy going into long meaningless sulks. Occasionally, a friend kicks the bucket in the middle of a good sulk and then one feels really bad.
All this can change if the liberals of the world and India unite and start to pour into town, settle down and raise families. I have already outlined my reasons for it being a liberal paradise. So hurry up, folks. It's getting lonely in here.
(The writer is the editor of House Spirit: Drinking in India, published by Speaking Tiger)