It takes 28 secs to get over the silliness of '28 Jobs, 28 Weeks, 28 States'
Autobiographical experiences are often documented to inspire others. But often these experiences have the reverse effect.
Jubanashwa Mishra is the newest example of this syndrome.
When I first heard of Jubanashwa Mishra - the man who had changed 28 jobs in 28 weeks in 28 states of India - I was taken in by his passion to pursue his dream, his decision to quit a stable job to try out new jobs turned me into a fan.
A man, all of 29, who had decided to be a photographer, a teacher, a film executive, a tattoo artist, a cremation assistant, a tea garden worker, a counsellor, a river rafting guide, and what not. A man who had traversed 15,000 miles beginning May 2013 to be everything but a software engineer which he officially was.
He wanted to inspire people to chase their dream professions, to look beyond stability, to discover their inner selves, their real potential. He covered the air miles and undertook the arduous road journeys in almost every state of India to make a mark. A mark he did make - he got noticed and everyone had glorious things to say about him.
Quite obviously, Mishra who has since also been a motivational speaker, decided to milch his experiences further by doing a book, providing me with the perfect excuse to connect with him.
When I googled him to refresh his journey in my mind, I stumbled upon a trailer of the book - 28 Jobs, 28 Weeks, 28 States. I had to resist the urge to throw up.
The book is just as bad, making me wonder if reading habits are falling because of this kind of content being put out. I tried hard - very hard - to finish the 162 pages, but found it difficult to go beyond page two.
I dismissed Mishra as a bad writer and decided to make the motivational speaker in him talk about his unusual journey. Here's what he had to say. (As for me, my resolve to stay away from motivational speakers has only steeled).
Edited excerpts: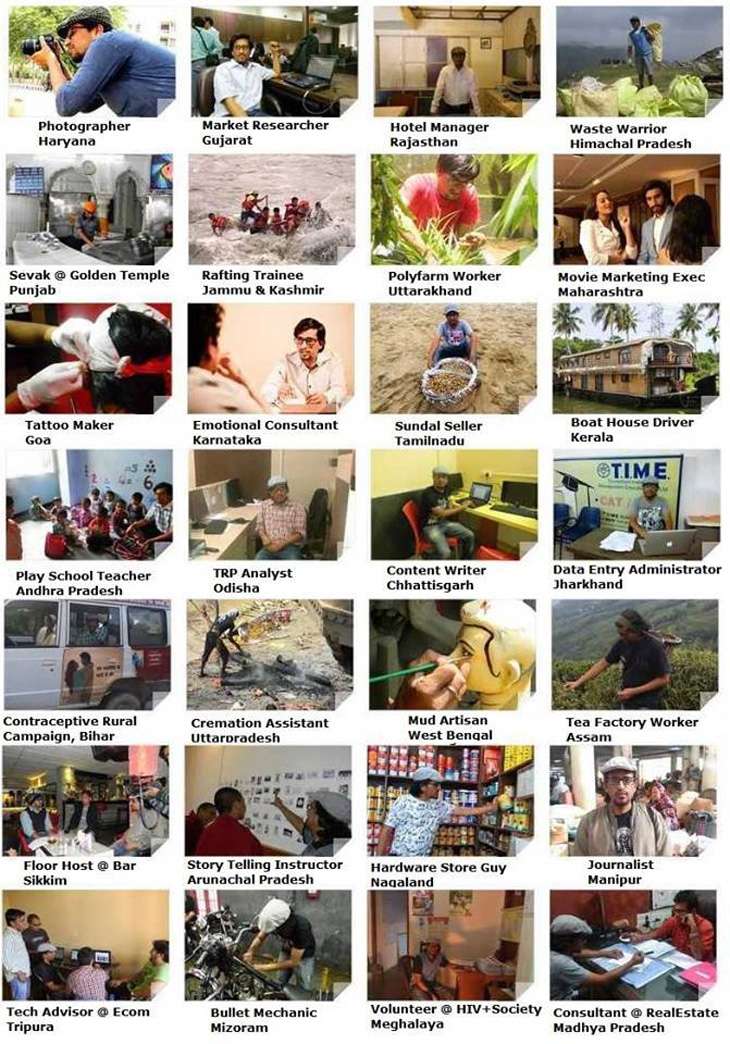 LH: Why did you undertake this journey?
JM: Job satisfaction is a serious issue these days worldwide. In India, in many cases, because of the fear of societal status and parental influence, a kid who wanted to be a singer ends up being a doctor.
This 28 Jobs, 28 Weeks, 28 States project had a mission to break that trend and inspire youngsters to choose a profession - what they really want to do, with a message 'Discover Your Passion'.
LH: Are you a different person now? If yes, how?
JM: I don't know, that my friends can say better. But there are many situations in this journey, which have given me learning for a lifetime.
Like in the book, I write 'travel can either leave you lonely and dejected, or it can give you new friends with different perspectives on life, perspectives that can make you grow and change as a person'.
This is exactly what has happened with me - travel has enriched me as a person.
LH: The biggest lessons learnt on the trip? The biggest hurdles encountered?
JM: The one thing I realised is that people who live with their passion are the happiest of all.
If anyone has to change the location every week, then acclimatisation is a major issue because India is so diverse.
During the month of May, I was travelling through Rajasthan and Gujarat with a boiling temperature of 45 degrees (sic). Then the next state was Himachal Pradesh where I faced 7 degrees at the top of Triund Hill, where I was working as a mountain cleaner.
Stomach disturbance was one of the major reasons why I almost quit the journey in Assam, where I suffered from traveller's diarrhoea and was cursed with because I had to visit the loo 40/50 times per day.
LH: Isn't discovery of the self a personal feat? What does it take to make the discovery of the inner self public?
JM: There are many experiences which were thought provoking, but maybe I would realise that self-discovery in years to come, when I would be connecting some other situation, and found my answer with the 28 journey.
LH: I saw the trailer of your book. Why would you need a trailer to market a book? Are you following on Chetan Bhagat's footsteps?
JM: Yeah definitely - it is marketing the book. Hundreds of books coming into the market every day, in order to break that clutter we need to do something different. Earlier book trailers used to be some kind of letter animation and image slider.
LH: Are you a better person now?
JM: Like I said earlier I don't know, that my friends can say better.