Is OYO's relationship mode the end of StayUncle? No chance, say the Uncles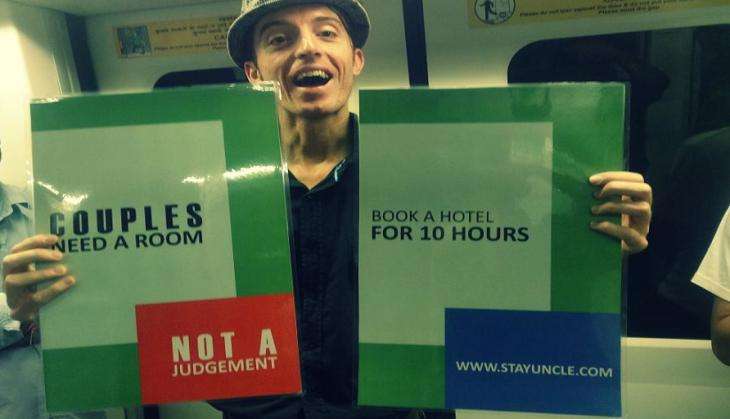 If India's population is any indicator, and it's a pretty massive indicator, sex is our national past time. However, for an activity that we seemingly excel it, Indian society is anything but open or progressive towards sex.
Even with married couples and those with children, where sex is an unavoidable reality, the topic is hush hush. With that being the case, you already know that sex between unmarried couples is a societal taboo. But that doesn't stop it, and only makes it more secretive.
Also read - NASA releases posters that will make you want to leave Earth and go to space

So where do young couples go for a bit of intimacy? After all, in a country with this many people, privacy is at a premium. The obvious answer is hotels. But the tentacles of moral policing seem to have infiltrated even hotels, most of whom are wary of entertaining unmarried couples.
It's this environment that has necessitated the creation of StayUncle, a hotel booking platform solely for couples looking to hook up. Started in 2015 by Sanchit Sethi and Blaze Arizanov, the need for a platform like theirs is backed up by the over 10,000 (satisfied) customers they've serviced since their inception. After all, as the company's tag line proclaims, "Couples need a room, not a Judgement".
The concept has proved so successful that India's largest hotel room aggregator, OYO Rooms, has now decided that it's a niche they cannot ignore. Last week, OYO announced the implementation of a 'relationship mode', that would show only OYO hotels willing to host unmarried couples.
With a larger reputation and hotel network than StayUncle, is OYO's new feature the end of StayUncle? Catch spoke to StayUncle co-founders to find out more about their brand and what they were doing to remain relevant in the face of OYO's new feature:
RC: What exactly is StayUncle?
BA: A couple's best friend. We're a hotel booking platform that allows travellers to book the best hotels for half-day slots. More importantly though, we're a couple's best friend as all our hotels allow unmarried couples.
RC: What was your motivation to start StayUncle? Did it originally start off as a platform for couples only or did it evolve into this?
BA: It evolved... Initially we were portal for booking short stay for transit travellers. But couples used to cry on the phone line while sharing their horror stories with us. How they used to be chased from hotels like dogs in the middle of the night.
I couldn't bear the nonsense any longer. So we started this.
Also read - 5 ways the aviation ministry has improved air travel for passengers
RC: What makes you different from an OYO?
BA: 99% of our inventory you won't find on OYO Rooms. They deal with budget hotels. We have the best long established brands with us.
Our spirit of servitude as well. Now, you may say this is abstract. Not in our case. We have a servicing team that follows up with the guest before and after the check-in, constantly assuring the guest that its all fine, nothing to worry about..
To embody this attitude into our cultural fabric we ensure that the support team gets higher salary, even than the founders.
RC: Evidently you don't just go and ask every hotel to tie up with you, how do you curate the hotels you partner with?
BA: We scan the existing web for feedback and reviews. Then, after we shortlist some, we contact them and personally review them. Only the best of the best can partner with StayUncle.
RC: Are personal visits conducted?
BA: Whenever appropriate, yes. Especially in Delhi. In other cities we sometime get the service from local volunteers.
RC: Who are these volunteers and do you think it's possible for them to hold hotels to the same standards as you, the founders? Also, what exactly are the key criteria that hotels who partner with StayUncle need to meet?
BA:The volunteers have done a great job, at least so far. They consist of satisfied customers and fans of StayUncle. They created a community on their own called the StayUncle army. It was beyond our control.
Then, out of the blue, they started sending us hotel suggestions. We felt a bit skeptical but still checked most of them and even brought them on board. It turned out every single one of them was a bulls-eye.
The criteria we look for are professionalism of hotel staff. This is extremely important. They need to endow warmth and confidence. Then there's the cleanliness of the room and willingness to allow local ID check-in and also 12-hour price tariffs.
Also read - Marriott to buy Starwood Hotels, become largest hotel chain globally
RC: Have you had any negative experiences so far and, if so, what have you done to redress them? Are hotels that elicit negative feedback then blacklisted or do you work with them to rectify the issues?
BA: Less than 5% of customers have bad experiences. You will be surprised how far an apology and selfless service can take you. Some hotels are beyond salvation at this point in time. We prefer to try and fix problems only with hotels that are ready for it.
RC: On the flip side, have you received complaints from hotels?
BA: Not a single one. We are proud to serve sophisticated and progressive young Indians.
RC: Is there an option for couples to book more than a ten hour slot? Can I book a 3 day stay? Otherwise the premise seems like all unmarried couples do is use the service solely for hooking up and that seems reductive.
BA: That feature is coming up.
RC: Alright, now onto the villain of the piece - OYO. I've used the service a few times, just for myself rather than for time with a partner, and I haven't really had a problem. What is your gripe with OYO?
BA: Lucky you. Others weren't that lucky. Unlike OYO, we don't go ahead and tie up with any and every hotel to pump up our numbers. When customers book with OYO, there's a risk. If you are good at gambling you may be lucky enough to get a good couple hotel with OYO. But you don't need to gamble at StayUncle. All our hotels are selected and handpicked for couples.
RC: Okay. Now on to OYO's relationship mode. Do you feel that it is just a response to StayUncle's growing popularity?
BA: A response, yes. But no one can be StayUncle. Just a few lines of code called Relationship Mode doesn't make you a couple friendly company.
RC: I just tried to book a stay in Delhi on OYO , they had 432 hotels. When I selected their relationship mode, it dropped to 118 locations. Why is it that hotels are so wary about housing unmarried couples when there are no laws against such a thing? Surely it's bad for business.
BA: The moral policing. Even laws kneel in front of bunch of fanatics. Sometimes it is the police who carry this out. Other times it is a case of hotels employing cheap receptionists from nearby villages. You can guess what happens next. Even laws kneel in front of bunch of fanatics.
Also read - Japan's SoftBank Group invests Rs 413 crore in Oyo rooms

RC: When couples book through StayUncle, they automatically put a stamp on their forehead that says we're here for sex. When they book through OYO's couple option, it just becomes an OYO booking with zero stigma attached. How do you combat that perception?
BA: For starters, our hotels are zero-judgement, so it doesn't matter. It is hard to fight perception. They can stick to their own tribe. We want to build up more of that same goodwill. You cannot sit and call yourself a couple company from your leather chair. Young are still oppressed out there. We shall venture and find them... and tell their stories.
RC: Apart from goodwill, how do you intend to stay relevant with OYO offering so much more choice at lower prices?
BA: As I said, our number of hotels is significantly lower because we don't just go out there and pick everything just to pump up numbers. If I had just 1/10th of OYO's war chest I could beat them sitting on the back of a camel with nothing else but my laptop and my dongle. We will continue to stay relevant and be a couple's best friend. Couple-friendly hotels are just the beginning.
SS: We're not really competing with OYO. They deal with just budget hotels. Our hotels are more expensive, so really, we're targeting completely different markets. Also, we're aiming to incorporate longer booking periods, while maintaining our existing 10-hour slots. OYO doesn't have the ten-hour option at all.
But this is just the start. Love isn't just about sex. While hotel rooms are a start, we don't want to be known as just another travel site. We're looking at other things that are related to love. Maybe provide chocolates, or flowers. Maybe organise events where people can meet, and be in a safe space. We're also looking at creating an app like Tinder, but as of now these are all just plans.
More from Catch - Rosemont hotel in Dubai to be the first hotel with its own rainforest