From Harley Davidsons to Salman Khan: How Inadvertent Consequences Can Be Valuable Too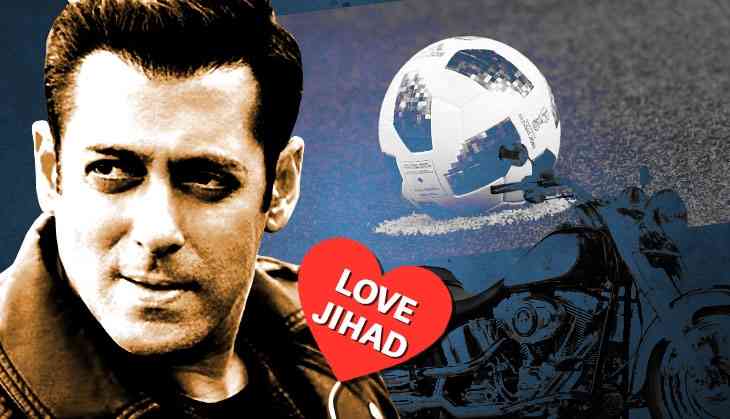 (Arya Sharma / Catch News)
This often happens in creative hot pursuit. One sets out to write or paint one thing but ends up doing something entirely different.
It is the opposite of what management speak tells us. Set out goals, achieve them, and move on to the next set of goals.
There's something else that can happen—the unintended consequences of our actions and achievements. The goal might be achieved according to plan but what happens next is not in your control.
Here are five randomly selected cultural phenomena that provide evidence of the above.
These arrive every year along with the monsoon. The films never fail—like the monsoon they might be below average or above average but they arrive on time and water the parched earth. This year it was Race 3.
The inadvertent consequence of Salman's films is the unifying influence of his sexiness. Indian women love Salman. Every year, this is their Baywatch moment, when they can go and legitly drool.
Class is not a barrier with Bhai, nor is age, nor is education, nor sexuality. All those are welcome who cannot resist his magnetism. All his indiscretions are forgiven.
Hindu women, who swear by Modi, will nevertheless go and watch every Bhai film first-day-first-show.
The saffron army finds this confounding—their loyal vote bank makes this one annual exception to their Islamophobia.
Seen from the Hindutva point of view, Salman is the prime instigator of 'love jihad', entrancing good girls from the majority community with his charm and muscle. But they are helpless.
Seen through this lens, the Salman blockbuster keeps India secular, no matter what the political dispensation. An unintended consequence but a valuable one.
2. The Football World Cup
Even before the advent of cable TV and live league football from around the world, we were great followers of the World Cup. Every World Cup game was fondly watched, remembered and internalised. Every power cut that interrupted it was cursed with collective fury.
The football world cup has its own unintended consequence (apart from making us watch a sport that is not cricket). It normalises baldness.
In tennis, Rafael Nadal is currently in the throes of Hair Transplant No 2. But in football it's cool to shave your head. Half the playing team from whichever country is playing with a shaved pate.
This brings great relief to us bald folk. 'Look, just about everybody is bald!' It's fitting that it's the beautiful game that illustrates the slogan: bald is beautiful.
3. TITANIC
Arguably the most tiring film ever made, it had one positive. Rocketman Kim's dad, Kim Jong-il, made his own version, based on the true story of a ship that sank while returning to the Koreas from Japan at the end of WW II. Any work of art is good if it inspires some creative stirrings in an authoritarian ruler. Shooting to sublimate your artistic impulse is better than shooting to kill. Better be a director than dictator. Pirated copies of the original Titanic also inspired North Korean defectors to cross the border.
4. The Johnny Depp Interview in the latest Rolling Stone
This brutal interview conducted by Stephen Rodrick appears in the latest issue of the legendary magazine. It's headlined: 'The Trouble with Johnny Depp'. Johnny Depp has blown up $650 million on this and that, is sort of broke and wants to talk. The interview left me a raging Depp fan (I wasn't earlier), though that wasn't the point of the interview, laced with a kind of quaint judgemental moralising. One can hear it in the tone of the piece. How ungonzo like can you be, Stephen!
Twitter exploded with the feel-sorry types on high horses. Tu-tut, look what happened to Johnny, the great talent. So sad. Tut tut.
Rodrick smokes the joint that Depp offers him but that's the extent of his gonzoness. He expresses no interest in the mountain of hash that Depp points out when dinner is served. Where is it from? Morocco? Why no skunk? Does Depp prefer hash to Northern Lights? Is he into indica or sattiva? No such pertinent questions are asked.
Depp wants to hang out beyond day break but Rodrick says he is jet lagged and wants to get some sleep. I mean Johnny Depp, a legend, is offering to continue the bender and you want to sleep?
In fact, Rodrick is so desperate to sleep that he jumps the gates of Depp's mansion as the latter groggily fumbles with the settings and switches.
I would have crashed in the hall way.
And then, when he writes his piece, he calls Depp a 'boy-man'. How all this partying doesn't give 'shobha' to Depp at age 55...
Stop the judgement. Thanks, Stephen, for giving us Johnny uncut. I mean he spent millions shooting the remains of his buddy Hunter Thompson into the sky. Respect.
5. TRUMP'S IMMIGRATION POLICY
I've never set foot in America nor do I intend to. My theory always has been this: I'd rather be an outsider in my own land rather than a foreigner in someone else's nation-state.
But that's not the point. Trump's anti-immigration policies seem to be having the unintended consequence of benefiting India.
Migrained by the tariff war, Harley Davidson is reportedly pulling out of manufacturing facilities in the US. They've said they will ramp up manufacturing in India. On India, Trump himself is pretty pro-it in his own conflicted way.
He wants more highly-skilled Indians to come into the US; he's tweet-wailed about the unfairly long waiting period that Indians have to face to get a green card, sometimes extending to eighty-five years. The man who wants to build walls might actually turn to be good for India.
Looks like we can have our Harley and eat it too.
The writer is the editor of House Spirit: Drinking in India, published by Speaking Tiger