Forget the red carpet, these were the 8 most fabulous moments at the Golden Globes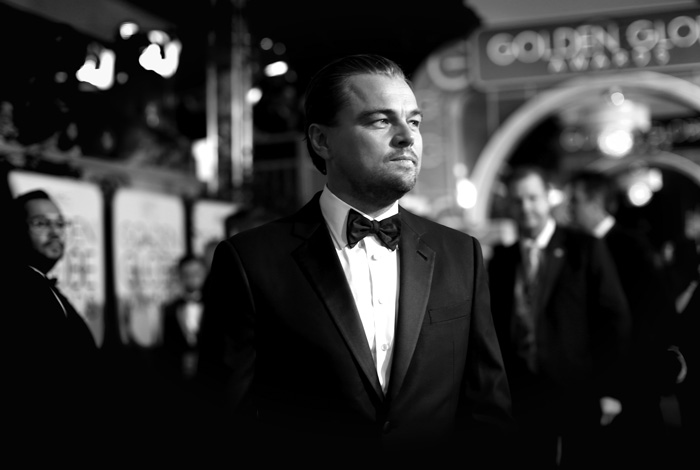 Not all Mondays are born equal - this one kicked off with a red carpet, celebrity sightings, a ton of glamour and serious social media buzz. The cause? The Golden Globes, held Sunday night (or Monday morning in our part of the world) at the Beverly Hills Hilton in Los Angeles.
It was a super fun night, on and off stage - but if you missed it, never fear. We picked out the 8 most talked-about moments from the night so you can clue in, on the quick.
1. Ricky Gervais' jokes
Host Ricky Gervais was his controversial self, taking aim at Mel Gibson and Caitlyn Jenner (among a ton of others) but it was when he referred to Ben Affleck's alleged infidelity while introducing the actor's best friend, Matt Damon, that jaws totally dropped.
Of course, he kicked off his fourth stint as Globes host by simply insulting the Hollywood fraternity at large, with this opening sentence: "You disgusting, pill-popping, sexual-deviant scum."
Staying true to his insult-comedy style, he went on to say, "If you do win tonight, you should know that no-one cares about that award as much as you do. Don't get emotional, it is embarrassing. That award is worthless. It is a bit of metal that some nice old journalists wanted to give you to meet you and get a selfie."
Also read: Golden Globes 2016 red carpet: Lady Gaga, Jennifer Lawrence, Sam Smith, Kate Hudson dazzle
Among other Gervaisisms, he went on to introduce presenters Eva Longoria and America Ferrera as two talented actresses that "your next president, Donald Trump, can't wait to deport."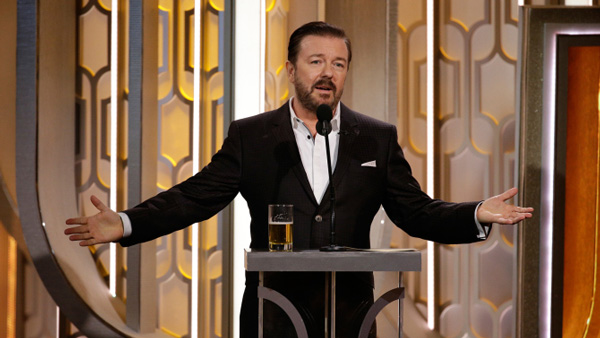 2. Lady Gaga gave Leonardo DiCaprio a startle; he gave us a break-the-internet expression
This clip became the internet's favourite 'what-just-happened' moment from the Globes. When Gaga went to accept her award for Best Actress in a Miniseries for American Horror Story, she brushed past a laughing Leonardo DiCaprio. His reaction? This: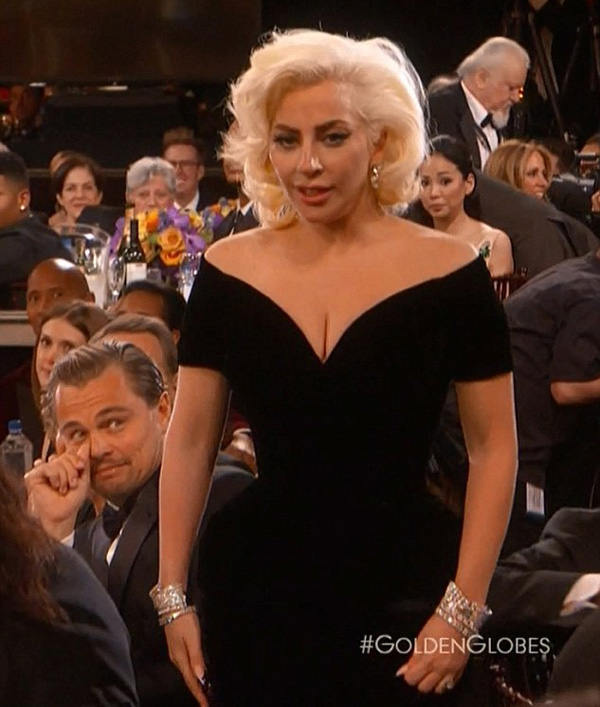 When she did get to the stage, Gaga gave an emotional speech. "I feel like Cher in that John Patrick Shanley film Moonstruck right now. This is one of the greatest moments of my life."
Thanking American Horror Story creator Ryan Murphy and her fellow cast members, she said "You're my family forever. ... Because of you, I was able to shine, I guess. So thank you for sharing your talent with me. I wanted to be an actress before I wanted to be a singer, but music worked out first."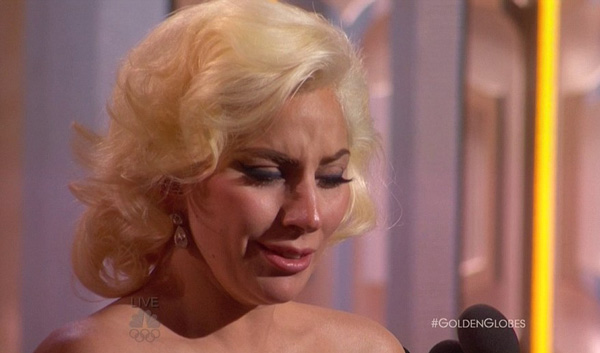 3. Leonardo DiCaprio gets a (very long) standing ovation
It seemed the audience was rewarding him for the length of his wait to receive one of these.
The Revenant swept the winners board at the 73rd Golden Globes - and DiCaprio, who starred in the historical drama, took home Best Actor while Alejandro Gonzalez Inarritu was awarded the gong for Best Director.
When DiCaprio, 41, was named Best Actor, he was visibly emotional as he took the stage. "What an incredible honour," he began. As he received a long, standing ovation, he humbly added "Wow, that meant a lot."
"Two years ago we were immersed in nature [during filming]. This movie was about trust and no one was more deserving of our trust than our director. The depths to which he and the entire crew went to make this film were incredible."
Next came a nod to his co-star, who plays his friend-turned-nemesis in the film: "I want to thank my fellow actors including Tom Hardy who is a beast and who I know would never bury me alive and leave me for dead."
Also read: Why does 'awards season' always disappoint? A TV junkie's rant
He signed off on a more sober note, making a case for indigenous rights: "I want to thank all of the indigenous people in the world. It is time we protect your land and heard your voices. It is time we recognize your history and protect your indigenous lands from corporate interests and people who are out there to exploit them."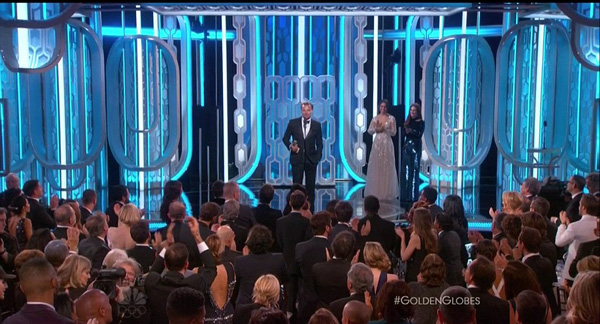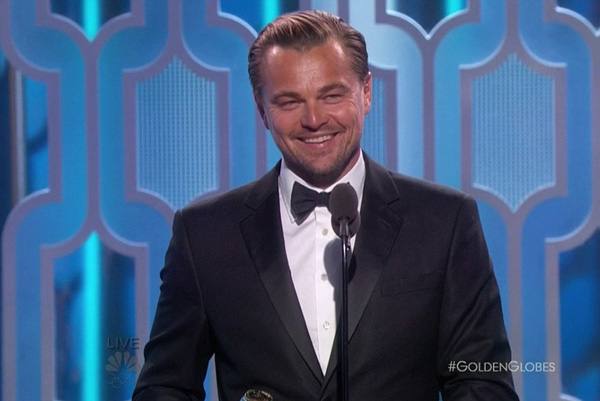 4. Jennifer Lawrence took home her FOURTH Golden Globe
Looking gorgeous in a red Dior column dress, the 25-year-old gushed about her Joy director, who helmed three of her films to garner her awards gold, David O Russell.
"Where are you David?" She began. 'Every time I'm up here it is because of you. Thank you for choosing me. Thank you for your brilliance. For teaching me. Your love of cinema is so pure."
"David I love you,"Jennifer concluded her speech, "I want us to be buried next to each other."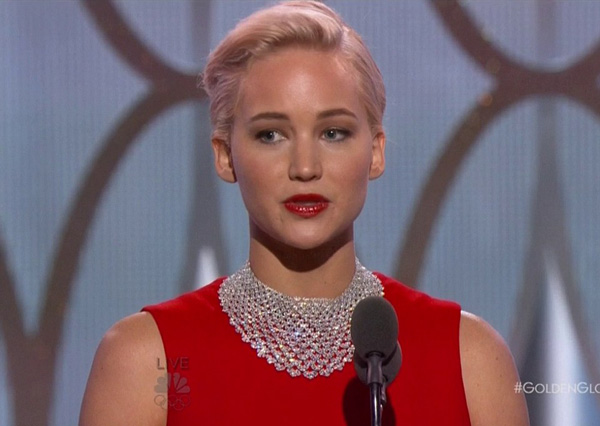 5. "Cookies for everyone tonight!"
The menu at the Globes is nothing short of lavish, but it was cookies that everyone was talking about.
The reason? Taraji P Henson's win as Best Actress in a TV Drama for Empire. "Cookies for everyone tonight!" she cheered once onstage. "My treat."
It was a nod to her character, Cookie - and she even handed them out as she went up on stage to accept the award.
"I mean who knew that playing an ex-con would take me all around the globe? I thought it would be Queenie, Will, my character from Karate Kid - but it's Cookie, who spent 17 years in jail for selling crack!"
She then refused to cut her speech short when she apparently saw a note on the teleprompter that said 'Please wrap'.
"Please wrap!? Wait a minute. I waited 20 years for this. You gonna wait, you gon give me more time."
That wasn't even all that happened to her last night - she had her train stepped on twice while getting on stage.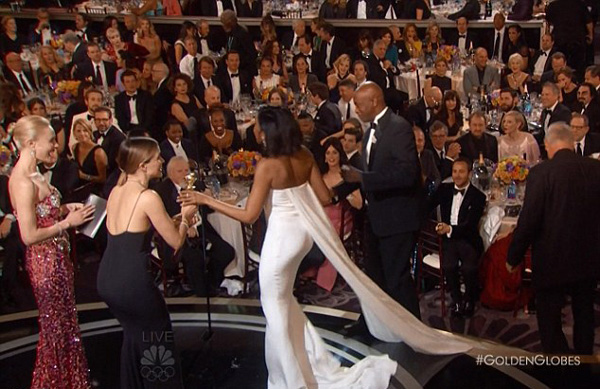 6. Sylvester Stallone took home an award after almost 40 years
The 69-year-old won Best Supporting Actor for Creed almost 40 years after winning Best Screenplay for Rocky in 1977.
Last night, it also won him a standing ovation.
"Thank you!" the action hero began once he accepted the award. "I am gonna try not to get emotional because I am the sum total of every person I ever met. Last time I was here was 1977."
"I want to thank my imaginary friend Rocky Balboa for being the best friend I ever had," he ended on a lighthearted note.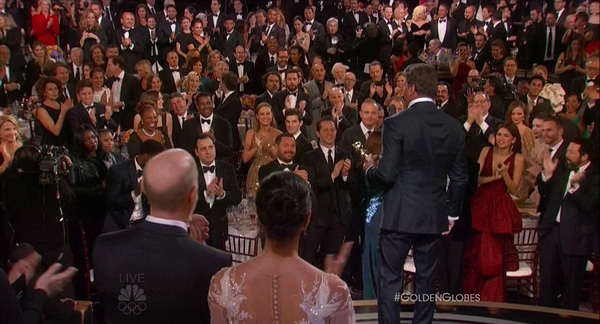 7. Rachel Bloom's super-excited acceptance speech
In a night of fun moments, Rachel Bloom's excited, spirited acceptance speech for her role in Crazy Ex-Girlfriend has to rank as our favourite. She went into the evening an underdog and clearly knew it as she recounted all the rejection the show received before finally making it to air on CW.
8. And finally, the (Titanic) hug that took over Twitter
Kate Winslet and Leonardo DiCaprio had themselves a Titanic reunion at the Globes on Sunday night - and Twitter went into nostalgia overdrive.
The 40-year-old actress was among the first to congratulate her former co-star after he won Best Actor in a Drama award for The Revenant.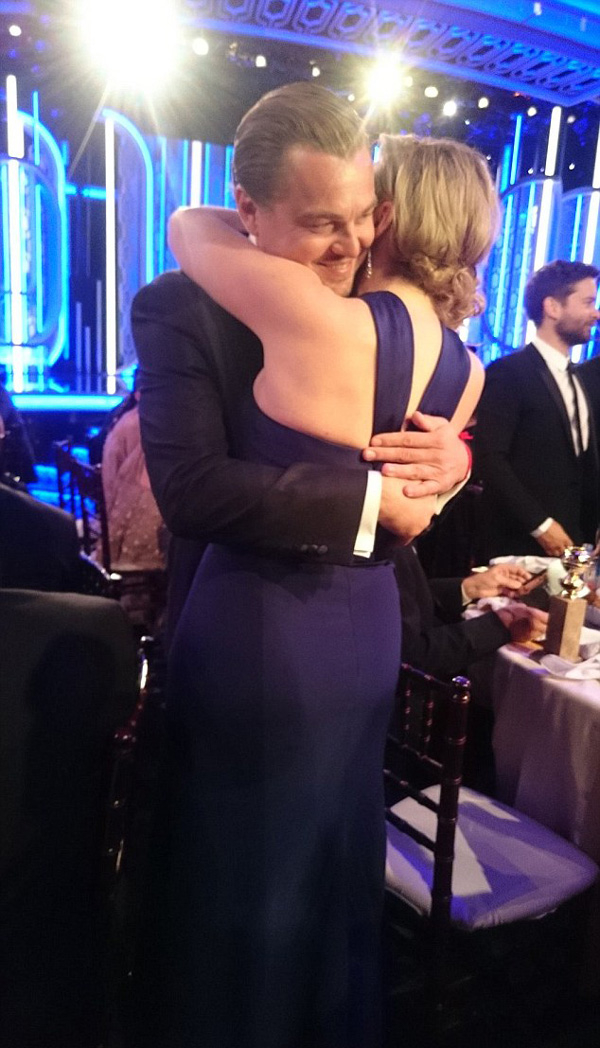 And if you've been living under an internet-free rock today, here's the full list of winners at the 73rd Annual Golden Globes Awards:
MOVIES
Best Motion Picture - Drama: The Revenant
Best Motion Picture - Comedy or Musical: The Martian
Best Actress In A Drama: Brie Larson: Room
Best Actor In A Drama: Leonardo DiCaprio - The Revenant
Best Actress In A Musical Or Comedy: Jennifer Lawrence - Joy
Best Actor In A Musical Or Comedy: Matt Damon - The Martian
Best Supporting Actress: Kate Winslet - Steve Jobs
Best Supporting Actor: Sylvester Stallone - Creed
Best Director: Alejandro G. Inarritu - The Revenant
Best Screenplay: Aaron Sorkin - Steve Jobs
Best Animated Film: Inside Out
Best Foreign Language Film: Son of Saul - Hungary
Best Original Score: Ennio Morricone - The Hateful Eight
Best Original Song: Sam Smith Writing's on the Wall from Spectre
Cecil B DeMille Award: Denzel Washington
TV
Best Series - Drama: Mr Robot
Best Series - Musical or Comedy: Mozart in the Jungle
Best TV Movie Or Limited Series: Wolf Hall
Best Actress In A Drama: Taraji P. Henson - Empire
Best Actor In A Drama: Jon Hamm - Mad Men
Best Actress In Musical or Comedy: Rachel Bloom - Crazy Ex-Girlfriend
Best Actor In A Musical or Comedy: Gael Garcia Bernal - Mozart in the Jungle
Best Actress In A Limited Series or TV Movie: Lady Gaga - American Horror Story
Best Actor In A Limited Series or TV Movie: Oscar Isaac - Show Me a Hero
Best Supporting Actress: Maura Tierney - The Affair
Best Supporting Actor: Christian Slater - Mr. Robot