Five reasons it might be time to say our final goodbyes to bookshops
The closure of yet another book shop last week - Ram Advani's book shop, a cultural marker of Lucknow for nearly 50 years, has again set nostalgia flowing and sparked discussions about the drastic dumbing down of society. Some say it is a blow to the culture of book-reading, others say it is an assault on what we cherished, and the very idea of going to a bookshop and browsing signified a society where the mind was ticking.
Shobha Sengupta, who runs Quills and Canvas bookshop in Gurgaon and is bravely and admirably holding out, told Catch, "Bookshops must survive for the sake of sanity. These are the lungs and minds of society. The role of a bookshop is to provide a quiet space of reflection and discovery. Ordering a book from the home erases the joy of browsing."
Also read -Not just a bookseller: in Ram Advani, Lucknow loses its cultural nerve centre
But in an extremely price-sensitive society, a 10-20% discount makes all the difference between success and failure. Here, the various notions, both imagined and real, about culture and society's elevation, hold little meaning. Whatever browsing is now done on the browser.
Here are five reasons why the bookshop as we knew it will not make a return. A ten-year-old child will almost certainly never see a bookshop growing up.
1. Manu Pillai's Ivory Throne, an audacious and ambitious 700-page book on the history of the Travancore royal family which has sold close to 6000 copies in the last year, has a marked price of Rs 699 - almost a rupee a page. It sells on Amazon for Rs 100 less and on Kindle for just Rs 450. Shops can, at best, offer a 10 % discount on the 20-30% margins they get.
Also read - Prepare to be stunned: Amazon just opened a physical bookstore in Seattle
This is the basic reason why bookshops are over. Neither on price nor on technology can a brick-and-mortar shop remain in business. "Sales have definitely dropped because of online portals," says Shobha Sengupta.
2. To make matter worse for bookshops, one of India's largest book distributors, based in Delhi, has itself been selling online with an e-commerce venture called U Read, available on both the Amazon and Flipkart platforms.
Since the distributor who is supposed to support the bookshops by offering greater margins, itself runs an e-commerce shop, what hope do bookshops have? URead can afford to sell some books at a 30% discount since they get a trade discount of 40% from the publishers. This is a classic case of cannibalistic commerce.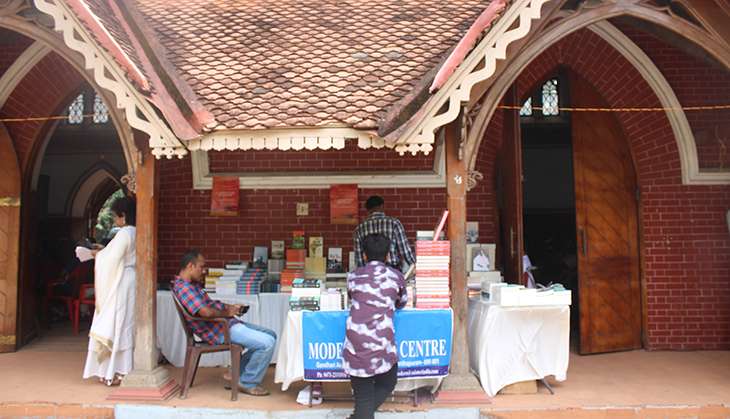 A small bookstall (Photo: Binoo John/Catch News)
3. Book technology, which remained unchanged for 500 years, is now changing with a vengeance. Digital reading is taking over at a furious pace. Even academic books can now be digitally ordered.
A professor in JNU told this writer that he orders rare books on his Kindle, gives the machine to one of his students who, using software jugaad, has the entire book printed and then photocopied. This is the same Kindle that was once glorified for the fact that its books cannot be printed. Jeff Bezos are you reading this?
4. The mobile Kindle app has perfected the buying and reading experience to such an extend that when you turn the page of a book with a touch, you can hear the twirl of paper. All that is left is the feel of paper and smell of ink which immortalise imagination.
Also read -Will this viral photo help save Chennai's 'Biggest Little Book Shop'?
To make matters even worse you can buy a book, chapter by chapter, or even story by story (from a collection) for ridiculously low prices ranging from Rs 10 to Rs 30 from the publisher Juggernaut's app. An erotic story for Rs 30 could be a good way to forget the fact that the thick wad of notes you had no longer has any value.
5. What is left are the arguments. What better way than to quote Ajit Vikram Singh, who told this writer soon after he closed down Fact and Fiction in Vasant Vihar a year ago, "A city that has had too few bookshops to begin with, and hardly any noteworthy chain store, the likelihood of another bookstore coming up and making a difference is pretty slim. Especially in this current environment of reduced retail sale and high rentals. On that count alone, it's an irreparable loss.
"I maintain books are highly tactile objects and cannot be sold on the internet alone. The art of browsing and the serendipity of finding unconnected books are hard to emulate in the virtual world. The number of people who come in to find books, then to compare prices on their smartphones, while the slightly sensitive ones merely photograph the book and then order from home, only goes to validate my point. The books, which customers take for granted, are there in the shop because of booksellers' perseverance."