Development is all very well. But don't take away a child's right to play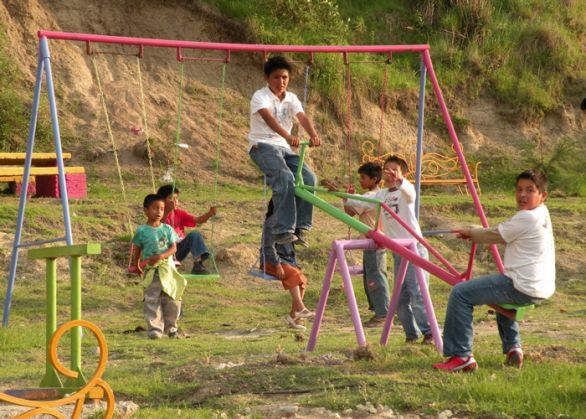 The sacrifice
In many urban areas in India, children\'s parks are being sacrificed for development
An example is Delhi\'s Mundka, where a large kids\' park is being absorbed into an industrial park
The consequences
In Britain, Vitamin D deficiency among children has led to the return of the disease called rickets
In India too, the shrinking of space could be detrimental to kids\' development
More in the story
Are corporates and the government solely at fault for this malaise?Sound advice from Nobel laureate Gabriela Mistral
Saumya, Manan, Abid and scores of kids living in and around Mundka in north-west Delhi are a worried lot nowadays. Thanks to a Delhi government decision, the park they currently play in may soon turn into a park of a different kind - an industrial park.
The Delhi State Industrial and Infrastructure Development Corporation Limited (DSIIDC) has already acquired land adjoining their colony for this purpose. According to plans, the main complex of this industrial park would see a 60-storey building, which is to be let out to different companies.
Of course, it is a plan with great significance for the area, and the residents acknowledge as much. The industrial park will have a high potential for employment, and be a great source of revenue for the government. Newspaper reports also state that the idea is to promote "non-polluting, knowledge-based, high-technology and skilled industries, which would keep the migration of unskilled labour to Delhi to a minimum.
But did anyone think about where the kids will go to play?
The patch of land in question is 147 acres in area, and is mainly used as a playground. Some time ago, a delegation of residents met CM Arvind Kejriwal with a memorandum signed by more than 5,000 people, requesting him to convert the area into a biodiversity park with a playground attached.
The 'Mundka Kirari Harit Abhiyan', which led this delegation, says the industrial park will not just impact the environment, but force the kids to play on the streets, leaving them prone to accidents.
Kids will suffer
It's not a simplistic binary - better livelihood opportunities versus children playing.
In an article last year, George Monbiot, the British writer and activist, had discussed the British experience on this matter.
He quoted an extract from Jay Griffiths's book, titled 'Kith', to explain the situation:
"'Today's children are enclosed in school and home, enclosed in cars to shuttle between them, enclosed by fear, by surveillance and poverty and enclosed in rigid schedules of time.' Since the 1970s, the area in which children roam without adults has decreased by almost 90%. 'Childhood is losing its commons'."
There is no denying that children being confined to their homes has a disastrous impact on their health. The return of the Victorian era disease rickets in Britain is partly attributed to Vitamin D deficiency, which arises because children have not enough open places to play and absorb sunlight.
Not just corporates and govt at fault
In a lot of Indian cities, playgrounds, gardens and vacant spaces are fast disappearing, in an attempt to turn them into some version of Shanghai.
The good thing about the Mundka case is that at least the residents have prior information of the plan. The CM has even promised to gauge public opinion by holding a 'mohalla sabha'.
Last year, in Mumbai, a mobile service provider was given permission to set up 4G towers in 'parks, gardens, playgrounds and some open plots, including a playground opposite a prominent school' and resulted in the effective takeover of at least 20 gardens and playgrounds.
The whole thing came as a bolt from the blue for the residents, when suddenly one day, workers arrived to install the equipment. Their objections were to no avail; all approvals had already been granted.
But would it be fair to hold only corporates and those in power responsible? It wouldn't. In fact, in a lot of cases, parks and open spaces are taken over with consensus in the neighbourhood.
Some times, it is illegal religious structures that eat into this space - something the highest courts in India have instructed governments to curb. On other occasions, parks become de facto parking lots, in order to accommodate the growing number of cars in urban India. And all this happens with the consent of the neighbourhood.
A child's right to play
A few months ago, the Delhi High Court passed an order upholding children's right to play in parks. In fact, Justice Kurien Joseph of the Supreme Court had himself written to the Delhi High Court about the pathetic condition of children's parks, which was converted by the High Court into a PIL to secure the children's right to play.
But according to a newspaper report some months later, nothing had moved on the ground.
It was 1959 when, under the United Nations Declaration of the Rights of the Child, the right to play was first recognised for the first time. The Convention on the Rights of the Child in 1989 strengthened it further.
The convention considers it to be the State's legal obligation to let the child play. There is also enough knowledge of the fact that playing is important for the overall development of the child. However, it is becoming clear day by day that there is a tremendous gap between the proclaimations and the actual situation on the ground.
His name is Today
It's high time that policymakers and even opinion-makers are reminded of a famous poem by Gabriela Mistral, the Nobel Prize-winning poet from Chile.
"We are guilty of many errors and many faults,

But our worst crime is abandoning the children,

Neglecting the fountain of life.

Many of the things we need can wait.

Right now is the time his bones are being formed,

His blood is being made,

And his senses are being developed.

To him we cannot answer 'tomorrow'

His name is Today."