Crossing the rainbow bridge: Is Delhi's first pet burial ground worth the wait?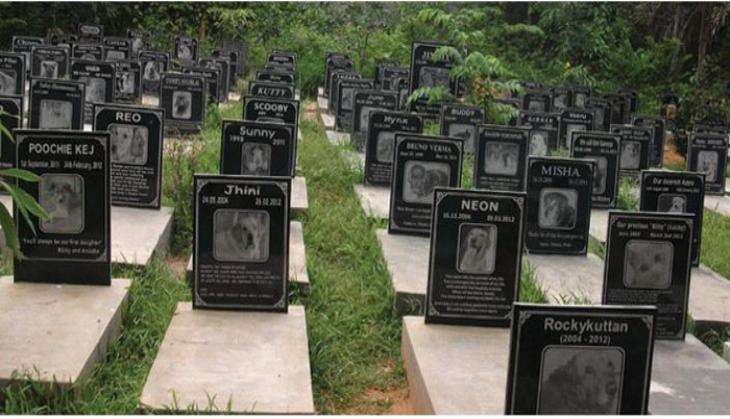 When Mohtarma, a beautiful feline, fell to her death two days before her sixth birthday, her human companions were shattered. But there was little time for grief. They had to channelise their energy to figure out where to bury her.
They learnt that the nearest facility was in Noida. It was a paid service, yet the right people had to be called to seek permission to bury her there and the right names had to be dropped at the gate to get past the security guards.
Already traumatised by Mohtarma's sudden death, this was the last thing that her humans had wanted to worry about.
Also read - Scared of stray dogs? This new initiative aims to change that
Chintu, another feline, had to be taken to a little green patch in South Delhi for a dignified burial because none of the "right people" decided to answer their phones the day he died. Besides, the logistics of carrying Chintu from one part of Delhi to another were nightmarish - what if the powers-that-be did not allow the burial?
Losing a pet is not easy and it isn't rare for companions to seek psychiatric help to deal with the loss. There are scores of people who have stories about how they faced "bureaucratic" hurdles when burying their furry friends at paid and private places.
Then there are the less-privileged who raise strays, mostly dogs, on the streets as their own and it breaks their hearts each time a garbage truck carries their companions away.
By announcing the city's first government-run graveyard in Ghazipur, the East Delhi municipal corporation is trying to change that. The facility will also double up as a sterilisation and veterinary centre for dogs.
But will they succeed in arresting the burgeoning dog population? And is an acre of land enough for burials?
Rest in Peace
Geeta Seshamani, who runs the oldest animal welfare facility in Delhi - Friendicoes, is unsure if the acre of land that has been allotted on a landfill will help.
"The idea of a crematorium or burial facility will be very welcome to the public who have waited for this for a long time. However, resources should be dedicated majorly to increasing infrastructure at the Ghazipur Hospital to increase sterilisation and vaccination of dogs. That is the need of the hour," Seshamani told Catch.
Friendicoes helps carry out the large chunk of dog sterilisations in Delhi - 400 to 500 per month in Ghazipur alone. And this could easily go up to a 1,000 if there was more space.
Also read - Welfare Wars: the dog-eat-dog world of animal activism no one speaks of
Others see the site - a landfill - as impractical. The landfill has a great deal of methane gas eruptions. Also the cemetery, which is in the east, will be inaccessible to those living in south or west Delhi.
Currently, dog lovers in East Delhi usually head to the Society for Prevention of Cruelty Against Animals (SPCA). There are other designated spaces on the outskirts of the capital earmarked by animal organisations such as Friendicoes, Jeevashram, Sanjay Gandhi Animal Care Centre and Sai Ashram for burials.
Plaques with epitaphs adorn the graves of some of the pets. And their companions keep up with their visits to the cemeteries - often to plant a sapling or to just to spend time when they miss their pet too much.
Most of these organisations charge a fee of Rs 1,500 to Rs 3,000 per burial depending on the size of the pet. Some also offer the facility of cremating the pet.
Sanjay Gandhi Animal Care Centre encourages pet lovers to adopt another animal because "the best way to remember your pet is to open your heart and home to another and relive the joy of sharing and caring". Jeevashram, an animal welfare organisation set up in 1990, has a neatly manicured "garden of eternal peace" for pets.
Delhi's dog menace
Delhi's dog population is said to be anything between 4 and 12 lakh - no one really knows the exact figure. Around 84 dogs are sterilised per day. But the number of humans bitten each day is three times that: 252.
This data was thrown up in a petition filed by RTI activist JS Walia.
The good news is that the chances of being bitten are under 0.5% (if we take the capital's base population as 1.68 crore and dog population at 4 lakh). In other words, no more or less than your chances of dying in a road accident. Or being murdered.
Also read - Delhi's dog menace: Blame the civic bodies, not the strays
The courts endorse Animal Birth Control (ABC) as the only scientific, humane, rational and lawful solution to controlling the stray dog population and eradicating the threat of rabies.
All this means that the government's twin strategy should be to rein in the dog population and to make parallel efforts to make the crossover of the pets to the rainbow bridge the least traumatic for both - the pets and their humans.
Because the death of a pet can hurt just as much as loss of a relative. And that's why there should be proper channels in place to deal with that all-consuming grief.