Chhota Rajan arrested 25 years after fleeing India. What next?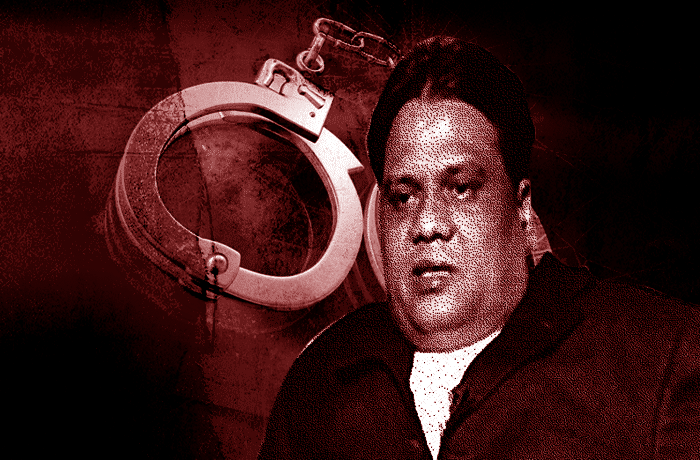 The arrest
Chhota Rajan was arrested Monday at Bali airport
Bali police were informed by Australian cops about the gangster
The past
Rajan fled India in 1988; cut ties with Dawood after \'93 blasts
He has reportedly helped Indian agencies with information on Dawood\'s
More in the story
Is India going to get Rajan\'s custody
What awaits Chhota Rajan next
Rajendra Sadashiv Nikalje, commonly known as Chhota Rajan, was nabbed on Monday in Bali, Indonesia. The police there were tipped off by their counterparts in Australia, leading to the gangster's arrest at the Bali airport.
Rajan, along with Dawood Ibrahim, Chhota Shakeel and Arun Gawli, was among the gangsters that Mumbai has dreaded since the 1980s and who, with time, have become part of the city's 'underworld' folklore.
The arrest - after almost two-and-a-half decades since Rajan fled India - would not be of much help to India, feels experts.
"The arrest is not so significant as far as Mumbai Police is concerned," said YP Singh, a retired Indian Police Service officer.
"He is not a terrorist. He is mere gangster who once operated in Mumbai and later fled. There is nothing to be elated about the arrest."
In fact, Chhota Rajan was assisting Indian intelligence agencies to nab Dawood, Singh pointed out. "The Indian government was not as serious in arresting Rajan as it is for arrest Dawood. He can be deported to India if the government puts the demand with Indonesian government."
The arrest of 'IB Man' Rajan has atually sparked a debate in Mumbai Police. A section of the department's Crime Branch feels Chhota Shakeel could have been instrumental in getting Rajan arrested.
Chhota Rajan supposedly helped India against Dawood. Will India try to get his custody?
"Chhota Shakeel had sent a video six months ago, daring Indian authorities to come out openly on Chhota Rajan as they did on Dawood Ibrahim. It was Shakeel who tried to bump off Rajan in Bangkok 15 years ago.
"Rajan survived the bid and was even alerted about similar attacks after that. It is being speculated that intelligence authorities had been instrumental in saving Rajan's life," a retired Crime Branch official said.
Others deny the theory. Chhota Shakeel would be more interested in getting Rajan killed than having him arrested and brought back to India, they say.
Former Mumbai Police commissioner, MN Singh, was suspicious about the gangster's fate. "My experience over the years compels me to restrain from celebrating the arrest until he is brought to India. Even if he is brought back, I do not think Rajan would be of much help to the authorities as he has grown old and his gang has been almost destroyed."
According to veteran crime reporter Baljeet Parmar, "It is better late than never. Though, the arrest will not make any difference to the Indian government or Mumbai Police."
Indian can seek Rajan's deportation, but Australia will have the first claim as the tip came from there, Parmar pointed out.
Rajan, involved in a drug cartel in Australia, has been on the radar of Australian police and coast guard for long.
Chhota Rajan arrested on Australian tip off. So, Australia may get his custody from Bali police
He distributed huge quantities of drugs smuggled from Pakistan in Australia. Recently, the coast guard there seized a large consignment shipped from Pakistan. "The Australian government was on his lookout," Parmar said.
"His arrest can be significant to Australia. If taken into custody by Australian authorities and tried as per Australian law, Rajan can be sent to jail for as long as 100 years."
Indian intelligence agencies had been using Rajan for gathering information about Dawood. According to Parmar, "he always had an ambition to lead his own gang, unlike Dawood who outsourced his tasks - be it extortion or contract killing."
Rajan, however, couldn't control his gang and soon many of his trusted lieutenants left him. "Today none of the initial aides are with Rajan," Parmar said.
Chhota Rajan worked with Bada Rajan and took over the gang after the latter's death. His gang operated in Central Mumbai such as Ghatkopar, Chembur and Asalfa. On the other hand, Arun Gawali, Dawood, Haji Mastan and the Pathan Gang, headed by Karim Lala operated mainly in the southern part of Mumbai such as Byculla, Dongri, Nagpada and Colaba.
Since both were operating in the same area, Dawood's men and Lala's men would often clash with each other. Over the period, the two groups developed animosity and Lala killed Dawood's brother.
Since Dawood did not have a battery of shooters, he hired Chhota Rajan to settle scores. After Dawood fled to Dubai, Rajan became his front man in India.
In 1988, Rajan too fled and has been on the run since then. After the 1993 Mumbai serial blasts, he snapped ties with Dawood. Almost all important members of Chhota Rajan's gang got arrested. They were either acquitted or are out on bail.
Rajan is wanted for the sensational murder of senior crime reporter J Dey, Santosh Shetty and gangster Fareed Tanashah. If brought to India, Rajan can be tried for 68 cases registered against him, including extortion and murder.