Before Julia Roberts ditched heels, men did. In the 17th century!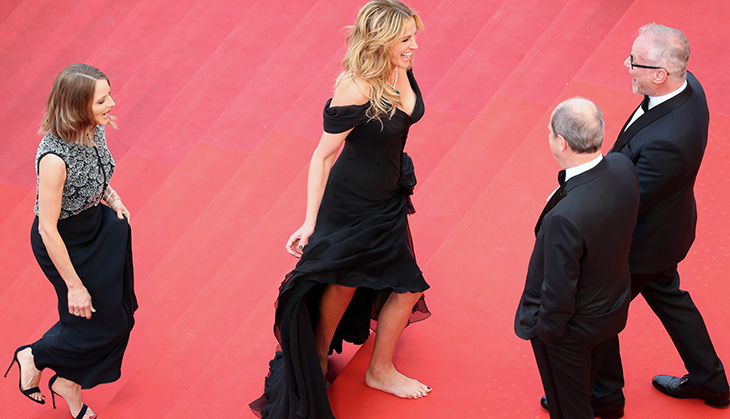 That's Julia Roberts on the Cannes 2016 red carpet looking thrilled about the screening of her latest release Money Monster and NOT wearing stilettos. And if you're wondering why she went for this come-kill-me-fashion-police look, it's because she's the one woman on that carpet who can.
Heels hurt. No matter how 'comfortable' we claim they are, the degree of comfort is pretty much relative. So forcing women to wear them is absurd. And that's exactly the non-pointy point Roberts made by foregoing footwear when she paraded her Armani Privé gown yesterday.
Also read - Can women be rapists? Reality says yes. The law, however, says no
Here's some context. Last year at Cannes, during the screening of Carol, a group of women in their fifties were allegedly shown the door by organisers for not wearing high heels. According to a 2015 report in Screen Daily, "Multiple guests, some older with medical conditions, were denied access to the anticipated world-premiere screening for wearing rhinestone flats."
That's not just nonsensical, it's plain cruel.
Go big or go home
While the actresses' barefoot protest is exactly the kind of badass move we need from women in the spotlight to fight such absurd rules, there's another lesser known hero who has actually taken the mandatory heels issue to no less than the parliament of the United Kingdom (UK).
Nicola Thorp's story has nothing to do with Cannes, but it is far more relevant when it comes to the larger culture of women being forced to wear heels with formal attire.
The 27-year-old was a temp hiree at Pricewaterhouse Coopers (PwC). She was fired on her first day at work. Fired, because she went to work in flats for her job as a receptionist. A job that demands that she stay on her feet and escort people to offices through the day.
Thorp was told to wear heels that made her at least 2-4 inches taller. She refused this demand, inquiring why it was expected of her. "I said 'if you can give me a reason as to why wearing flats would impair me to do my job today, then fair enough', but they couldn't," she told BBC Radio London.
She also pointed out that the same was not expected of men in PwC. This comment was met with laughter from her colleagues.
Evidently, they laughed too soon.
This incident, like the incident at Cannes, happened last year, but Thorp has now escalated the matter. She has filed a petition asking the UK government to ban the practice of mandatory high heels in the workplace.
"Current formal work dress codes are out-dated and sexist," Thorp writes in the petition that has already crossed the 100,000 mark required for it to be taken up in the Parliament. With 126,496 signatures and counting, the petition is now officially open for debate.
And this, almost poetically, is her last resort. She had had no luck with challenging PwC directly as the outsourcing company that had hired Thorp, Portico, claimed that Thorp had agreed to follow the dress code. As for PwC, they stated that wearing heels was not mandatory as per their rules.
Their clear denial of responsibility didn't discourage Thorp, nor did it ring true with the public as is abundantly clear by her petition and its popularity. Each signature in there comes from an individual who doesn't see why women's productivity at work should be tied to a physically painful dress code. Painful, and bad for their health.
What's the point of heels, anyway?
Scores of studies have indicated that wearing heels for long stretches of time can reduce blood flow, restrict muscle function, and even affect the spine. But beyond the physical harm that heels can cause women, there's the larger issue of what it means to still be expected to wear them.
Because, you see, heels are feminine. They are dainty, pointy, pretty and the least functional of all shoe types. Sure, women have tried to find solace in the confidence that comes with the height heels provide. But the choice for gaining that height should be theirs alone.
Also read - Why does Sally Nixon think you want to see a woman in her toilet? She tells us
But let us for a second imagine that heels were a sign of power, that they exuded masculinity and were worn to show who's boss. Would men then adopt heels?
History says yes
That's right. History works in fascinating cyclical ways. The first heels were invented to suit 16th century Persian horsemen who needed a grip on the stirrups to stay upright on horses.
Under Persia's Shah Abbas I, a trade-loving ruler, the heels made their way into Western Europe. And the riding footwear soon became a fashion statement among men.
"A wave of interest in all things Persian passed through Western Europe. Persian style shoes were enthusiastically adopted by aristocrats, who sought to give their appearance a virile, masculine edge that, it suddenly seemed, only heeled shoes could supply," reads a BBC article on the subject.
The shoes were completely impractical to walk in, and that's where their appeal lay. The aristocracy had found yet another way to show their might. Because it was them alone who could wear something so absurdly uncomfortable to work in, as they had no physical labour to worry about.
In fact, this heel obsession became so trendy that in the 1670s Louis XIV of France restricted the permission to wear red heels (his favourite sort) only to those who were members of his court.
So what changed?
Here's the fun part. Men abandoned heels because women started wearing them.
By the 1630s women started emulating men. They had shorter hair, smoked pipes and even wore heels. It was an attempt to be seen on par with men.
Now, imagine the irony. Almost 500 years later, here we are demanding the right to wear the footwear we please. And this is no laughing matter, because it only reinforces the reality that women are still fighting to exercise their autonomy in society.
Sure, heels may make a comeback for men. And sure, they may get completely abandoned by women. But that choice needs to be the individual's alone.
More in Catch - Video about nasty online trolls against female sportswriters gets more hate on YouTube
Maths, and why women end up more vulnerable to the Silly Mistake