Animal Tales: Are animal abuse cases a 'waste of time' for our cops?
Mahatma Gandhi believed that the greatness of a nation and its moral progress can be judged by the way its animals are treated. And the honourable courts endorsed his vision to a T by framing laws that view animal cruelty as a cognisable offence.
However, as the recent case in Chennai has proved, we still have a long way to go - in terms of our attitude towards our four-legged friends; the severity of our laws against animal cruelty and also the way our law enforcement reacts to cases of cruelty.
The latter two though, are the more troubling aspects. Because in the absence of strong laws and effective enforcement of them, there's nothing to deter those who would abuse animals.
Also read -Monstrous duo who flung a dog from rooftop in Chennai arrested
The Chennai incident, as gruesome as it was, highlights just how seriously our laws take these cases. After taking days to arrest the offenders, a pair of MBBS students, they've been hit with the most paltry of fines - Rs 20 and Rs 50. What's worse, they were immediately released on bail!
Surely this is something that needs to be made more stringent. But, even with these laws, there is still scope to protect animals, provided, of course, that our police take these crimes seriously.
Do our police even care?
Unfortunately, the Indian police, the implementers of this law, have different priorities. They like to keep their daily diaries clean - so why litter them with inconsequential details of maiming and beatings of animals?
Seeing their complete lack of empathy towards those who walk on fours, last year the Union ministry of home recommended that the men in uniform across all Indian states and Union Territories be trained to deal with animal cruelty cases.The office of Delhi's Special Commissioner of Police, Law and Order also noted that its officers should stop "treating such cases as frolicsome and a waste of time". It laid the responsibility on the SHO and ACP/SDPO to educate and ensure that the FIRs are lodged and action taken.
Yet, cases of animal cruelty are on the rise and police intervention or action is zilch.
And, no we are not talking of high-profile cases such as the MLA caught on camera attempting to attack a 13-year-old police horse, who eventually died of injuries sustained in the fracas.
Nor of cases that do not occur in our urban backyards - Jallikattu, the abuse of elephants in circuses and temples, the overloading of donkeys till they drop dead or the mass culling of dogs.
We are talking of crimes that occur in our middle-class neighbourhoods - and which expose our middle-class sadistic conscience.
Shocking Abuse, Routine Apathy
April 12, 7.30 am, Bisrakh Police Station, Greater Noida.
An approximately seven-month old puppy is mercilessly beaten with a stick for straying into a gated community in Greater Noida by a 20-something guard named Rahul Singh. Residents, hearing the puppy's cries, rush to help him and beg the guard to stop. The puppy has a broken hip, is unable to move, and has to be carried out of the gated community. The incident is captured on CCTV cameras.
The residents decide to call the police but the security head of Stellar Jeevan Society, Ambrish Rai, pleads with them not to - promising to sack the guard. By late evening, however, he has a change of heart. He says the matter is not in his hands and the residents should consult the facility manager, Krishna Saraswat, who, in the absence of an RWA, oversees the management of the residential society.
Saraswat doesn't seem to understand or care about what has happened to the puppy, but decides to support the errant guard. When the residents phone Bisrakh SHO Ashwini Kumar, he decides to help. Just not immediately because he is busy with a "VVIP visit".
Over the next few days he refuses to entertain calls, till the residents land at the police station unannounced. Kumar is forced to summon the guard, but he lets him off in no time because he "apologised".
When the residents press for a police complaint, the SHO decides to become perpetually unavailable - not taking calls, or replying to text messages. A few days later, a police report is filed. However, no DD entry is made, nor FIR lodged.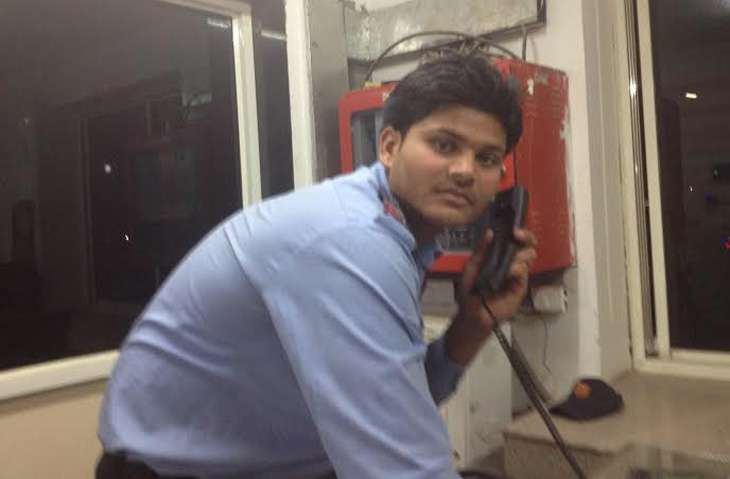 Guard Rahul Singh
The SHO's standard reply to the many calls he receives from an animal welfare officer and animal welfare lawyer is standard - "he is busy with VVIP duty"; "is out of station" - and finally, when cornered, he denies receiving any police complaint in the matter whatsoever.
On 7 May, the same puppy goes missing and is found in a gutter. A vegetable vendor saves him in the nick of time from drowning.And the guard - who by now has the full support of facility manager - goes around threatening the complainant with dire consequences. The police doesn't care. For the puppy. Or the human.
What The Law Says
* Hitting or hurting any animal is illegal under the Prevention of Cruelty to Animals Act of 1960.
* Killing or injuring any animal is a cognisable offence under Sections 428/429 of the IPC. So is beating, kicking, overloading and torturing of animals.
* Giving an injurious drug or medicine to any animal; carrying an animal in any vehicle in a way that causes pain; keeping an animal chained or caged or in confinement is illegal. As is mutilating or killing of animals, including stray dogs. Or using them for baiting.
The laws are fair to animals, even if their fines have not been inflated since 1960, which is when the law was drafted in the first place. The police have also been instructed, and often, trained to:
a) Register a case immediately
b) Photograph crime of scene or obtain CCTV footage of incident
c) Ask a government veterinarian to attend to the animal
d) If animal is dead conduct a postmortem
e) If animal is alive, make a health certificate, and ensure treatment
f) Record statements of the accused and the complainant
But here's what really happens
Given the laws are quite pro-animal, going to the police station and filing a police complaint against an animal abuser, seems like the easiest thing to do.
In reality, no one cares.
The word dog or cat is enough to elicit a chuckle or a laughter. It's been many months since the matter of the pup being beaten in Greater Noida was reported to the area SHO - an FIR has only recently been filed.
But the delay has come at a cost, the guard is now absconding. Even worse, the investigating officer, Prithvi Singh of the Bisrakh Police Station, seems amused at such a case. Instead of going by the letter of the law, he asks "why this noise when the pup can walk on three legs?"
Animal activist Sonya Ghosh is the go-to person for advice before filing a police complaint."It depends on the police station. Filing a complaint is easy at some police stations, like the one I went to in South Delhi and they arrested a motorcyclist who crushed a dog in 30 minutes. There are others who will make things as difficult as possible. They treat you like an accused, pretend they haven't heard of the animal cruelty laws," says Ghosh.
Even when they agree to lodge a complaint the going is not easy for the complainant.
"There is a possibility that a counter FIR will be lodged to get the complainant to compromise," she says.
Anuradha Dogra is on the managing committee of the Society for Prevention of Cruelty for Animals (SPCA), Noida. Dogra says there has been an escalation in animal cruelty complaints in the past few months, but the police do not want to register a case.
She cites the example of Amrapali Sapphire Residential Society in Noida. In this case, some girls were stopped from feeding stray dogs by women residents. The women hit the girls and when some boys playing football inside the gated society intervened, the women slapped molestation charges on them.
"People who are kind to animals are harassed but they have nowhere to go for help even though the laws of the land encourage them to feed and take care of stray animals. When SPCA sent an animal cruelty inspector to the area police station the cops sent him back saying they will arrest him for creating an issue," says Dogra.
Dogra says the best way out is to make a representation to the district magistrate. "The cops want a clean diary. If they had their way they would not even register cases of murder," she adds.By properly enforcing our animal-cruelty laws, we could have been the nation of Gandhiji's dreams. Unfortunately for us, the custodians of these laws couldn't care less.
More in Catch -5,000 animals killed in Bengal hunting festival, cooked openly at railway stations
Scared of stray dogs? This new initiative aims to change that