'A Jihadi's journey: from recruitment to martyrdom'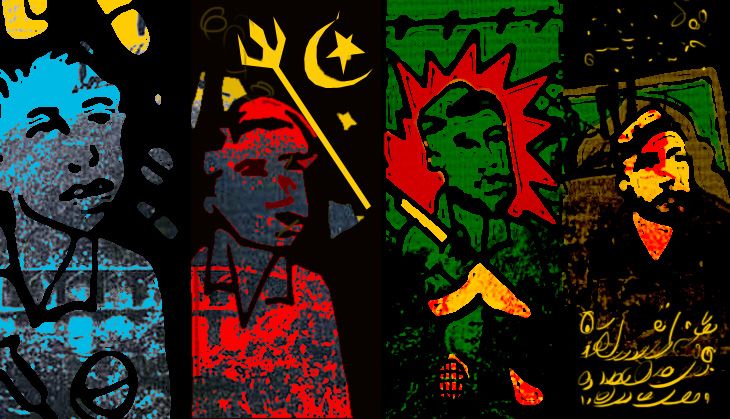 A write-up in Jaish-e-Mohammad's magazine Al Qalam online remembers a militant Zar Muhammad who died in Kashmir in 2002, and in the process traces his journey from recruitment to death. 
Read: Bizarre Jihad recruitment video: come for the wildlife, stay for the afterlife!
The article, a first of its kind, offers an insight into the making of a fidayeen. It reveals Jaish's recruitment methods, military training and the religious indoctrination of the recruit, his "launching" into Jammu & Kashmir across the LoC and his death in combat.
Here's the full article translated from Urdu:
It was a cold night in December 2000. Four of us were at the regional office of Jaish-e-Muhammad listening to the speech of the Emir of Mujahideen Hazrat Maulana Muhammad Masood Azhar Sahib about Babri Masjid. Right at that time, a boy of around 17 or 18 years of age passed by our office and suddenly stopped. A few minutes later he entered the office and sat in a corner. His eyes had sunk from drug abuse. He was under its influence at that time too.
Our gaze was fixed on him, but we didn't lose sight of the Emir of Mujahideen either (on tape recorder), who was narrating the destruction of Babri Masjid in India. He was appealing to the honour of Muslims. He was also describing the atrocities perpetrated by the Indian army on Muslims in Kashmir. We kept watching the boy. Soon his hazy, sunken eyes welled-up and tears rolled down his cheeks. By now, the effect of the drugs had worn off. The speech ended and he silently left with the fire of revenge burning in his eyes.
After he was gone I asked my companions who he was. They said his name was Zar Muhammad and his father had passed away. Bad company had now turned him into an addict. His mother was worried about him. We could only pray to God to show him the right path, which we did.
The following day we were sitting in our office and around the time for evening prayers, Zar Muhammad came again. But today he wasn't on drugs. I still remember his handsome face, chiselled chest and the large eyes.
"Please send me for jihad to India. I want to avenge the destruction of Babri Masjid," he said resolutely.
We were taken aback by his sudden decision. A young man caught up in the swamp of the world was talking of going for jihad. Indeed, whosoever He wants, Allah will set on the right path. So we spoke to him about the training. The following day we despatched him along with two other associates to Syed Muhammad Shaheed (martyr) Madrassa in Balakot for training. After putting him through the basic and advanced training, we sent him to the Kashmir border. He waited for seven months to cross over.
December came. The cold heightened and it started snowing. This made crossing the border even more difficult. So after receiving permission from the responsible people, Zar Muhammad returned to Karachi with a heavy heart and a deep yearning for martyrdom. It was the order of the superiors and he was well aware of the obligation to follow them.
Also read: JeM founder threatens retaliation if Pak shuts down terror groups
In Karachi he got involved in the propagation of jihad. And he impatiently waited for winter to end. He would always say that jihad is life and the world is a swamp, and the one who got caught up in this will only be freed by death.
His mother had already seen a girl for him. The engagement ceremony was also performed. But how could this stop Zar Muhammad who was already betrothed to hoors? He had already sold off his life to Allah. His heart was not into this world. He had just one sweeping desire- he waited for winter to be over and to enter Kashmir, to attack Hindus and to avenge the chastity of his mother and sisters.
Four more months passed in this wait. The harshness of the winter eased, snow began to melt. Zar Muhammad started his journey again. In April 2002, he reached the Kashmir border, for his 'launching' into the state. This time Allah was helpful. He didn't have to wait long. Within two to three days the launching was arranged. And then on 25 April, he crossed the line of blood along with five other companions. A person who was dying for martyrdom for close to one year was now on the verge of fulfilling his desire.
He had just completed two days of travel in the Valley when he came upon a road which looked wide and concrete enough to be used for the movement of the Indian Army. Zar Muhammad suddenly stopped and started searching for something. This was revealed later by a mujahid, also from Karachi, who accompanied him. The companions asked him what he was looking for. He said that he was searching for a hiding place to be used for an attack on the Indian Army.
He was told that the attack could be launched only after they had reached their destination, but Zar Muhammad replied that his heart was not inclined to go ahead without some action. Trying to dissuade him once again, his associates told him they may have to wait endlessly for the Army to come. Zar checked his watch. It was time for afternoon prayers.
Read more: The making of a terrorist. Except, Mohammed Aamir Khan isn't one
"I will wait till evening tomorrow," he said. "If no Army passes this way, then we will move ahead".
The other mujahideen had no choice but to obey Zar Muhammad. Now all they needed was a safe hiding place. Soon they saw a sewage line passing close to the road. It was settled that the four of them will hide in the adjacent forest and wait for the Indian Army until the evening of the following day. And it was decided that Zar Muhammad will conceal himself in the drain.
One mujahid with them who returned safely from Kashmir said, "Four of us went to the nearby forest and Zar Muhammad hid himself in the drain. He took a bottle of mineral water and some dry fruits for food. He offered evening and night prayers in the drain itself. He spent the night reciting the Quran and saying the tasbih. Morning prayers were also offered from the drain. We were watching from the forest and waiting for the Army".
The mujahid continues, "Between 9 and 10 am we could discern a convoy of the Indian Army coming towards us. We started praying for the success of Zar Muhammad. The convoy drew nearer. It comprised four vehicles. Three vehicles passed by the sewer. As soon as the fourth vehicle drove near, Zar Muhammad jumped out of the sewer with lightening speed. He tossed the grenade inside the vehicle, having already opened its pin. Within few seconds, there was an explosion. The truck was completely destroyed and the soldiers in it were killed".
The soldiers in the other vehicles were stunned. The worshipers of the cow started firing indiscriminately. Zar Muhammad was in front of them. He took the burst of gunfire on his chest and soon embraced martyrdom. Zar Muhammad alias Saif-u-llah Taryali was now Martyr Zar Muhammad".
Read: Collateral benefit? A JeM crackdown saved 5 people from #PathankotMess
Recalling his younger brother's sacrifice, Zar Malik said that Zar Muhammad had a deep longing for jihad and martyrdom. He often used to tell his mother that he would prefer to die in jihad than at home. And to his maternal uncle he said that he would die fighting unbelievers.
The brother recalled that once he and Zar had almost drowned in a small water body near their house, but were rescued in time by a passing postman. "If that postman hadn't come, we wouldn't be alive," Zar Malik said.
But how could Zar Muhammad have died then? Allah had written his death in the Valley of Kashmir in the form of martyrdom. After Zar's martyrdom, his mother saw him in dream roaming the lush green Valleys. Indeed, Zar Muhammad was in Jannah now.
It has been fourteen years since Martyr Zar Muhammad died. But his memory is alive in our hearts.  Every year in his hometown, a jihadi rally is held in his memory.
Also read: Using jihadis to liberate Kashmir backfired on Pakistan: ex-diplomat Husain Haqqani
Zar Muhammad had also written a last letter to his mother. The letter read like this:
Mother,
Asalam-u-alaikum,
I am hopeful that you would be alright and so would everyone at home. The important development is that I am getting launched from Forward Kahuta. Please pray that I succeeded in my mission (martyrdom) and thus find my place among the God's loved ones.
My request to you is to remain committed to nimaz and roza (fasting) and urge other family members to do the same. I also implore you to send my other brothers for (jihadi) training. And if, after I am gone, mujahideen come to our house, be nice to them and cooperate with them, so that you also partake in jihad.
Wasalam,
Your son
Zar Muhammad alias Saif-u-llah Taryali
More in Catch:
#Malegaon: Muslim accused discharged, but justice is far from done
Shocking tech: this wristband electrocutes you into ditching a bad habit
Bhopal: man robs brother-in-law's baraat; thieves steal groom's gifts
CJI Thakur's tears: should judiciary show weakness to the govt?