27 real headlines that show how insane the world was in 2015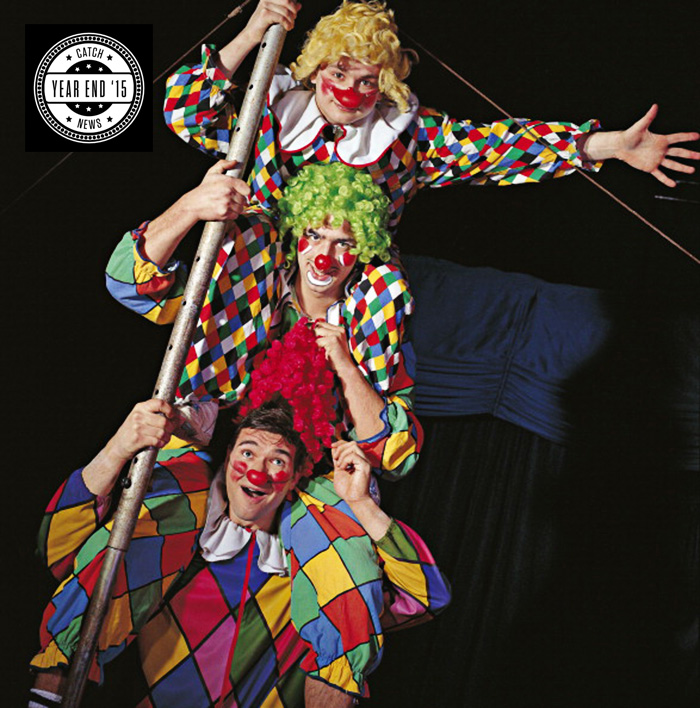 If you think each year seems to get a little crazier than the one before. you're right. These 27 headlines from 2015 are proof that mankind is in serious need of help.
2016, game on.
01
Saudi authorities close down shop selling traditional camel urine drinks... after discovering the owner had been filling the bottles with his own bodily waste

Apparently what cow urine is to India, camel urine is to Saudi Arabia. Drinking the stuff - mixed with milk - is a tradition stemming from a verse in the Hadith and is supposed to have medicinal properties.
But corruption is everywhere, as a raid on an Arab shopkeeper showed - because he was substituting camel urine with a more easily procured variety, his own.
Funnily enough, the World Health Organisation had issued a health advisory against camel urine earlier this year during an outbreak of Middle Eastern Respiratory Syndrome. Which means his urine might actually have been safer than what he was passing it off as. Nonetheless, the authorities were pissed off enough to shut the operation down.
Also read - Think criminals can't be funny? These 7 actual courtroom defenses will blow your mind
02
FIFA's $29 million feature film has $607 box-office take

Ex-President of FIFA Sepp Blatter recently stepped down amid corruption allegations. They should have put him away for megalomania instead. Blatter sanctioned a $29 million movie glorifying his work at FIFA called United Passions... and it bombed spectacularly.
You'd imagine with a title like that it would've at least suckered in a few clueless perverts looking for a smut-fest. Apparently not. The movie was so bad that The New York Times said: "United Passions is one of the most unwatchable films in recent memory, a dishonest bit of corporate-suite sanitising that's no good even for laughs."
03
Meerkat-keeper guilty of assaulting monkey-keeper over love triangle with llama-keeper

You've heard about wild sex, but probably nothing like this.
A former London zoologist, Caroline Westlake, glassed her lover's ex after being confronted by her at a Christmas party last year.
Despite doing more damage, Westlake claims she was instigated and she may even have a point. The ex, Caroline Sanders, who happens to be a monkey-keeper at the same zoo, apparently has a history of violence and instigation if the love interest in the middle of this sordid affair, a llama-keeper, is to be believed.
A monkey-keeper indulging in monkey business? Who woulda thunk.
04
British Isis member complains of 'rude Arabs' who steal his shoes, eat like children and won't queue

You can take a Brit out of Britain, but you can't take the Britain out of the Brit... even if he decides to join the douchebags of Daesh (ISIS).
Or at least that's what the story of Omar Hussain indicates.
After moving to Syria to join ISIS, Hussain took to his online blog to rant about the #firstworldproblems he was facing. After all, what good are 72 virgins in heaven if you can't get basic table manners here on Earth?
05
Fire extinguisher factory destroyed in massive blaze

A factory in Chicago that manufactured chemicals for use in fire-extinguishers burned down in a massive fire.
Firefighters struggled to control the blaze - because there weren't enough hydrants around the building. No one was injured in the blaze, though early reports say irony died a painful death.
06
China Says Please Stop Hiring Funeral Strippers

Yeah, you read that right. Strippers at Chinese funerals are apparently normal, but not any longer if the Chinese Ministry of Culture has anything to do with it.
Apparently, the custom exists to help draw as many mourners as possible. Because, you know, it's not truly sincere sorrow unless it's motivated by the possibility of seeing breasts.
The Ministry, which hasn't had a problem with the practice in the past, is clamping down after a funeral that saw a stripper take off her bra in the presence of children.
07
Man Threatens Suicide, Police Kill Him

If you're contemplating suicide, but not really going to go through with it, don't call the St Johns County Sheriff's department.
Justin Way, a recovering alcoholic, was shot dead after threatening to commit suicide following a relapse. His girlfriend called police only to restrain him and take him to a hospital to sober up.
However, it didn't take long for the two deputies to show up and do exactly what Way was threatening to do - end his life.
08
Kim Jong-un claims to have cured Aids, Ebola and cancer with single miracle drug

If Jesus had the sort of imagination Kim Jong-un does, the Bible would be a far more gripping tale.
On one fall morning this past year, North Korea's fearless leader decided to do something for the world... or at least put his propaganda cell to work.
In a single glorious announcement North Korea announced what no doctor in their right mind (or on hallucinogens) would ever claim - to have found the cure for Aids, Ebola and cancer.
And it's just one drug.
Even if it were real, we prefer his father's claimed invention, the hamburger.
09
Catfished! Girls Scam ISIS on Social Media for Travel Money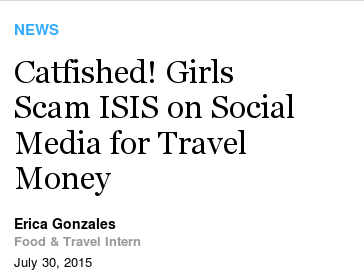 When one needs money for a vacation, one can save or borrow. But, if you have the chutzpah and flair of three unique Chechen women, you can con ISIS instead.
The three women are currently being investigated for defrauding ISIS, getting ISIS recruiters to send them money on the pretext of travelling to Syria to join the movement. The women even sent fake pictures to string the recruiters along and in the end managed to swindle ISIS of $3,300.
10
Anonymous Activist Gets Potholes Fixed By Drawing Giant Penises Around Them

Banksy gets a lot of love worldwide, but his artistic counterpart in Manchester, Wanksy, seems to get a lot more done. The anonymous Manchester resident took a stand against the plague of potholes in a unique way... by drawing penises in chalk around them.
You'd think a juvenile effort like that would be useless against an apathetic city council, but within a week, most of the potholes had been fixed.
See what's possible by being a dick?
11
Aussies get behind proposal to change currency to dollarydoos

Change.org is used for some pretty meaningful as well as some pretty pointless campaigns. Occasionally though, it's home to the utterly ridiculous, like this petition to get Australia to rename its currency to dollarydoos.
The petition, based on a joke in The Simpsons, argued that changing the currency name to a Simpsons' reference would get more people to want it.
Considering Tony Abbott was once PM, they may even have found people to get behind their bizarre idea, come to think of it.
12
Bud Weisser arrested for trespassing at Budweiser Brewery

If your parents named you Bud Weisser, they probably didn't like you very much - or they may just have been drunk at the time.
Regardless of their intentions, you'd probably do best to stay away from the beer. Or at least the factory. Neither of which an actual person in Missouri named Bud Weisser managed.
Bud was busted for breaking into a secure area of the Budweiser factory. It isn't even his first attempt at crime. He was earlier involved in trespassing at a gas station. But unless his co-conspirator at the time was called Chevv Ron, this attempt wins for sheer poetry.
13
GOP official: I used Ashley Madison for 'opposition research'

When the Ashley Madison hack was announced, cheaters around the world were in a panic, and desperately thinking of excuses as to why they were registered on a site with the tagline 'Life is short. Have an affair'.
But few got as desperate as Jason Dore, a Republican politician from Louisiana who was found to have spent just under $200 on the site.€š Dore's excuse? He was doing it to research opposition members... none of whom he found (we hope?).
Either ways, they all now have a competitive advantage over him. Good job Dore!
14
Rape victim in India asked to balance heavy rock on head to prove her 'purity'

You could argue that the "rape epidemic" in India is blown out of proportion, but you cannot argue the fact that we have some uniquely misogynistic ways of dealing with it.
Not only was a rape victim in Gujarat denied an abortion by a court after she was impregnated by her rapist, she was then asked to 'prove' her sanctity before she was allowed to live with her husband again... by balancing a 40 kilogram rock on her head. Because, logic.
15
'Star Wars' fan arrested for gun threat over spoiler

The hype around Star Wars: The Force Awakens proved the force is still strong in the franchise. And while some nerds used browser extensions to avoid spoilers, others weren't as smart.
One such person was 18-year-old Arthur Charles Roy, who was so upset when he saw spoilers on a friend's page that he decided to Force-kill him. Oops, we meant kill him using force. Or threaten to anyway. At school. The force in question was a gun and the threat was made on Facebook and the next day even as the school was shut, Arthur was arrested.
Which means he's not going to see the movie for a while longer.
Well played, sir.
16
New Study Confirms That There Are Way Too Many Studies

It seems that each time someone tries to convince you about anything, it begins with referencing "this one study".
Except there are a 100 other studies out there that contradict it.
This year alone we've had studies funded by Coke that show Coke is alright, and studies on how awesome butter is, naturally funded by the butter industry.
But a new study, clearly not funded by the study industry, has revealed that there are way too many studies. Apparently the number of studies is distracting us from the ones that actually matter.
17
Police Burn 3.3-Ton Pile Of Cannabis And Get An Entire Town High

Indonesian police in West Jakarta were probably feeling pretty good about themselves when they made a 3.3 ton cannabis bust. So good that they decided to burn it all outside their office to send a message - that weed will not be tolerated.
They aren't idiots though, so they wore gas masks. Too bad nobody told the rest of the town who got stoned thanks to living down wind.
Residents complained of dizzyness and headaches when in fact they were just high off of a motherload of pot. €š
18
Osama Bin Laden's porn stash will remain classified, CIA says

Osama Bin Laden was, in many ways, an enigma. Hiding for most of his life must've had its boring moments. So it's hardly a surprise that he had a huge spank bank to keep him from missing the pleasures of the flesh.
Quite why the CIA won't declassify it though is hilarious. Are they worried that it might inspire a wave of new ISIS fighters, spurred on by their mutual love for Mia Khalifa? Also, whose job was it at the CIA to sift through Osama's porn, and how does one land that gig?
19
'I fell and penetrated her by accident,' millionaire rape suspect claims in court

Ehsan Abdulaziz is a successful businessman. So it should come as no surprise that he can sell just about anything. But even by his standards, this was ridiculous. Appearing in court on charges of raping a teenager while she slept on his couch, Adbulaziz claimed that he'd slipped and fallen into her, penis first.
And the jury believed him. He's now a free man. So much for taking the fall.
20
IS claims to have taken over luxury hotel in Mosul

Luxury isn't one of those things you associate with ISIS, but apparently they recently took over a luxury hotel in Mosul.
Amazingly they also had a TripAdvisor page that was mercilessly trolled because this is the internet.
Once one of Iraq's swankiest hotels, the 262-bed Ninawa International Hotel now plays host to ISIS commandos and Jihadi brides on their wedding day.
Fun Fact: anyone found gambling, smoking or drinking in the hotel will be beheaded.€š
21
CNN mistakes dildos for ISIS

ISIS has everyone paranoid, but no one more so than CNN. It's gotten so bad that the American news network was seeing ISIS everywhere.
Literally everywhere. Even at a gay pride parade in London.
A CNN report showed an 'ISIS flag' at London's pride parade. Because, of course, if there's one thing ISIS wants, it's sexual equality and an end to homophobia.
Hilariously, the flag was actually mocking ISIS and consisted of silhouettes of dildos. Thanks to CNN's war on terror though, it was broadcast worldwide.
22
Selfie in front of running train costs three college-goers their life

Selfies have long been out of control. They've now been immortalised in song and are the go-to way for bored self-obsessed teens (and adults) to kill time.
Except the epidemic is now killing more than that - with stupidity helping it along.€š In a terrible incident, three college students were killed attempting to take a "daredevil selfie" in the face of an oncoming train.
The fourth friend, who survived, luckily had enough sense to stand off the tracks while he took the picture, meaning it wasn't even really a selfie. Darwin would be proud.
23
Someone Did a Shit So Bad On a British Airways Plane That It Had to Turn Around and Come Back Again

Airplane toilets are rarely ever comfortable enough to truly relieve your bowels. Well, for me at least. One man on board a British Airways flight, however, managed to take a dump so smelly the plane was actually forced to turn around.
This was just thirty minutes after departure so we all know he needed to, and could have gone, before the flight. There are actual terrorists who have been less successful at grounding planes.
24
Monkey steals a bus and crashes it into two parked vehicles while the driver takes a nap in India

Monkey mischief normally involves some petty pilfering. But one simian in Bareilly was clearly more ambitious and decided to indulge in some Grand Theft Auto.
The monkey snuck into a bus and managed to start it, put it into second gear and send it careening into two parked buses.€š
The driver, who'd been asleep in the back, managed to wake up and stop the monkey from driving off into the sunset.
And finally, these three headlines that say so much that they don't need any explanation whatsoever:€š
25
Salman Khan acquitted of all charges in hit-and-run case
26
David Cameron Accused of Sex Act With a Dead Pig
27
Poll: Donald Trump holds 20-point lead over 2016 GOP presidential field