2015 was the year of living dangerously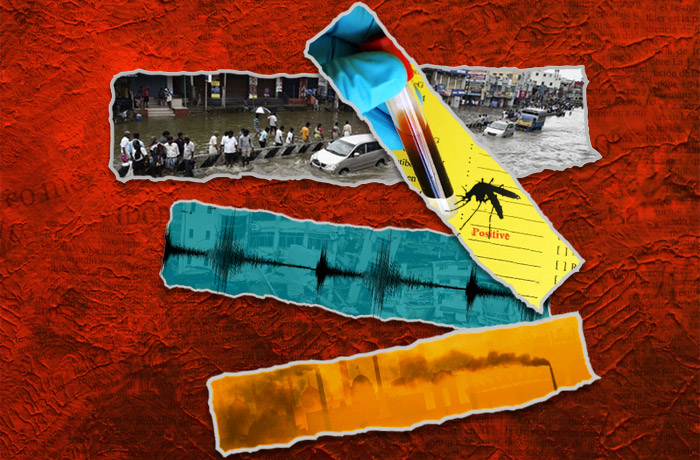 Life just got a whole lot tougher for Indians in 2015. As if the usual floods and droughts were not enough, the country, especially its metros, were counted among the world's most polluted places.
To that were added crimes against women, attacks on freedom of expression and choice and a spike in sectarian violence.
And after the devastating temblor in Nepal, experts warned that almost the whole of north India was sitting on one of the most seismically active zone.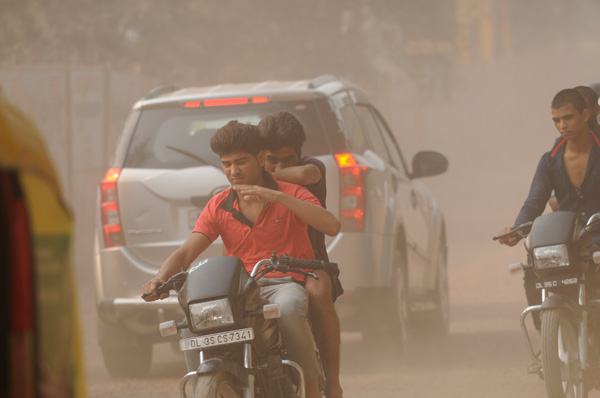 India is the world's third-most polluted country. And the Capital is the worst: Delhi's air is killing its residents - slowly, but surely.
Delhiites breathe a toxic cocktail of carbon, nitrous oxides, sulphur dioxide and dust particles. Basically, pollutants from cars, trucks, thermal power plants, suspended soil and metals, and waste burning.
The PM2.5 (particulate matter) level is 16-20 times higher than the standard level at any given time. And the government has done little to make people aware of how pollution affects them.
Being tiny, PM2.5 particles are carcinogenic, can easily reach lungs, travel through bloodstream and reach the heart. They can also worsen asthma and heart conditions.
Illnesses caused by PM2.5 kill at least 3.1 million people across the world every year and there were few signs in 2015 that authorities had got their act together to tackle this problem.
India continued to be unsafe for women, with an average of three rapes being reported every hour.
Between 2009 and 2013, a total of 1,25,905 rape cases were registered. But rape wasn't the only crime women had to deal with. On an average, a woman died every hour because of dowry-related issues.
Delhi cemented its reputation of being India's "rape capital" in 2015. Six rapes and 14 molestations were reported in the Capital every day for the first nine months, according to police data.
Until mid-September, 1,557 cases of rape and 3,876 of molestation were registered.
The city was the fourth-most dangerous for women to use public transport and the second-worst for safety at night and verbal harassment during commutes, according to a poll by Thomson Reuters Foundation.
03
Crimes against Children
Every 30 minutes, a child is sexually abused in India.
There's been a jump of 151% in child rapes in five years, from 5,484 in 2009 to 13,766 in 2014. This is four times the number of dacoity cases in the country.
A total 19,079 child sexual abuse cases were reported in 2014, according to the National Crime Records Bureau. Rape was the biggest form of abuse, followed by sexual harassment and assault on girl children with the intent to disrobe.
According to a study on child abuse by the Ministry of Women and Child Development, most children did not report the matter to anyone, which goes to show the extent of the crime.
At least 43 were killed in communal violence between January and May on the watch of the NDA government at the Centre. During the same period last year, 26 died.
In the first five months of 2015, 287 communal incidents were officially reported in India, up from 232 a year earlier.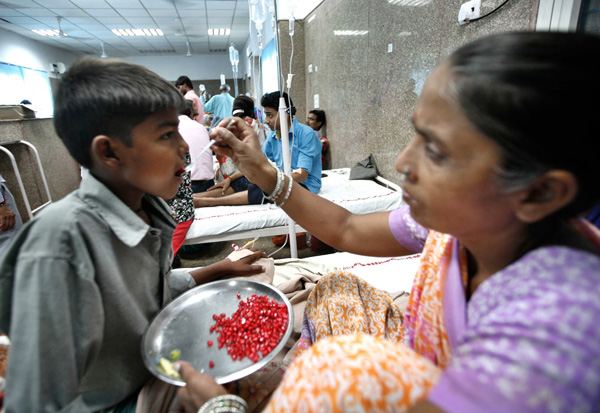 Over 19,704 dengue cases were reported in India this year up to September. Dengue cases nearly doubled from 2014, when 10,097 cases were reported.
Delhi topped the list of cities this year, accounting for 1,259 cases, followed by Bangalore with 1,139 cases.
State-wise, Karnataka reported the most - 3,291 - cases, followed by Kerala (2,847) and Tamil Nadu (2,228).
Thirty-four people died of dengue in 2015 till August. Kerala reported the highest number of deaths (19), closely followed by Delhi.
Globally, around 20,000 people die of dengue every year, according to the World Health Organisation.
According to KPMG's Cyber Crime Survey 2015, 72% Indian companies faced cyber attacks in 2015.
The primary targets of cyber attacks were banking and insurance sectors, pharmaceuticals and chemical companies and oil and gas firms.
The number of Internet users in India has grown to an estimated 300 million from 7 million in 2001. However, controls and regulations aimed at protecting the privacy of individuals are conspicuously absent.
According to a 2013 Norton Report, India seemed to be the ransomware capital of the Asia Pacific, accounting for 11% of victims of this form of virtual extortion. In addition, India also accounts for 11% of the world's identity theft incidents and 9% of phishing attacks.
This year's poor monsoon - 14% below average - left nearly half of India reeling under drought.
Uttar Pradesh declared 50 of its 75 districts to be drought affected, Madhya Pradesh (35 of 51), Chhattisgarh (25 of 27) and Karnataka (27 of 30) followed suit. Maharashtra notified that 15,747 of its 43,711 villages were drought-hit. Nearly half of Telangana too was parched.
In India, the scale of drought and its consequences depend as much on nature as on state policies and mechanisms. The more prompt the state is in reaching affected populations, especially farmers, the less is their suffering.
Farmer suicides were reported across India, with Marathwada alone reporting a 1,000 cases.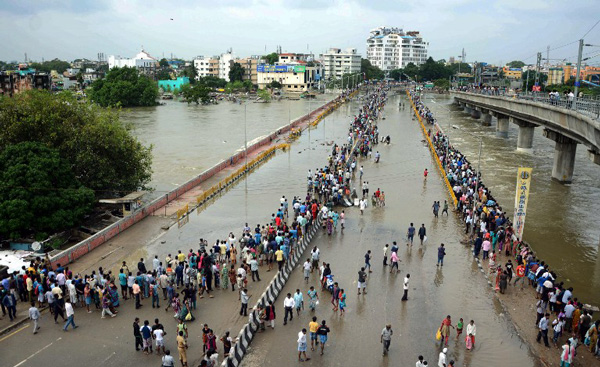 Every year, floods affect about 36.8 million people in India, killing 1,611 on an average and damaging Rs 1,807 crore worth public utilities, crop and houses.
This year, Chennai faced a deluge that brought back memories of the Mumbai floods a decade ago. The Tamil Nadu capital lost 200 citizens while 400,000 were displaced and more than 20,000 hectares of crops went underwater in the state.
In Assam, 50 were killed and 1.5 million were impacted by floods. Four rivers flowed above danger levels in September, according to the Assam State Disaster Management Authority, with 17 districts and some 1,276 villages affected. About 92,820 hectares of crops too were hit.
The reasons for such devastation remained old: climate change, urbanisation leading to encroachment on flood plains, loss of natural water storage basins, inadequate drainage systems, and indiscriminate waste disposal.
Plus there are lapses by the government, which matters a lot: in Chennai, excess water was released at night, catching many asleep and helpless. A Coast Guard commander, whose team is equipped with helicopters and divers, said he got the news on television. The National Disaster Response Force was not alerted on time.
The reasons for the flooding of Chennai were virtually the same as those for the flooding of Srinagar in 2014. India needs to wake up to the dangers of greed-based and shortsighted development.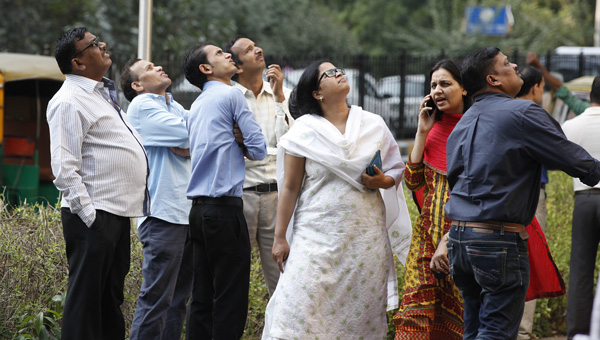 Delhiites felt the tremble in their high-rise offices and residences when a 6.3-magnitude earthquake rocked the national capital in April. Though the epicentre was Nepal, north India experienced aftershocks and cracks were reported in several buildings.
There was a repeat in the first week of December.
The Indian subcontinent has witnessed a series of devastating earthquakes because the Indian plate is driving into Asia at approximately 47 mm a year. Around 54% India is vulnerable to earthquakes - with Guwahati and Srinagar being the most vulnerable.
The friction between the Indian and the Eurasian plane causes earthquakes in areas around the Himalayas.
The earthquake-prone neighbourhoods in Delhi are two miles on either side of the Yamuna river, the southwestern outskirts of the city known as the Chhattarpur basin, and an area popularly known as the Ridge.
Indians were marginalised, persecuted or murdered for exercising their right to think, write, speak, express, read, see, eat, wear - or dissent.
Tamil writer Perumal Murugan announced his death as a writer. The provocation was protests against his novel Madhorubhagan by Hindu and caste-based groups. The book explores the tyranny of caste-based practices.
Senior CPI leader and rationalist Govind Pansare was out for a morning walk in Kolhapur when he was shot dead. His sin: he opposed the glorification of Nathuram Godse and described Shivaji as a king who respected all religions and whose bodyguards and secretary were Muslims.
Writer and educationist MM Kalburgi was murdered in his hometown of Dharwad in Karnataka for propagating 12th century philosopher and social reformer Basavanna philosophy that opposes religion, religious practices and Brahminical rituals.
Despite the risk, hundreds of writers, artists, academicians, scientists, filmmakers spoke out against India becoming increasingly intolerant. They lamented the curtailment of their freedoms - their freedom to think, write, speak, express, read, see, eat, wear - or dissent.
If anything, things could get a lot worse before there are signs of improvement.