2,700 cows die in a Jaipur shelter each month. The one they're protecting is plastic
Payal Puri
| Updated on: 13 February 2017, 10:04 IST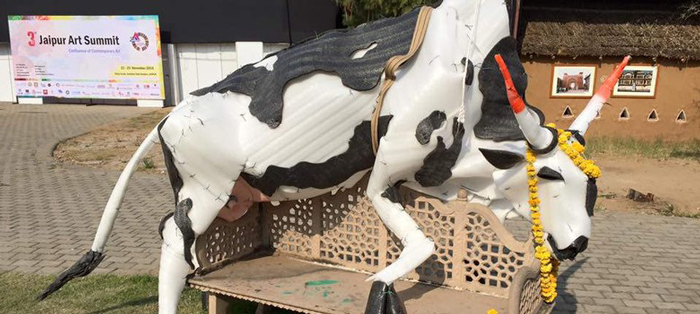 Once you get over the outright insanity of what happened vis-a-vis a plastic cow and the Jaipur police this weekend, you realise there are only a few ways to react - depending on where you stand on the rationality spectrum.
You can be aghast. You can be amused. You can be resigned. You can Google ways to give up Indian citizenship and move to wherever will have you (Pakistan, it is believed, is always an option).
You can have questions.
We had a few.
Why, in a country obsessed with cow protection, are more cows dying in cow shelters than ever before?
In Jaipur alone, where activists protested the art installation of a plastic cow as 'disrespectful', 90 cows die every day - at the Jaipur Municipal Corporation owned Hingonia Gaushala cattle shelter.
That's 2,700 cows sacrificed to hunger and disease every month, or over 32,000 cows each year.
That's just in one city in one state in the country.
Ironically, the installation by artist Siddhartha Kararwal at the Jaipur Art Summit was designed to draw attention to the plight of abandoned cows who have no choice but to scavenge for food and end up consuming lethal plastic waste.
Even more ironically, the BJP-ruled Rajasthan is the only state in the country with a cow department.
But irony died a sudden death when activists 'rescued' the plastic cow, garlanded it and performed a puja to it.
Speaking of which, for a moment let's not debate the cow's right to live. Let's ask why it's okay for other animals to die.
Because the country's animal husbandry budget was just slashed by half.
When the Narendra Modi government brutally slashed the social sector budget for 2015-2016, it hit the department of animal husbandry, dairying and fisheries as well.
The department saw their allocation cut by Rs 680 crore, a drop of over 30% from the previous year's allocation of Rs 2,200 core, and one that is bound to have a fallout on animal health and population - cows included.
And which cow are we protecting, exactly - because the indigenous cow is already dead?
The mythical indigenous variety of cows that we worship barely exists anymore. It's exotic breeds that are being imported and milch better that now dominate our cow population - and their population is steadily on the rise.
The 19th Livestock Census of India, 2012 registered a marginal decline in total number of cows - but only in the indigenous variety. The exotic/crossbred cattle population increased by 20.18%; the indigenous variety declined by 4.10%.
And let's talk about respect, because we just killed an artist's work over imaginary hurt
Suraj Soni, Jaipur convenor of People for Animals who first objected to the artwork said 'one could easily misconstrue the installation as a portrayal of cruelty on animals.'
It's amazing that Soni didn't see his own word - misconstrue - as a flag. There is virtually nothing in the world it's not possible to misconstrue. Nothing someone may not find 'disrespectful'.
Because respect is not a fixed position, it's subjective - and therefore, cannot be exercised by the state.
Mamata Banerjee's followers attempted to burn a college principal alive because he disrespected their leader. Jayalalitha's followers felt her arrest was the ultimate affront - so they burned buses. Dina Nath Batra decided Wendy Doniger's book was disrespectful to Hindus, so Penguin pulped them. After decades of Santa-Banta jokes, parts of the Sikh community decided they were offended by them, so off they must go.
Art is open to interpretation. It makes you think. And you're free to think what you will. When your thoughts start to impact the artist's choice to create work he envisions - that's where freedom ends.
Eminent writer Githa Hariharan warns that India will soon become an "artfree republic".
"We will become an artfree republic if we let others decide what we should make art about, and how we should think our way through each work we produce. And an artfree republic has nothing to do with the country we are supposed to be citizens of. We have to take back our republic!"
With inputs from Lamat R Hasan