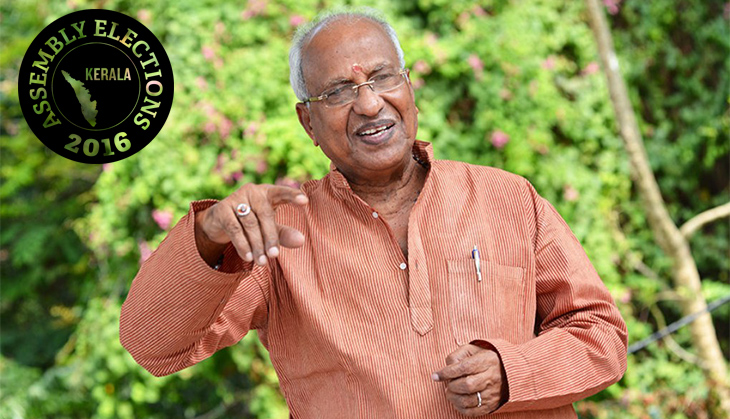 The Bharatiya Janata Party has opened its account in Kerala for the first time since its inception. It had failed to win a seat even in its previous avatar, the Jana Sangh. It is perhaps in the fitness of things that the first BJP MLA in Kerala is also its senior-most leader in the state - O Rajagopal. He is leading from the Nemom constituency in Thiruvananthapuram district.
Now 86-years-old, Rajagopal joined the Jana Sangh in the 1960s. He was the Kerala president of the party during the Emergency. When the BJP split from the Janata Party in 1980, he became its first Kerala unit president, a position he held till 1985.
A Nair from Palakkad, Rajagopal or 'Rajettan' as he is popularly known, is a devout Hindu. He is a staunch believer in the Sangh ideology - his sons are named Vivekanand and Shyamaprasad. However, he is not a hardliner like state BJP president Kummanam Rajasekharan, who has a VHP background.
Read- Kerala: Left wave in Kerala. Stage set for Achuthanandan vs Vijayan clash
He is known to have been close to former Prime Minister Atal Bihari Vajpayee. He served as a minister of state in the Vajpayee government, holding portfolios such as railways and defence. When Narendra Modi took centerstage in the BJP in 2013, Rajagopal was gradually sidelined. It is believed that Modi didn't have faith in Rajagopal's abilities, as the BJP had never made an impact in Kerala for all these years.
But Rajettan proved his critics wrong by giving a scare to Congress candidate Shashi Tharoor in Thiruvananthapuram in the 2014 Lok Sabha elections. Rajagopal actually led in 4 out of the 7 Assembly segments in the seat and Tharoor managed to win largely courtesy overwhelming support from Christian voters.
However, the BJP was unable to translate these gains in the Assembly elections as it lost on all the other seats in the district. Rajasekharan lost from Vattiyoorkavu and cricketer Sreesanth came third in Thiruvananthapuram, seats where it was leading in when Rajagopal contested against Tharoor.
In North Kerala, the BJP's efforts at a communal polarisation initially appeared to have paid dividends as its candidates were leading against Muslim candidates from the UDF in Kasargod, Manjeshwaram and Palakkad. But in the end, it ended up losing all these seats as well.
The party's efforts in Kerala didn't yield much dividends as it could manage a vote share of just 10.8% on its own, and around 15% along with its allies.
Also read- Kerala election result 2016: LDF to declare Chief Minister's name in 2-3 days
Even its solitary victory in Nemom was partly due to the fact that the Congress virtually gave Rajagopal a walkover. It allotted the seat to its alliance partner JD(U), which couldn't even cross 1000 votes.
This was a rare moment of luck for Rajagopal in what had been a largely unlucky career. He had been a perennial sacrificial lamb for the BJP, which fielded him in Lok Sabha and Assembly elections and even symbolic bypolls like the 2012 election in Neyattinkara. Always the faithful party man, Rajagopal never refused.
During Vajpayee's tenure, the joke was that Rajettan is better known in Delhi than in Kerala. At the age of 86, he finally has his moment in the sun in his home state.
More in Catch:
The bare truth: mass nude photographer set to expose Trump's politics
Referendum on Modi or Congress-mukt Bharat? What the poll results mean for India
India's shame: Bundelkhand woman eats mud for 12 years to survive
Fake lawyers: crooks in black coats face Supreme Court crackdown