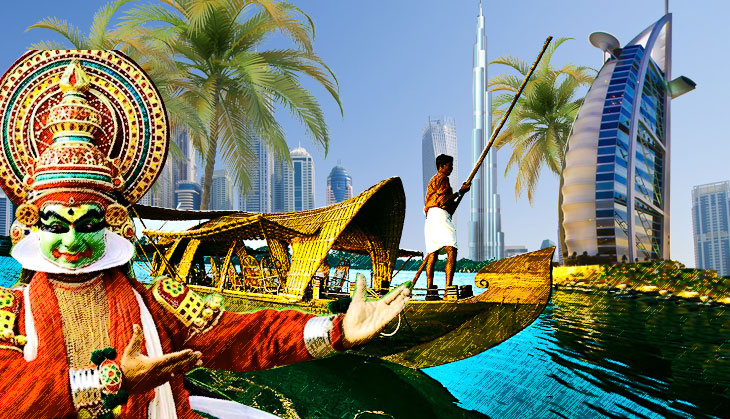 Kerala chief minister Oommen Chandy's heart has always been in Puthuppally. Even during the worst crisis, he would drive down to his village every weekend.
Chandy has represented the Puthuppally constituency for more than 4 decades, having won the seat uninterruptedly since 1970.
He knows everyone in the area and talks to them about matters of state, church and everyday life. Chandy is also a powerful icon of the Orthodox Church. All those who challenged him in that turf, were demolished.
Combative CM
This time he is up against LDF's Jaik C Thomas, a sprightly SFI leader. Chandy does not mention his opponent in his speeches, preferring to maintain his image of being a pious man and humble administrator.
"No one can question Chandy, he will sail through," a church member told this reporter outside the massive Puthuppally church, where a ceremony of sacrificing chicken by thousands of followers, was underway.
The rhetoric is peaceful as there is a sense of inevitability about Chandy's win. But Jaik belongs to the other faction of the Orthodox Church and is trying to reduce Chandy's margin of victory.
After a five year term as chief minister, Chandy has emerged as the number one Congress leader in the state, standing tall and dismissing the aspirations of those like the KPCC president VM Sudheeran. He has developed a national outlook and has found in a perfect target in Narendra Modi. Soon after Modi compared Kerala to Somalia, Chandy was quick to write a letter demanding an apology.
Early this year when Kerala House was raided to check for beef, Chandy landed up there in protest. The transformation of the humble church-goer to a combative chief minister who does not shy away from confronting even the Prime Minister, is a major one for Chandy.
But combativeness is only one part of the story. Chandy also began thinking big in terms of his development agenda. He got 2 major projects in the state - Adani's Vizhinjam port in Thiruvananthapuram and the Kochi Metro, which is nearing completion. He keeps repeating these feats in every speech.
In a street corner meeting in Nalanchira in Thiruvananthapuram, Chandy arrived for the second time to campaign for Muraleedharan the son of former chief minister K Karunakaran. Chandy and AK Antony had a long standing rivalry with Karunakaran. But now Chandy has only words of kindness for Muraleedharan who he termed as a man of immense administrative abilities.
In that street corner meeting it was possible to see the pugnatious nature of Chandy who now relishes his image of a one-man wall against the BJP's ambitions in Kerala.
"The comparison with Somalia is an insult to the people of Kerala," Chandy thundered.
He listed the UDF government achievements such as the construction of 275 small bridges and numerous roads. Roads and highways are matters of great pride for the people of Kerala. From the Malabar in the north to the extreme south, roads have been carpeted by a Malaysian company.
Chandy brooks no dissent within the party. But he gives a patient ear to people. He listens to them and collects petitions wherever he goes.
In his speech, he attacks the CPM for being against development and accuses the party of sabotaging many development projects.
"The CPM is good for nothing. Who will vote for them here? For anything you have to get a recommendation letter from the local committee leader. How can the state function like this?" an auto-driver commented,
Development
As chief minister of a state with the highest human develop index, which Chandy mentions again and again, he doesn't face the kind of problems that his counterparts in Uttar Pradesh or Bihar are confronted with. Schools and colleges are well managed. Healthcare is cheap and of a good quality. Streets are always lined with schoolchildren. Chandy can sit back and smile at the achievements of the state over the last 3 decades.
Even with such a state, Keralites keep dreaming of going to the West and the Gulf.
For them an imagined utopia exists far away. The villages along the way from Malabar to the south, along which this reporter travelled, were studded with incredibly huge villas lying in wait for the rich NRIs to return back to their roots.
Some areas in Malabar are known as Dubai and Abu Dhabi and in Kottayam there is a village full of villas called Chicago. Kerala has made that transition from a small state to a place where aspiration is at the highest level and brave sons of the soil, who do not perform any manual labour, dream of the day when a villa will come up next to the village pond.
Chandy has learnt to sit astride all these differing ambitions, and offer himself as the man who will transform the state to a Chicago or Dubai.
Keralaites live in imagined wonder of places like the Gulf, Boston and Chicago, not really realising that the state too has reached some landmarks. Since it is a remittance economy the service sector is booming.
Chandy gets anguished when Porsche hits a Malayalee in Chicago. He rushes to the airport when the body of a nurse is brought back from Qatar. With an eye on the global Malayalee, peering over his shoulders at the threats to his position, stamping his authority in villages and highways alike, Chandy asks for a second term.
Edited by Aditya Menon