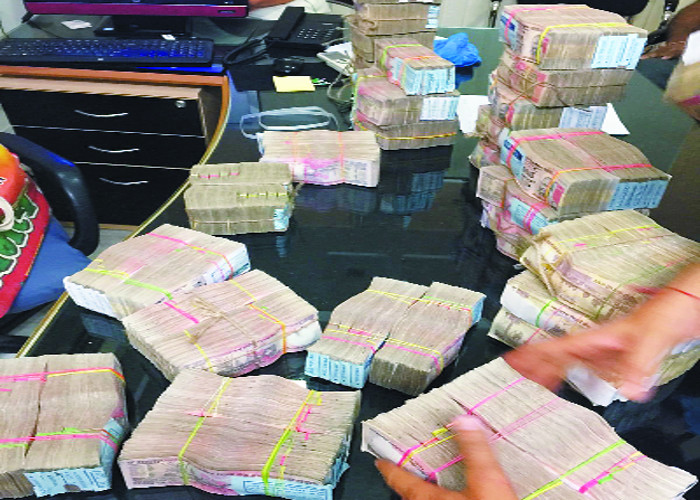 The Rajasthan Anti-Corruption Bureau (ACB) recently busted the mining scam in which Ashok Singhvi (Principal Secretary of Mines), and others were arrested.
Reports are surfacing now that the ACB carried out a covert operation to bust the mining scam and even Chief Minister Vasundhara Raje and Home Minister Gulab Chand Kataria weren't informed about it.
Reportedly, the arrested IAS officer Ashok Singhvi had returned to the state from Central deputation after Raje returned to office for the second time in 2013. Singhvi was mining secretary for five years during Raje's first tenure (2003-08).
The Times of India has reported that the covert operation was carried on the behest of Prime Minister's Office (PMO).
Ashok Singhvi and seven others were arrested in connection to the mining scam and the ACB had seized over Rs 4 crore from different locations.
The ACB was acting on state mining lobby's report to the PMO and BJP president Amit Shah six months back about being fleeced by officials.
Speaking about the covert operation Kataria said, "I wasn't aware of the operation. I came to know about it when arrests began in Udaipur on 16 September. I was convinced with the evidence presented by the ACB team and congratulated them."
The TOI has reported that even the CM came to know about the operation only when ACB officials arrived at her office for a sanction to arrest Singhvi.
Who carried out the covert operation?
The operation was led by Inspector General of ACB, Dinesh MN. Dinesh was one of the accused in the infamous Sohrabuddin encounter case and got bail last year after which he was reinstated in the Rajasthan police department.
Speaking about the covert operation he said, "This is how ACB works. If we start sharing everything, word may get out and alert the culprits."
However, he refrained from disclosing whether he was in touch with the Centre, saying, "Around two months ago, I got information that mining officials, at the behest of their seniors, were harassing miners by closing mines and restarting these after taking hefty bribes. We collected evidence against Sanjay Sethi, who was the 'single-window' between mining officials and mine owners."