Yes, there's a dip in Indo-Russia relations. But it's not much to worry about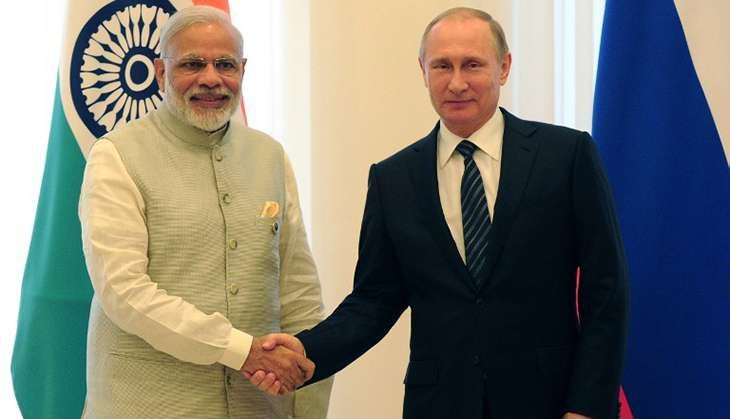 Russian President Vladimir Putin is already in Goa for the BRICS summit. And on Saturday, 15 October, the two countries will hold the 17th India-Russia Summit.
The summit comes at a time when a recent Russia-Pakistan joint military exercise cast a shadow over the traditionally strong Indo-Russia ties, and India is expected to bring up the issue. However, there is an understanding that this 'emotive' response was coming, after Russia felt slighted over India's growing ties with the US, and the fact that Russians were not credited for staying away from Pakistan, especially in the field of defence cooperation.
Catch spoke to Prabhat Prakash Shukla, a distinguished fellow with the Vivekananda International Foundation and former Indian Ambassador to Russia, to discuss what the future holds for Indo-Russian ties. Excerpts:
Former Indian Ambassador to Russia Prabhat Prakash Shukla. (Photo: Sadiq Naqvi/Catch News)
In your view, how significant was the joint Pakistan-Russia military exercise?
In purely military terms, not very important, as there were only 200 Russian troops that were there, and it was an anti-terror exercise. But since it was the first such exercise, its politico-strategic significance is noteworthy, and quite frankly, it is a negative.
Does it signal a dip in Indo-Russian ties?
Yes, it is a dip. But we have to calibrate that dip. It is a minus, but it has to be seen in a broader context, and the reality of that broader context.
First, in the broader Indo-Russian bilateral relationship, we are still a privileged defence partner - the kind of technologies we get, the kind of development work we are fairly advanced in is still unique. With others, we are still talking about it, although I am sure we will get there. But with Russia, it is already happening, at least on the drawing board, and in many cases, on the ground.
Second, certain other Western countries, like the US and some European countries, with whom we already have deep engagement, are major defence partners of Pakistan. We don't hold that against them.
In short, Russia is moving towards a multi-vector relationship. And we have to recognise that it has been doing so for a long while. It started out with China years ago, and now, it is broadening the same.
Likewise, we have also developed relations that we did not have in the Cold War period and through the 1990s. With the Americans, we have a much deeper engagement, as also with Israel and with some European partners. We need to assess this negative development in these two broad contexts.
What would be the impact of these developing relations between Pakistan and Russia on India?
At the moment, they are at a very embryonic stage. Russia has supplied some attack helicopters, done some exercises and has had a lot of military visits from Pakistan. This is how a deeper relationship begins.
Now the question is, how far will it go?
In a way, Russia has been airing this sense of concern over what it perceives as India moving in a pro-Western direction. And Putin, during his tenure as Prime Minister, on a visit to India, publicly said that "we don't get enough credit for the fact that we don't supply any arms to Pakistan". Which, of course, was true, but Pakistan, through China, was accessing Russian technology, and the Russians knew that it was a matter of concern for India. So it is all a little convoluted.
But the bottom line is that if it does not lead to any major defence deals, and stays at the level it is at, remains non-lethal, and the Russians develop their relationship with Pakistan in other areas, such as economy and energy, we can live with that.
It is only military supplies that should cause concern, because through history, Pakistan has shown that it has only one intent - and that is to harm India.
Where does Afghanistan factor into the Russian calculus on the developing ties with Pakistan?
From 1989 onwards, when the last Soviet troops crossed the Friendship Bridge, they have had a dread of getting deeply involved in Afghanistan. They have been badly burnt, and are reluctant to get involved. But lately, they are beginning to sense that a return to power for the Taliban will have serious destabilising effects in Central Asia. Especially now, when Islam Karimov has passed away, there are questions about what will happen next in Uzbekistan. And as goes Uzbekistan, so go very large parts of Central Asia.
That is why the Russians are very concerned, and I understand that there have been informal suggestions that India, Iran and Russia should form a trilateral and draw in Afghanistan. So you have a quad of a kind, which has worked before quite harmoniously in the late 1990s, when these three countries worked very well together in opposing the rise of the Taliban. They have been sending feelers, and I think we should respond positively, for this is in our interest as well.
The other quad (US, Pakistan, China and Afghanistan) is not conducive to our interest.
President Putin, in a recent interview, pointed out how the Shanghai Cooperation Organisation will play a major role in the Afghan theatre. SCO will soon have India and also Pakistan as members. How do you look at this statement?
It is a miscalculation. The SCO has one major flaw in it, that it excludes the US. And not only does it exclude the US, it is also negative towards it, with both Russia and China becoming increasingly negative.
The SCO is not going to be very welcome in Kabul, in Washington, in Tehran, and I dare say, not in New Delhi. It is a non-starter. There may be efforts, like Afghanistan now has a special observer status with the SCO, but I don't think that is going to influence other members or non-members, who have very legitimate reservations about the SCO.
What needs to be done to bring Indo-Russia relations back on track?
The genies are out of the bottle. The relationship between Russia and Pakistan will run for a while.
On the other hand, India's engagement with other countries, including in the military field, whether it is America or Sweden or Japan, is not going to change.
Yet, there is a great deal of substance in the Indo-Russian relationship. Energy is one major area. Defence cooperation remains a major area. Some of the fears over defence cooperation are probably overblown. If you take the last 15 years, Russia is well ahead of all other partner countries.
We have common assessments on Afghanistan. We need to give policy substance to those.
The RIC (Russia-India-China), a forum launched by former Russian Prime Miniser Primakov, is not getting the attention it deserves, and is underutilised. They were reaching out to China and they knew India was looking askance at it, and therefore, they set about this format to jointly address issues in the minds of the different members of the organisation.
We have harmonious civilisational interests between these three countries. For example, on the question of foreign money, all three countries are united, and if they were to speak in one voice and take a common position, they would be impregnable.
I would like to see India take the lead on these matters, for it is the largest democracy.
There are other forums, like BRICS and SCO, which too have a great scope. I believe the relationship between India and Iran with Central Asia and Russia is another underutilised relationship. Not just because of hydrocarbons, but also the international North-South Transport Corridor, which will be a real game changer if it is implemented in the near term.
There is a great deal which we have to do together. And then, of course, when you talk about international issues, Nuclear Suppliers' Group membership, the United Nations Security Council expansion to include India - on all of these, Russia is on our side.
Edited by Shreyas Sharma
More in Catch
India, Russia to sign multi-billion dollar deal on S-400 air defence missile systems
Pakistan-Russia all set to hold their first ever joint military exercises
Russia backs India in 'decisive struggle against terrorism'