Wisconsin dad 'breastfeeds' newborn as his wife recovers from C-section complications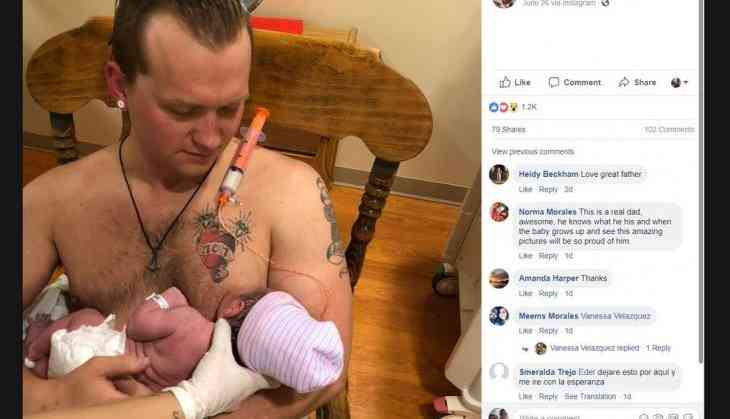 Maxamillian Neubauer became a father, he also became the first person to breastfeed his newly born daughter. Since his wife, April Neubauer had an emergency C-section and she encountered certain complications, she was unable to breastfeed immediately after their daughter was born.

Maxamillian stepped up and volunteered to try the supplemental nursing method, as suggested by the nurse.

In his Facebook post, Maxamillian says how ecstatic he felt to become the first person to feed the baby. He further mentioned that he did it for 'all the moms' and that he is upping the game for the dads.
Also Read: Instagram apologises and reinstates for removing picture of two men kissing
According to WBAY's report, April's pregnancy had certain difficulties due to her PCOD and even at the time of delivery, she had multiple seizures. Immediate 'skin to skin breastfeeding' was April's plan, but it did not work out because of the complications. At that moment, Maxamillian stepped up and completed what April had planned, 'immediate skin to skin breastfeeding'.

Maxamillian's picture and gesture receieved immense love and support from most people on social media, there were certain people who did not understand it and were critical of Maxamillian. But this did not stop the 'super-dad' to stop taking care of his daughter.

His wife soon took over the breastfeeding and he posted the picture on Facebook, in an attempt to 'normalise breastfeeding'.
Also Read: Makeup mogul, Kylie Jenner shares baby Stormi's exorbitant $22K shoe collection