Watch Video: Pakistani reporter sits floating tube on flooded road to cover heavy rainfall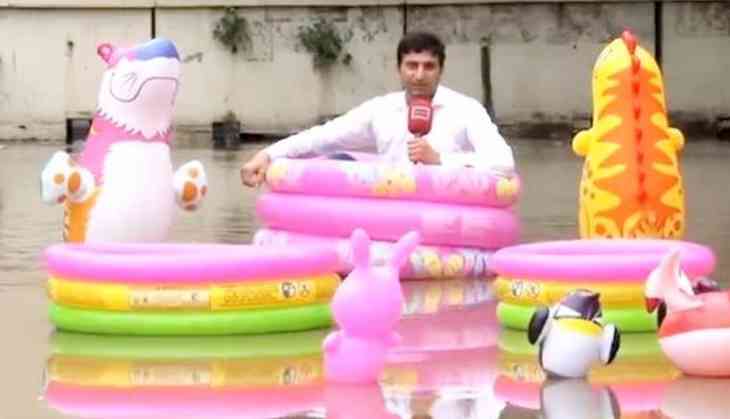 A journalist from in Lahore, Pakistan, found an innovative way to cover heavy monsoon rains. He sat inside a floating tube to make a point about heavy rainfall in Lahore turning roads into streams.

While covering the onslaught of monsoons in Lahore, the reporter for Dunya News sat inside an inflatable pool surrounded by colourful floaties. "Lahore mein jagah jagah paani khada hai (Lahore has waterlogging)" he says during the broadcast, before taking a dig at the Water and Sanitation Agency (WASA) of Lahore, saying that they have been unable to drain the water.
In his video, he sarcastically encourages Lahore residents to enjoy their waterlogged roads by sitting in pools, was shared on Friday. Since then, it has gone viral with over 12,000 shares on Facebook alone.

Since being shared online on Friday, the video has collected over 5 lakh views and thousands of comments.

While some have praised the reporter's dedication, others have denounced it as nothing more than a stunt to grab eyeballs.

Lahore has witnessed its heaviest rainfall in 38 years that has turned roads into virtual streams.
Alos Read: Slap on the face: Horny husband cheats wife with another; sues condom manufactures for contracting STI during sex