Watch heartbreaking video of dying man kiss his dog goodbye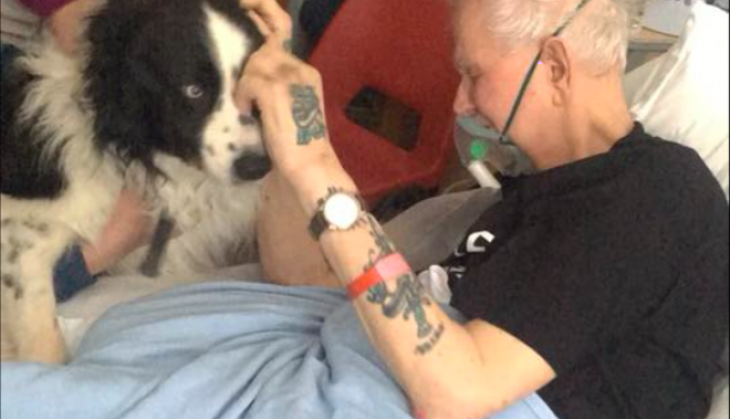 Peter Robson's dying wish came true when he saw his dog, Shep, for the last time
In a heartbreaking video, 70-year-old Peter Robson was granted his last wish to kiss his dog Shep goodbye. The border collie, brought as a pup eight years ago, had provided terminally ill Robson ever since his wife's death.
In the first of its kind, a Scotland hospital relaxed its normal infection norms to let a man's best friend bid goodbye to his master.
Bedridden, Peter had been separated from his beloved Shep for weeks, as he came to the end of his years' long battle with a lung disease.
In his final hours, Peter's only wish was to spend a moment with his friend who had been with him through it all. In a heartbreaking Facebook video, where Robson's bring Shep into his hospital room, Peter can be seen removing his oxygen mask to let his furry friend lick (read kiss) on last time.
Watch video here
Peter's granddaughter, Ashley Stevens said that the Ninewells Hospital staff had made "a dying man very happy" and she was eternally grateful to them.
After Shep was lifted into his owner's bed to bid farewell, Robson passed away.
In a Facebook post that has been shared more than 3,00o times, Ashley wrote: "Absolutely amazed and touched. Our grandad's last and final wish was to see Shep one more time."