Viral Photo: Amidst Denmark's face veil ban, see cop embracing woman in burka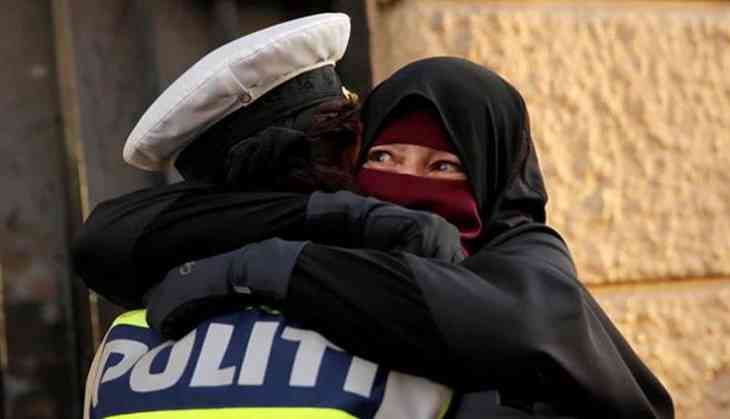 Protest continues in Denmark after a new law banning face veils in public got implemented on Wednesday. A photograph of a cop hugging a woman wearing burka drew global attention to the ban after it went viral.
The photo is clicked by Reuters photographer Andrew Kelly, the photo features a Danish policewoman embracing a visibly emotional woman protesting against the ban. The incident was also caught on camera and shared widely.
According to a Reuters report, thousands of woman joined the protest and marched through the capital Copenhagen wearing veils after the law, which many feel violates freedom of religion and expression, was passed. However, a 28-year-old woman in Denmark has already been fined under the new law.
The veil ban came into force this week in Denmark. Whilst, the first woman was charged with a fine yesterday, this was the moment a Danish female cop decided to embrace a woman wearing the veil instead of issuing her with a £120 fine. pic.twitter.com/0llOXQrt7X

— Yasmin Ahmed #FBPE (@_Yasmin_Ahmed) August 4, 2018
The Niqab Ban in Denmark started yesterday, which sparked protests.

Police are supposed to hand out fines to those, who wear face veils.

Yesterday, the police took a stand.. pic.twitter.com/UtsAxcjChE

— ʾUstādh ʾAbū Hipster (@erimcicekk) August 2, 2018
This police officer hugged a crying Muslim woman at a full face veil ban protest & offered her some water.#Heartwarming #Denmark pic.twitter.com/Pa8Wp9PDfj

— Wajii 🇵🇰 (@waji_tweets) August 4, 2018
This woman was crying and protesting the 'burqa ban' that came into effect in Denmark.
A police officer arrived and instead of issuing a fine or arrest her - she embraced her! pic.twitter.com/OLs1Rd0GhO

— ᴘɴᴇᴜᴍᴀᴛɪᴄ 🇸🇴 (@lkigai_) August 3, 2018
According to the law, "anyone who wears a garment that hides the face in public will be punished with a fine" and does not explicitly mention the traditional piece of clothing worn by Muslim women. According to a New York Times report, many protestors claim that the ban particularly targets minorities. The protests have garnered attention from people all around the world, with many sharing the viral picture of the 37-year-old woman named Ayah.
Also Read: For the first time, woman fined in Denmark for wearing full-face veil