Uri attack: India wants to diplomatically isolate Pak, but jury's out on it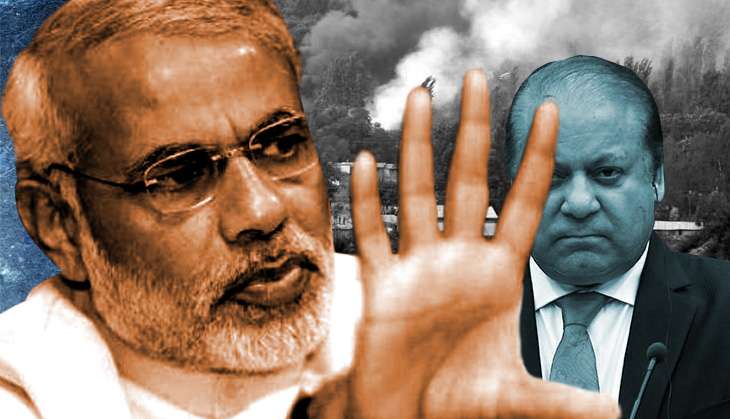 A day after the ghastly attack on the army camp in Uri, close to the Line of Control in the Kashmir Valley, which had Pakistan's fingerprints all over it, Prime Minister Narendra Modi seems to have ruled out any immediate response.
Modi reportedly gave his nod to attempts to isolate and expose Pakistan, and its continued sponsorship to terrorism. Later in the day, the Prime Minister also met President Pranab Mukherjee and briefed him on the incident.
However, the jury is out on whether this is the right approach.
The Director General of Military Operation (DGMO), too, suggested in a press conference that the armed forces have the capability to respond to such provocations, but "reserve the right to respond to any act of the adversary at a time and place of our choosing".
These decisions have apparently been taken even as the government says it has conclusive evidence of Pakistan's role. Union Minister for Law and Information & Broadcasting, Ravi Shankar Prasad, said there was conclusive evidence, and that ties between the two countries would never be the same again.
Curiously, External Affairs Minister Sushma Swaraj, a member of the Cabinet Committee on Security, was not present in the meeting with the Prime Minister, where the decision to diplomatically isolate Pakistan was reportedly taken. Swaraj, who is otherwise very active on social media, has not tweeted on the issue, except for re-tweeting four of Afghan NSA Hanif Atmar's tweets condemning the attack in Uri.
What Pakistan is attempting to gain
The Sunday morning attack by four terrorists, said to be from the Jaish-e-Mohammad, killed 18 military personnel, the biggest loss for the army in a single attack in the Valley, leading to a chorus of demands to act against Pakistan.
PM Modi had recently raised Pakistan's human rights abuses in Balochistan, and security agencies had exposed Pakistan's attempts to foment trouble in Kashmir, after Pakistan upped the ante on the volatile situation in the Indian state.
The attack in Uri, meanwhile, seems to be a continuation of the policy which has resulted in many such attacks carried out on Indian soil by those that Rawalpindi's Pakistan Army headquarters thinks are 'good terrorists'.
That the attack happened just ahead of the United Nations General Assembly raised suspicions that it may have been orchestrated from across the border to internationalise the Kashmir issue - to build a case that Kashmir continues to be in chaos, and that Indian government has not been able to restore normalcy.
Pakistani Prime Minister Nawaz Sharif, who, in a recent meeting with leaders from Pakistan-occupied Kashmir, assured them that he would take up the Kashmir issue. He is to address the UN General Assembly on 21 September, while Swaraj, the Indian External Affairs Minister, will speak three days later, on 24 September.
In a strong statement at the UN Human Rights Council, India demanded that Pakistan cleanse itself of terrorists, and that "it is time that moral and material support provided by Pakistan to the perpetrators of this continuing heinous violence on Indian soil should attract this Council's attention."
Govt needs a watertight case
Former foreign secretary Kanwal Sibal, meanwhile, feels that looking at the attack from just the standpoint of the UNGA is a cynical way of looking at it. He feels that nobody at the UN is interested in this, for Pakistan has been repeatedly raising the Kashmir issue at that forum, and most countries are aware that Pakistan is complicit in terrorism.
However, diplomats and strategic affairs experts are divided on how the government should react to this attack at an important military base.
Former Indian Ambassador to Afghanistan and Nepal, Rakesh Sood, says the government needs to build a watertight case if it wants to isolate and expose Pakistan.
"We need to convince the international community that Pakistan is continuing with its policy of selective support to terror groups," he says.
Former Intelligence Bureau (IB) and Research & Analysis Wing (R&AW) chief AS Dulat points out that a diplomatic offensive against Pakistan has worked in the past, after the Parliament attack and the Kargil war. "Although surgical strikes have been discussed in the past, but there is a reason why the government did not go ahead with them," he says. However, since Kargil in 1999, there have been 106 suicide attacks in Jammu and Kashmir.
'Military action is the only solution'
Sibal thinks military action is the only solution, and that the government should make Pakistan pay a price for this continued provocation. He says there are some areas on the other side where such a response can prove disruptive for Pakistan, and that the neighbouring country may not be able to counter it. This, he says, is because a retaliation in Kashmir would be counterproductive for Pakistan, and India is in a position to handle any retaliation in Jammu.
"We are suffering casualties anyway," he says, adding that India should not be seen as a "helpless giant" not doing anything.
Former NSA MK Narayanan, too, feels that diplomacy would not work with a 'rogue state'. He, however, warned against knee-jerk reactions, pointing out how there was no such reaction after the 26/11 Mumbai terror attacks.
While Narayanan may be right that there was no response from India, but Hafiz Saeed, the alleged mastermind of the attacks, continues to be free and is often seen inciting Jihad against India in Kashmir.
Even after the attack at the Pathankot air base in January this year, when India allowed a Pakistani team to inspect the site of the attack, Pakistan is yet to reciprocate by allowing an Indian team to visit the neighbouring country.
'Jingoism won't help'
A former special secretary in the Cabinet Secretariat, too, says an attempt at diplomatic isolation is a low-cost approach, and may not prove to be adequate, because the people expect a stronger response after such high-pitched rhetoric. The former official feels that the Pakistani High Commissioner should have been sent packing in response to the bloody attack.
Other senior officials who have dealt with Pakistan in the past say that while a knee-jerk reaction may be a bad idea, the government should 'impose cost' on Pakistan. They agree that it needs to be well thought-out and well-executed, taking into account all aspects, including actionable intelligence. They add that "without making much noise", the government should do what needs to be done.
"Jingoism won't help," Dulat says.
Sood agrees: "What is needed is a convincing reaction which has the necessary effects."
The China and US factors
Sibal explains how diplomacy is not an option when China and the US, two permanent members of the security council, are seemingly closer to Pakistan.
China blocked India's bid for sanctions against JEM chief Masood Azhar at the UNSC sanctions committee. The Americans, too, as Prof. Anatol Lieven points out, have not been encouraging India to target Pakistan, even while the US media plays up the 'domestic reasons for discontent' in Jammu and Kashmir, undermining India's position that Pakistan is trying to foment trouble. This, he says, is being done as the US is wary of the driving Pakistan still closer to China.
Ambassador Sood feels that India, backed by a watertight case, can shame China to put Masood Azhar on the UNSC sanctions list. The Islamic countries, including the Gulf nations, Turkey et al, seem to have endorsed Pakistan's position on Kashmir at the Organisation for Islamic Cooperation, despite India's recent aggressive diplomacy especially in West Asia, featuring a string of high-profile visits.
While the US may have been mollycoddling Pakistan, it has, lately, started looking up to India, especially in the Afghan theatre, with a trilateral due later this month on the sidelines of the UNGA. US Secretary of State John Kerry, who was in New Delhi recently, did not travel to Pakistan, signalling a coldness in relations between the two countries.
Interestingly, while China called for condemning the attack in Uri, and for talks between India and Pakistan, the US did not offer any such advice.
India will also hold the BRICS summit followed by the regional BIMSTEC in October.
Internal vs external aspects in Kashmir
Meanwhile, experts believe that the strike will embolden militants and separatist elements creating trouble, especially in south Kashmir.
Dulat, however, warned that while the fact that Uri attack happened when Kashmir is going through a volatile phase has complicated things, it would not be wise to mix the two issues, especially when it is known that the attackers were foreigners and had nothing to do with Kashmir. "Kashmir has to be dealt with separately," he says.
Above all, the government needs to get its act together, and find out how such an attack could happen, when there were intelligence inputs indicating possibilities of such a strike.
Edited by Shreyas Sharma
More in Catch
Was the Uri attack designed to provoke in the run up to UNGA session?
Uri terror attack: what India may do to retaliate
Pakistan rejects India's claim of involvement in Uri attack