Unlikely allies: Nasheed and Gayoom team up to 'restore democracy' in the Maldives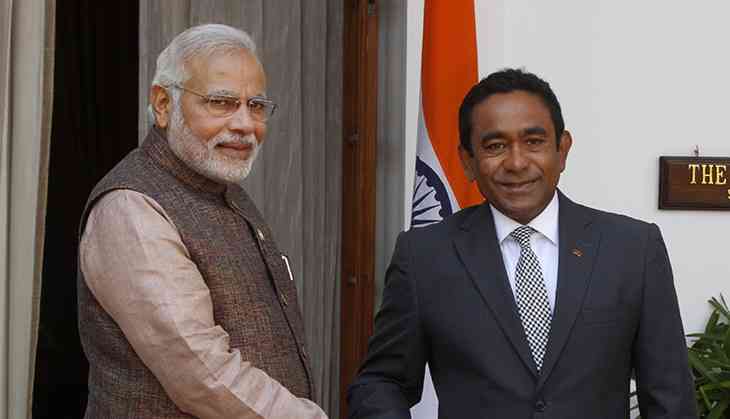 (Sanjeev Verma/Hindustan Times/Getty Images)
The island nation of Maldives saw chaos in Parliament on 27 March as a united opposition front sought to unseat the Speaker Abdulla Maseeh Mohamed.
This is the first consolidated attack on the government of President Abdulla Yameen.
New Delhi must be keenly watching the developments unfold in the strategically important neighbour, where China and the Saudi Arabia have been lately vying for influence through big investments.
The motion
A day after exiled former President Mohamed Nasheed said he would cooperate with ex-strongman Maumoon Abdul Gayoom and two other leaders - Qasim Ibrahim and Sheikh Imran Abdulla - for "restoring Maldivian democracy, ensuring free and fair elections, and protecting Maldivians' Constitutional rights", the newly-formed group moved a vote of no confidence against Maseeh Mohamed.
This newly minted Opposition has agreed to "use their representation in parliament and in the political sphere to achieve the common objectives".
But as the Parliament met for the voting, there were reports of disturbances inside.
There were also reports of how the electronic voting system was not working properly. Amidst chaos several members had to be taken out, as the security personnel took control - of which there are several photographs on social media platforms like Twitter.
"Govt tampered with the Majlis voting system & are pushing for a roll call vote. Majlis SG must fix system; ensure vote proceeds as per rules," Nasheed, who heads the Maldives Democratic Party, tweeted as he watched the proceedings unfold from Colombo. He is living in exile and recently moved to Sri Lanka, after he was allegedly forced to resign at "gunpoint" in 2012 and later convicted under anti-terror laws in 2015.
A rigged system?
There are allegations that the roll call procedure was rigged as some MPs claimed that law makers who were not even present in the 84 member house, were shown to have voted in favour of the roll call.
"Total and utter disregard to Majlis Rules and Procedures today! A very sad and shameful day in Majlis history again!," former speaker Abdulla Shahid, also a member of Nasheed's MDP, tweeted.
Nasheed and other members of the united opposition are against the roll call and are likely to announce the next steps soon.
Gayoom, too, pointed out there had to be evident defects in the electronic voting system for a manual roll call. "Majlis rules require electronic voting unless there is an EVIDENT defect in the system. Therefore no roll call vote can be taken today," he tweeted. The no confidence motion was moved by his son Faris Maumoon.
A bitter history
Interestingly, when Nasheed won the elections in 2008, he had unseated Gayoom, his bitter rival, who had been ruling the island nation with an iron fist, defying all democratic norms, for the preceding three decades.
Gayoom also happens to be the half brother of president Abdulla Yameen, and continues to be the nominal head of Progressive Party of Maldives.
Nasheed had earlier announced that he would return to Maldives to run for the 2018 presidential elections.
International support
As the united Opposition vies for support from the international community, expectedly, Nasheed has demanded that India support its demands.
"We would like India to pressure the Yameen regime to desist from arresting members of the opposition. And Yameen must also be forced to permit free, fair and inclusive elections," he told an Indian newspaper in an interview. "I am sure India understands that with the four parties that make up our alliance, we have the vast majority of the people on our side. I think it is in India's interests to side with the majority of the Maldivian people, and not an increasingly isolated and corrupt autocrat."
India has been concerned not just about the rising extremism in the Island nation - with the agencies particularly worried how terror groups could take control of one of the many deserted islands to launch sea borne attacks - there are also worried about the rising influence of China and Saudi Arabia.
Nasheed has been attacking the policies of the current government. "We are still very worried that both Saudi Arabia and China have territorial interests in the Maldives," he said in another interview to a Indian newspaper.
"For the last 30 years, KSA (Kingdom of Saudi Arabia) has propagated a very narrow version of Islam in the Maldives, and now with this new venture, we know they have territorial interests. Our people want development, but not to sell an atoll [group of islands]," he said on the Saudi plans to invest billions of dollars in Faafu atoll, which comprises 26 Islands.
"There is a standard tender process, which should be transparent. Why has the government not followed these processes? We don't know what the Saudi king wants to invest in?," he said in the interview.
Saudi King had cancelled his trip to Male earlier this month after opposition protests. Earlier, in 2015, Prime Minister Narendra Modi too, was forced to cancel his trip.