Unlike US and Australia, UK won't be a bed of roses for Modi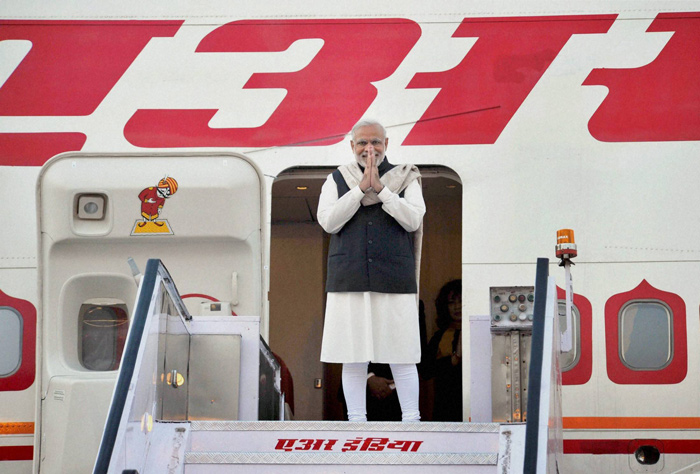 The \'rockstar\'
PM Narendra Modi has received rockstar-like receptions in the US, Australia, Canada and UAE
He\'s now on a visit to the United Kingdom, where he\'ll address NRIs at Wembley Stadium
The protest
The anti-intolerance Awaaz Group projected an image of Modi with Nazi symbols on to the UK Parliament on Sunday
Other groups are also planning to hold protests against rising intolerance, communal tensions and the 2002 riots
More in the story
Why the UK govt is breaking protocol for Modi
How Modi still commands a huge following among British and European Indians
Prime Minister Narendra Modi's long-standing 'rockstar' image among NRIs will remain intact during his visit to the United Kingdom.
He is the first Indian PM to receive such a grand reception from the Indian diaspora, as well as the British government. A large number of cheering Gujaratis and Punjabis from Great Britain and other parts of Europe waited outside the Heathrow Airport to welcome him.
Also read - Narendra Modi's visit isn't just a historic visit but an opportunity: Cameron
These people are looking at his visit as 'a salutation to their Indian identity'. "This shows the importance that Indians enjoy in Britain," said Sara Patel, a second generation British-Indian, who was part of the reception team.
Modi plans to address more than 60,000 people at the Wembley Stadium on 13 November, and his mega show in London is expected to confirm his undisputed image as the 'diaspora's sweetheart'.
But, the PM should come prepared for more - and not all of it will be as pleasant as it was in the US, France, Australia and the UAE.
A few local groups intend to address issues such as growing intolerance, religious discontent and the 2002 Gujarat riots, among other things, which could put Modi in a tight spot.
Change of protocol
The importance of India to Britain can be gauged from the fact that there'll be an unprecedented change of protocol. For the first time, a Prime Minister will be given the Guard of Honour by Britain, instead of the Head of State.
Modi then has an action-packed agenda, featuring back-to-back meetings and a high-profile lunch with Queen Elizabeth II on 13 November.
Then there's the Wembley address to the diaspora, which will feature 600 artists, including Indian-origin classical dancers and school children.
Lord Meghnad Desai, one of the foremost links between the two countries, pointed at the "growing business opportunities between Britain and India".
"The UK is the most liberal democracy and British investors are eyeing growing business opportunities," he said in an interview to AajTak, ahead of Modi's visit.
No shortage of fans
The British Indian community is divided into two groups, with the pro-Modi group 'UKWelcomesModi' having worked for four months to organise the extravagant Wembley event. The first ticket for the event was handed over to UK PM David Cameron.
'UKWelcomesModi' enjoys the support of more than a dozen British-Indian ethnic organisations that are spread all across England.
Manoj Ladwa, a Modi loyalist and former communications director of the Modi4PM campaign in the 2014 general elections, and Keith Vaz, the Indian-origin Labour MP from Leicester, initiated the plan for a mega event in Wembley.
"It's going to be a rockstar event, with a response that we have so far seen normally seen at Elton John or Beyonce concerts at Wembley Stadium," Vaz told Times Now.
British Armed Forces will also hold a special event for Modi to "recognise the contribution of Indians in the British Army".
Modi has an action-packed agenda, including a high-profile lunch with Queen Elizabeth II on Friday
CB Patel, publisher of British Gujarati newspapers and magazine, said: "Modi-mania has been strong in all the countries he has visited so far, but the euphoria surrounding him will be the strongest in the UK. People here have supported Modi ever since he was the CM of Gujarat - this message is being translated as he makes a historic visit to London."
Bearing in mind the overwhelming response from Indians in Ireland and parts of Europe, additional tickets were released to accommodate more people at Wembley.
"Modi has a unique ability to deal with any kind of crisis," said Rahul Vyas, a member of the 'IwelcomeModi' group, pointing at the response for Modi's Wembley speech.
Protests and demands
However, not every British Indian group in the UK is ready to roll out the red carpet for Modi.
When Modi gives his speech in British Parliament and visits 10 Downing Street, a group of protestors from Awaaz Group and the Federation of Sikh Organisations (FSO) will be demonstrating and making their demands.
Awaaz Group - a UK-based secular network consisting of Kashmiris and Dalits, committed to monitoring and combating religious intolerance in South Asia and the UK, has been mobilising people to participate in a 'Modi Not Welcome' campaign. This was the group which projected an image of Modi interspersed with Nazi imagery onto the House of Parliament buildings on Sunday, 8 November.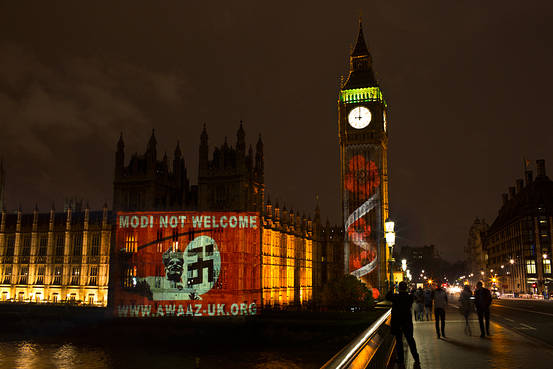 Meanwhile, the FSO, along with Southall Black Sisters, the Indian Muslim Federation and several others, will protest against the killings of several Muslims in the 2002 Gujarat riots. Kashmiri protestors will also raise their voices on continuous tension in the valley.
UK's academics and research scholars have also raised their concerns over human rights abuses and rising intolerance in India.
"Demonstrators would present their demands, but Modi is likely to come prepared with diplomatic answers," said Dr Jasdev Singh Rai, director of the Sikh Human Rights Group, which has sent across a proposal to the PMO on five issues related to the Sikh community. The main stress of the group is to highlight Article 25 of the Constitution, which gives an impression that Sikhism is a part of the Hindu religion.
Also read - The economics of Modi's foreign visits and how it has helped India get more FDI
Amid all this, there's also an interesting political angle to consider. When PM Cameron meets Modi to talk business, there will also be a strong undercurrent of the warning by Moody's Analytics, which suggests that rising tensions in India will impact its credibility overseas.
It remains to be seen if Modi chooses to tackle these issues, or just focusses on the 'rockstar' performance.